Index of All Cemeteries
Alphabetical Index of All Burials
Previous Page
Use the following to search across all the cemeteries listed.
Example: "Smith, Roger" (yes, use the quotes)
280 ALSTON, WILLIAM [K24.1]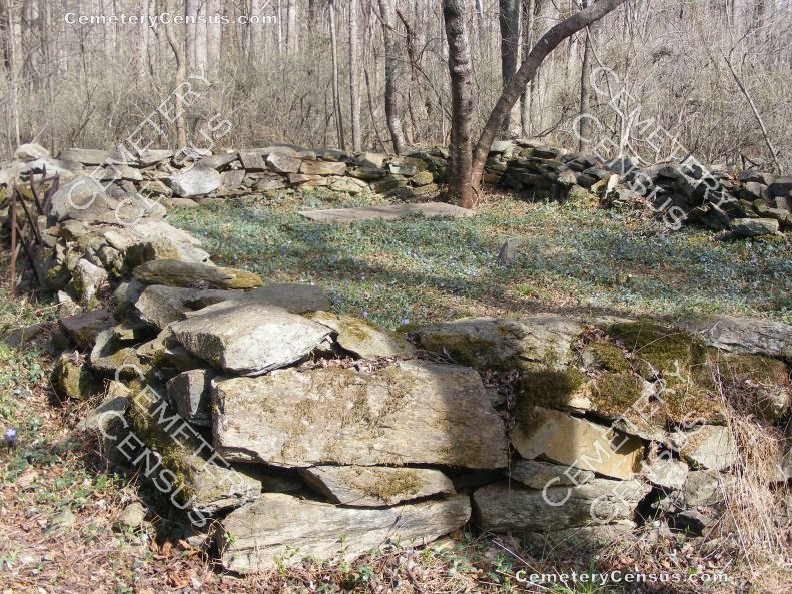 Location - Center Township. 170 feet north of SR 2159, Alston Chapel Road, 0.277 mile west of SR 2160, Old Goldston Road, across from paved driveway

Coordinates: 35d 42m 44.0s N; 79d 11m 44.0s W Click here for Google maps

View #2 of cemetery. View of cemetery gate.
Field stone and periwinkle.

Owner: Mark W. and Linda H. Wisen (2016).

Legal Description: Parcel 60804. Deed 482/108 28 May 1985 BC and Katherine S. Smith to Mark and Linda Wisen. 462/839 17 Aug 1983 Sharon Smith Lloyd to BC and Katherine Smith drawing on 462/841. 455/21 8 Oct 1982 BC and Katherine Smith to Sharon Smith 1/3 interest in 121.3 acres references property of John H. London and plat by Wm Joyner 22 Oct 1970 (not located). Gap in trail--believe the following part of title trail. BI/452 16 Jan 1885 Wm R. Edgerton to HA London (satisfied 28 Jan 1888). Newspaper: Hailbron burned in 1886. BK/184 1 Jan 1885 GR and Louisa Griffith to Wm. R. Edgerson of Wayne Co. Hailbron 400 ac. [1880 newspaper ad: Hailbron for sale by GR Griffith 400 ac] AN/151 Eliza J. Hill (wife of Thomas Hill to her daughter Louisa Y. Hill (who married George R. Griffith) 1868. AI/283 Thomas Hill estate-Hailbron sold to Thomas Hill (son of Col Hill) 1854. Col Ths Hill died 1818. Susannah (his wife) died in 1843. M/113 13 Jan 1802 Ths Brown to Ths Hill 123 ac (acq. from Giles Kelley 17 Feb 1792 E/287; 12 Feb 1781 Roger Griffith and Charity to Giles Kelley. L/137 Matthew Ramsey to Ths Hill 1800.

Topo Quadrant: Pittsboro.
Family owned: Yes.
Abandoned: Yes.
Number of graves: 10.
Cemetery size: 20' x 40'.
White: Yes.
Restricted access: Yes. Difficult access over private property
Overgrown and easy to identify: Yes.
Enclosed: Yes.
Enclosed explanation: Rock wall, 3' high, w/ wrought iron gate entrance on west side.
Enclosed conditions: Good.
Markers: Yes.
Markers with inscriptions: Yes.
Number of readable markers: 1.
Last burial: 1838.
Listed: Yes. Gravesites of Chatham County.

Significant events: William Alston was the younger brother of Col. Philip Alston (House in the Horseshoe) and older brother of Joseph John "Chatham Jack" Alston..

Miscellaneous information: William Alston was Clerk of Chatham County Court, December 1773 to May 1776, died 1778 and buried at Sulphur Springs VA. The house and cemetery of William and Anne (Yeargan) Alston at the home site, was on the north side of Alston Chapel Road, just south of Roberson Creek. [Related by John London as noted on two pages of notes by Michael D. Roper in Alston Family File in Pittsboro Memorial Library, Pittsboro, North Carolina.]

Mrs. Katherine S. Smith, former property owner, confirmed there was a cemetery on the property. On 4 April 1997, Will M. Heiser located an old lane, probably leading to the original house site overlooking Roberson Creek.

A search of Deeds shows that, on 29 April 1775, William Alston purchased from John Harrington 212 acres on the south side of Robertson (sic) Creek including tract whereon Mial Scurlock lived and the Court House of Chatham County stood.

The exact location of this cemetery was reported by Fred Judge. On 10 April 1997, Will M. Heiser recorded one grave marker (for Ann S. Hill), 7 field stones and 2 white marble rocks. Other burials reported in John London's notes.

Last canvassed by: Will M. Heiser. Date: 10 Apr 1997. Cemetery cleaned of brush and photographed in February 2017 by Connie McAdams.


Alston, Anne Yeargan (b. Unknown - d. 1786)
Wife of William Alston. Daughter of Samuel and Sarah Yeargan (per John London). No marker. Burial reported by John London.

Alston, Samuel Yeargan (b. Unknown - d. Unknown)
Son of William and Anne Yeargan Alston (per John London). No marker. Burial reported by John London.

Alston, William Chancy (b. Unknown - d. Unknown)
Son of William and Anne Yeargan Alston (per John London). No marker. Burial reported by John London.

Hill, Ann S. (b. 1798 - d. 9 Nov 1838)
Wife of Arthur Jones Hill. Daughter of Hugh and Ann (Moore) Wadell. "To the Wife and Mother. This stone is erected by her Husband and Children." "Aged 40 Years." "May the afflictions of Earth be purified in Heaven. Love takes the sting from grief And Faith gives Eternity to Love.". Marriage and Husband supplied by Henry S. Hill from St. Bartholomew's Episcopal Church records. Condition Good. Another view. - Another view. - Another view.
Web page updated 13 May 2017
Index of All Cemeteries
Alphabetical Index of All Burials
Previous Page