Index of All Cemeteries
Alphabetical Index of All Burials
Previous Page
Use the following to search across all the cemeteries listed.
Example: "Smith, Roger" (yes, use the quotes)
277 RIDDLE - GEORGE - STRAUGHAN [K08.1]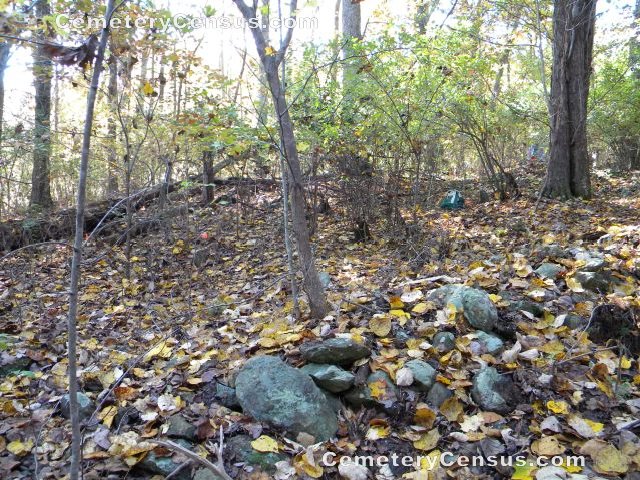 Location - Center. 0.34 mile NNE of the end of Suttles Road, 0.27 mile south of Cane Island Branch.

Coordinates: 35d 44m 25.6s N; 79d 08m 51.6s W Click here for Google maps

Photographs provided by Beverly Wiggins in November 2009.
View #2 of the cemetery.

Owner: Chatham Park Investors, LLC.
Legal Description: Parcel 7474 Deed 1384/133; 678/1061; 663/30; 735/341, 5 Nov 1997; KG/194. 22 Oct 1949, P.T. and Mary E. Farrell to R.B. and W.L. Moore; Cemetery deed KG/53, 17 Sep 1949, Paul T. and Mary E. Farrell to Mrs. Zola Farrell et al. Plat A-663; 4-74. Also see BG/102 and AR/521 Straughan grave yard; EF/458 for earlier references to what appears to be the same land..
Topo Quadrant: Pittsboro.
Family owned: Yes.
Abandoned: Yes.
Number of graves: 39+.
Cemetery size: 100' x 200'.
White: Yes.
Restricted access: Yes. Private Property
Overgrown and not easy to identify: Yes.
Enclosed: Yes.
Enclosed explanation: About half of the graves are enclosed by a low, deteriorating stacked fieldstone wall..
Enclosed conditions: deteriorating.
Markers: Yes.
Markers with inscriptions: Yes.
Number of readable markers: 3.
Last burial: after 1880?.
First burial: 1812.
Markers damaged: Yes.
Other damage explanation: Treefall, neglect.
Listed: Yes.
Listed explanation: Gravesites of Chatham County.

Significant events: Deed KG/194 (1949) refers to cemetery as that of the "Georges and Riddles." Deeds AR/521 (1869) and BG/102 refer to Straughan grave yard. Graveyard appears to have been used by at least three families over a period of at least 70 years..

Miscellaneous information: In 1998 Horace Farrell reported the approximate location of this cemetery. In 2009 Jim and Beverly Wiggins were taken to the site by Preston property manager Bill Oestereich. Graveyard shown on plat as 100' x 200'. Approximately 18 graves are inside the low stone wall and 21 outside the wall to the west. Richard Riddle's tombstone is outside the wall and the two stones with initials are inside..
Last canvassed by: J&B Wiggins, Bill Oestereich. Date: 29 Oct 2009.


G, A (b. Unknown - d. 1 Feb 1812)
Marker located within walled section of cemetery near north end..

Riddle, Richard (b. aft 1833 - d. aft 1880)
Co G 5th NC Cav CSA. Confederate Cross of Honor. Fieldstone marker directly behind headstone; uprooted tree has damaged area but not headstone. Marker is outside walled area to the west of wall. Census records, Civil War records, and deeds suggest that Richard Riddle was born about 1834 to 1838 and lived at least until the 1880s. No dates on headstone. Closeup of inscription.

S, N (b. Unknown - d. Apr ____)
Marker located within walled section of cemetery near north end..
Web page updated 21 October 2017
Index of All Cemeteries
Alphabetical Index of All Burials
Previous Page