Index of All Cemeteries
Alphabetical Index of All Burials
Previous Page
Use the following to search across all the cemeteries listed.
Example: "Smith, Roger" (yes, use the quotes)
259 GOLDSTON, WILLIAM [J66.1]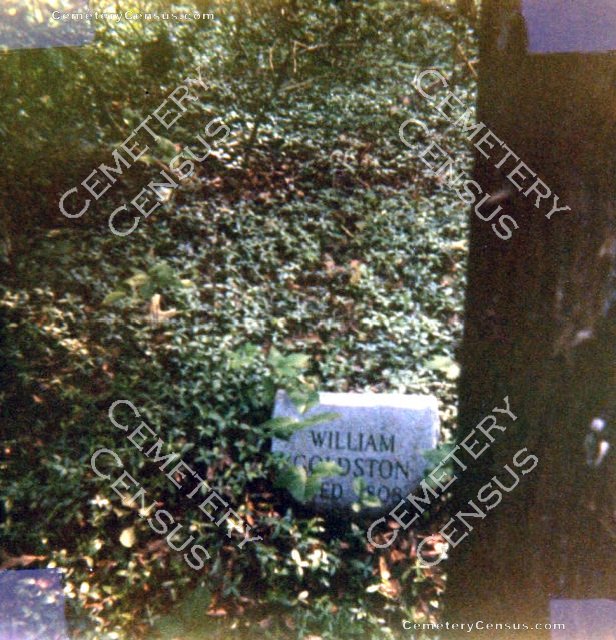 Location - Hickory Mountain Township. Cemetery is on left side of Beaumont Lane, about 1,000 feet south of NC 902, Pittsboro--Bear Creek Road, 0.75 mile west of Rocky River.

Coordinates: 35d 40m 14.0s N; 79d 17m 50.8s W Click here for Google maps

On 23 March 1992, Reba Cheek said Sarah Goldston is buried beside her husband. Cemetery reported by several others.

It has been reported that a fieldstone with letters "W.G. 1808" was moved to Goldston United Methodist Church Cemetery (Q23.1). Marion Norton reported to Martha Smith in 1989 that a modern marker, inscribed "William Goldston 1808" was in this cemetery, along with other older markers barely legible. A photograph of the modern marker is on file in the CCHA cemetery notebooks. We have found no evidence that the remains from the cemetery were relocated.

William Goldston was a Revolutionary War Captain, given this rank by the Provincial Congress at the August term of the County court, 1778. In March of 1781 Captain William Goldston and his troops are reported to have slain twelve possible Tory recruits at an unnamed branch of Brush Creek that was later called Bloodrun Creek because of that incident. William was one of the largest landowners in the county. He settled between Rocky River and Bear Creek to Tick Creek on the west. His plantation was called River Plantation, a small portion of which later became Abel Green's Beaumont Plantation. Tory David Fanning tried to track him down and did burn his house. The town of Goldston was named for William's grandson, Joseph John Goldston, Jr. (Source: Chatham County 1771-1971.)

Topo Quadrant: Siler City NE.
Legal: Parcel 65251. Deed 12E/341, 2012. Plat 88-402 (does not show cemetery).
Family owned: Yes.
Abandoned: Yes.
Number of graves: at least 2.
White: Yes.
Unrestricted access: Yes.
Overgrown and easy to identify: Yes.
Enclosed: No.
Markers: Yes.
Markers with inscriptions: Yes.
Number of readable markers: 1.
Last burial: 1808.
Hazards: Markers removed. Now difficult to identify as a cemetery.
Last canvassed by: Reba Cheek. Date: 23 Mar 1992.


Goldston, Sarah (b. Unknown - d. Unknown)
Wife of William Goldston. No marker. Reba Cheek reports Sarah buried next to husband on Beaumont Place. See Q23.1, Marker Card #422.

Goldston, William (b. Unknown - d. 1808)
Husband of Sarah Goldston. Captain N.C. Militia, Revolutionary War DAR Bronze plaque in Goldston UMC. Cem. See Q23.1. Reba Cheek reports original field stone with "W.G. 1808" moved from Beaumont Place to Q23.1, Card #422.
Web page updated 13 May 2017
Index of All Cemeteries
Alphabetical Index of All Burials
Previous Page