Index of All Cemeteries
Alphabetical Index of All Burials
Previous Page
Use the following to search across all the cemeteries listed.
Example: "Smith, Roger" (yes, use the quotes)
251 BETHLEHEM [J45.2]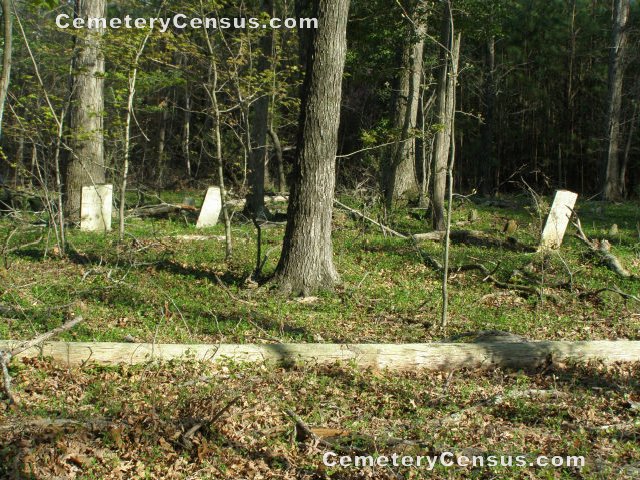 Location - Hickory Mountain. Corner of Hilltop Road and Lillie Lane

Coordinates: 35d 41m 31.0s N; 79d 18m 20.0s W Click here for Google maps

View #2 of the cemetery.

Owner: Lillie H. Brooks; Purchased from heirs of George W. Rives.
Legal Description: DB 785/313 Plat 98/185 references DB GW/261. Plat 2000/349 shows cemetery. Parcel 77549. 0.3 acres..
Topo Quadrant: Siler City NE Code J.
Church owned: Yes. Denomination: Unknown.
Abandoned: Yes.
Number of graves: 30-35.
Cemetery size: 0.3 acre; 45' x 75'.
White: Yes.
Restricted access: Yes. Private Property
Poorly maintained: Yes.
Overgrown and easy to identify: Yes.
Enclosed: No.
Markers: Yes.
Markers with inscriptions: Yes.
Number of readable markers: 5.
Last burial: 1862.
First burial: 1842.
Markers damaged: Yes.
Other damage explanation: Neglect.

Significant events: Prior to 1850 a log church here called Bethlehem disbanded its membership and was sold. Newly orgainized Pleasant Hill Church Sunday School was conducted here during 1850, founded by Gaston Egbert Brown. See Beaumont Community, Pittsboro Herald, 6 Dec 1972. All inscribed stones are for Burkes. Three stones are signed by George Lauder, a prominent Fayetteville stonecutter.

Miscellaneous information: Periwinkle and clumps of daffodils; elevation 565'.

Last canvassed by: Jim and Bev Wiggins. Date: 19 Mar 2007.


Burke, Ann Robert (b. 7 Dec 1861 - d. 25 May 1862)
Daughter of R.D. and Julia Ann Burke. fs: ARB. When Barbara Pugh visited this cemetery in 2004, she reported finding a headstone with the above information. In 2007, the Wiggins found a footstone only. Location row 1. column 2.
star on top. hs broken and leaning against tree. Location row 2. column 3.
Masonic symbol.Stone signed by Lauder/ Fayll [Fayetteville]. fs: NSB. Location row 2. column 1.
Masonic symbol. Headstone signed by Lauder. fs: RDB. Found in 1860 Census, age 36, shoemaker.. Location row 1. column 1.
Web page updated 13 May 2017
Index of All Cemeteries
Alphabetical Index of All Burials
Previous Page