Index of All Cemeteries
Alphabetical Index of All Burials
Previous Page
Use the following to search across all the cemeteries listed.
Example: "Smith, Roger" (yes, use the quotes)
245 CAROLINA HILL [J22.2]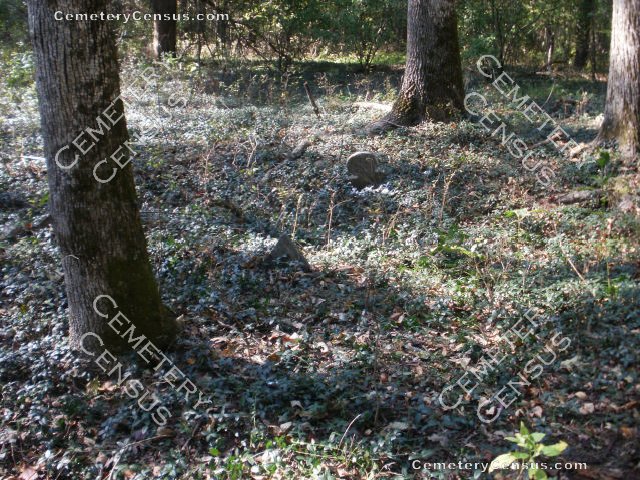 Location - Hickory Mountain Township. North of SR 2168, Carolina Hill Road, on top of Carolina Hill

Coordinates: 35d 42m 48.0s N; 79d 20m 39.2s W Click here for Google maps

In 1991 Richard Danek reported an abandoned cemetery with a rock wall. The site was visited by Frances and Tom Danek, Richard Danek, and Barbara Pugh on 12 October 2010. Barbara Pugh photographed the site and two legible stones. Frances Danek reported that her father used to work this land and her mother would sit in the cemetery while he worked. Dewey Dowd showed Jim and Bev Wiggins the cemetery on 24 Oct 2014. Bev Wiggins took additional photos of the site and markers.

View #2 of cemetery. - View #3 of cemetery. - View #4 of cemetery. - View #5 of cemetery. - View #6 of cemetery. -

Owner: Chatham Land and Timber Management, Frances Danek.
Legal: Parcel 12009, db 735/341 (references earlier deeds 420/628 and 405/766); no plat.
Topo Quadrant: Siler City NE.
Family owned: Yes.
Abandoned: Yes.
Restricted access: Yes. Private property.
Enclosed: Yes.
Enclosed explanation: Rock wall, now deteriorated.
7 graves
Overgrown, easily identifiable
2 inscribed stones legible
Last 1822
Earliest 1822
Imperiled: 2010 on list as possible landfill site.

Last canvassed by: Richard Danek, 1991; Tom, Frances and Richard Danek and Barbara Pugh, 12 Oct 2010; Jim and Bev Wiggins and Dewey Dowd, 24 Oct 2014.


B, D.W. (b. Oct 1782 - d. 29 Apr 1822)
Web page updated 13 May 2017
Index of All Cemeteries
Alphabetical Index of All Burials
Previous Page