Index of All Cemeteries
Alphabetical Index of All Burials
Previous Page
Use the following to search across all the cemeteries listed.
Example: "Smith, Roger" (yes, use the quotes)
244 DARK, AARON [J22.1]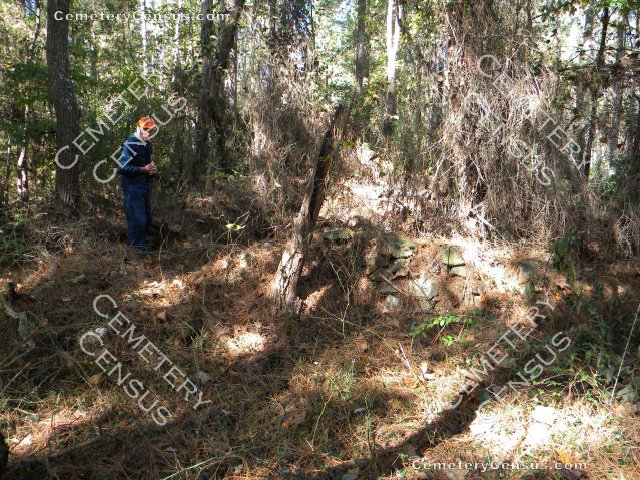 Location - Hickory Mountain Township. 2,400 feet south of east end of SR 2169, Zeb Ferguson Road, 1,500 feet south of S. T. Hildebrand home, 400 feet east of power line.

Coordinates: 35d 43m 10.0s N; 79d 20m 34.0s W Click here for Google maps

On 23 March 1989, Wade Hadley reported on the location of this cemetery. On 20 July 1995, Will M. Heiser recorded two grave markers. The site was visited on October 24, 2014 by Jim and Bev Wiggins and Dewey Dowd.

View #2 in the cemetery. View #3 in the cemetery.

Owner: Thomas and Frances Danek. Formerly Travelers Insurance Co.
Legal Description: Parcel 11782. Deed 946/242, 2002. Plat 11-31. Deed 325-223, 29 June 1967, 205.51 acres from A. V. Ferguson heirs.
Topo Quadrant: Siler City NE.
Family owned: Yes.
Abandoned: Yes.
Number of graves: 2.
Cemetery size: 10' x 20'.
White: Yes.
Restricted access: Private property. Difficult to get to and hard to find
Overgrown and easy to identify: Yes.
Enclosed: Yes.
Enclosed explanation: Stone wall. Wall was apparently quite tall before collapse. An additional grave could be obscured by the rocks that have fallen into the enclosure.
Enclosed conditions: Fallen down.
Markers: Yes.
Markers with inscriptions: Yes.
Number of readable markers: 2.
Last burial: 1847.
First burial: 1825.
Markers damaged: Yes.
Other damage explanation: One stone is broken.
Miscellaneous information: In grove of large cedar, pine and hardwood trees. The cemetery is obscured by bushes and vines. Wide area of myrtle covers the ground around the cemetery.

Last canvassed by: Will M. Heiser. Date: 20 July 1995; Jim and Bev Wiggins and Dewey Dowd, 24 Oct 2014.


Dark, Aaron (b. 8 Feb 1791 - d. 12 Jul 1825)
Son of William and Susannah (Headen) Dark. "In memory of" "Son of Wm. and Susannah Dark". Another view.

Dark, Susannah (Headen) (b. 4 Jan 1760 - d. 30 Aug 1847)
Wife of William Dark. Daughter of John and Sara (Mans) Headen. "In memory of" "Wife of Wm. Dark". Hard to read "Wm.". Another view.
Web page updated 13 May 2017
Index of All Cemeteries
Alphabetical Index of All Burials
Previous Page