Index of All Cemeteries
Alphabetical Index of All Burials
Previous Page
Use the following to search across all the cemeteries listed.
Example: "Smith, Roger" (yes, use the quotes)
193 MOSER [H03.1]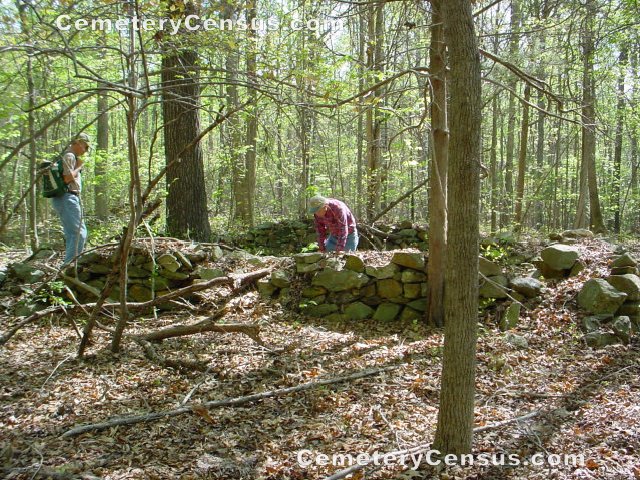 Location - Matthews Township. West of SR 1004, Siler Mill Road, 0.5 mile north of US 64

Coordinates: 35d 44m 21.0s N; 79d 27m 30.0s W Click here for Google maps

In 1980, Wade Hadley recorded 3 grave markers.

Another view of the cemetery.

Owner: Dr. Mack Sears.
Topo Quadrant: Siler City.
Family owned: Yes.
Abandoned: Yes.
Number of graves: 3.
White: Yes.
Unrestricted access: Yes.
Overgrown and easy to identify: Yes.
Enclosed: Yes.
Enclosed explanation: Rock wall.
Markers: Yes.
Markers with inscriptions: Yes.
Number of readable markers: 3.
Last burial: 1844.
First burial: 1801.
Last canvassed by: Wade Hadley. Date: 1980.


Moser, Mary (b. 28 Nov 1806 - d. 5 May 1882)
Moser, Rily H. (b. 3 Sep 1844 - d. 18 Jun 1877)
Moser, William (b. 8 Oct 1801 - d. 1 Jan 1888)
Aged 86 yrs 2 mos 23 days
Web page updated 21 October 2017
Index of All Cemeteries
Alphabetical Index of All Burials
Previous Page