Index of All Cemeteries
Alphabetical Index of All Burials
Previous Page
Use the following to search across all the cemeteries listed.
Example: "Smith, Roger" (yes, use the quotes)
182 MATTHEWS, WILLIAM [G26.1]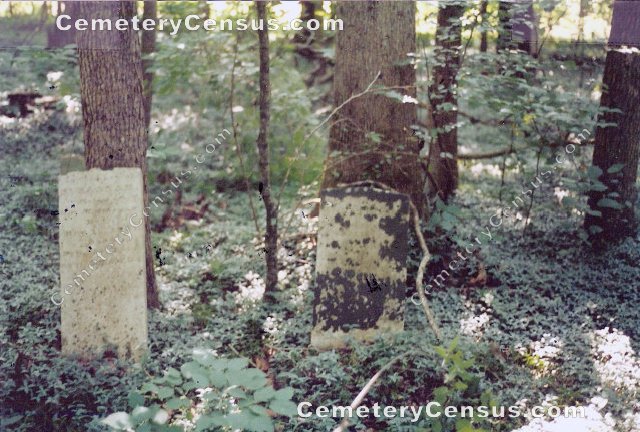 Location - Matthews. 2550 Coleridge Road, approx. 1070' behind house, or 2400' north of road.

Coordinates: 35d 42m 57.0s N; 79d 32m 18.0s W Click here for Google maps

Photograph taken in 1987 by Wade Hadley.

Owner: Paul Gilbert.
Legal Description: Parcel 12586, DB 396/515, DB FW/403 (no reference to cemetery in deed).
Topo Quadrant: Coleridge Code G.
Family owned: Yes.
Abandoned: Yes.
Number of graves: 22.
Cemetery size: 150' x 150'.
White: Yes.
Restricted access: Yes. Private Property
Overgrown and easy to identify: Yes.
Not identified explanation: On hill in woods, near field. Thick periwinkle covers the site..
Enclosed: Yes.
Enclosed explanation: Old wire fence on one side.
Markers: Yes.
Markers with inscriptions: Yes.
Number of readable markers: 2.
Last burial: 1847.
First burial: 1847.

Significant events: Remarkably unchanged in 2007 compared with 1989 visit by Wade Hadley. In June 2007, CCHA volunteers were guided to the site by Tommy Emerson and Norman Jordan. The two inscribed stones are signed by Lauder -- probably George Lauder, Fayetteville stonecutter..

Last canvassed by: Jane Pyle, Bev & Jim Wiggins. Date: 22 Jun 2007.


Matthews, Susannah (b. 16 May 1791 - d. 28 Sep 1847)
Wife of William Matthews. Aged 56 y 4m 12 d fs: SM. In memory of Susannah relict of Wm Matthews. Stone signed by Lauder..

Matthews, William (b. 17 Jan 1787 - d. 7 Sep 1847)
Husband of Susannah Matthews. Aged 60y 7m 21 d fs: WM. In memory of William Matthews Husband of Susannah Matthews. Stone signed by Lauder. Below name is Fayet..
Web page updated 21 October 2017
Index of All Cemeteries
Alphabetical Index of All Burials
Previous Page