Index of All Cemeteries
Alphabetical Index of All Burials
Previous Page
Use the following to search across all the cemeteries listed.
Example: "Smith, Roger" (yes, use the quotes)
178 CAVINESS - VESTAL [G16.2]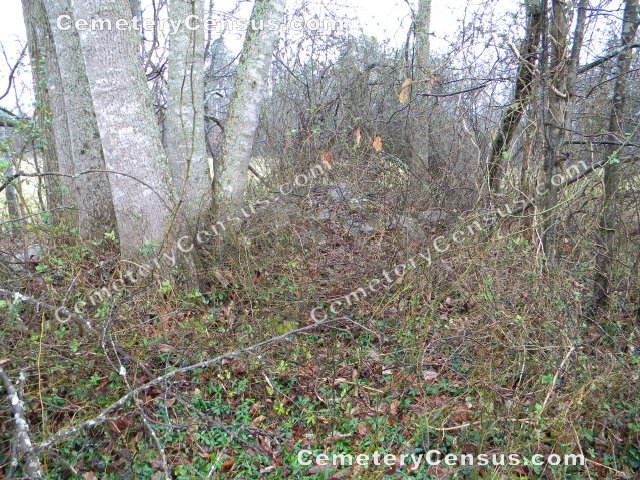 Location - Matthews. Between 1093 & 1205 Moons Chapel Road (SR 1101), about 640' from road.

Coordinates: 35d 43m 37.6s N; 79d 32m 24.6s W Click here for Google maps

Owner: Carl Wendell Vestal and Daniel Kent Vestal (in 2007).

Legal Description: Parcel 65444. DB 1241/ 494, cemetery shown on Plat 89-220 shows the land willed to Grady Oliver Vestal and David St. Claire Vestal by their father, Edward L. Vestal. Edward and his siblings obtained land from their father Oliver. All except Edward eventually moved away but Edward kept the original homestead and 250 acres. Edward's father Oliver Vestal bought the land from William Caviness's heirs in 1847 (Deeds AH/41, AH/327 and AH/469). Deeds W/270 and W/271 show William Caviness buying land from Lemuel and David Vestal in 1821.

Topo Quadrant: Coleridge Code G.
Family cemetery: Yes.
Abandoned: Yes.
Number of graves: 2-3.
Cemetery size: 10' x 20'.
White: Yes.
Restricted access: Yes. Private Property
Overgrown and easy to identify: Yes.
Enclosed: Yes. Arthur Smith says two or three graves were enclosed by a fieldstone wall which has since been filled in with fieldstones.
Number of readable markers: 0.
Hazards: Neglect.

Significant events: The Vestal farm is one of about a dozen century farms in Chatham County. See history in North Carolina Century Farms, NC Dept of Agriculture, 1989, pp. 68-69. According to descendant Catherine Vestal Mobley, the property was originally settled by James Vestal, who, in 1789, built the house that still stands on the property. In 1821 William Caviness purchased the property from Lemuel S. and David Vestal. Caviness's wife is variously described by descendants as the daughter or granddaughter of James Vestal. William Caviness died in or prior to 1847 and is believed to be buried on the property. His heirs sold the property to Oliver Vestal in 1847. The long Vestal occupation of the property makes Vestal burials at this site a possibility as well..

Miscellaneous information: Covered in periwinkle, the cemetery is in a small patch of trees in a field. Stones piled over the cemetery make identification of graves impossible. According to Arthur Smith, the cemetery contained two or three graves and originally had a stone wall around it that was filled in with stones over time.

Last canvassed by: Reported in 1992 by LaVerne Brady Davis and Arthur Smith; Canvassed in June 2007 by Norman Jordan, Tommy Emerson, Jane Pyle and Jim and Bev Wiggins; Visited on 27 Feb 2012 by Arthur Smith, Tommy Emerson, Jim and Bev Wiggins, at which time the site was photographed.


Caviness, William (b. Unknown - d. Abt 1847)
Husband of ?? Vestal Caviness. no gravestone. Believed to be buried here.

Unknown, Unknown (b. Unknown - d. Unknown)

Unknown, Unknown (b. Unknown - d. Unknown)
Web page updated 13 May 2017
Index of All Cemeteries
Alphabetical Index of All Burials
Previous Page