Index of All Cemeteries
Alphabetical Index of All Burials
Previous Page
Use the following to search across all the cemeteries listed.
Example: "Smith, Roger" (yes, use the quotes)
177 MOON - POUNDS [G16.1]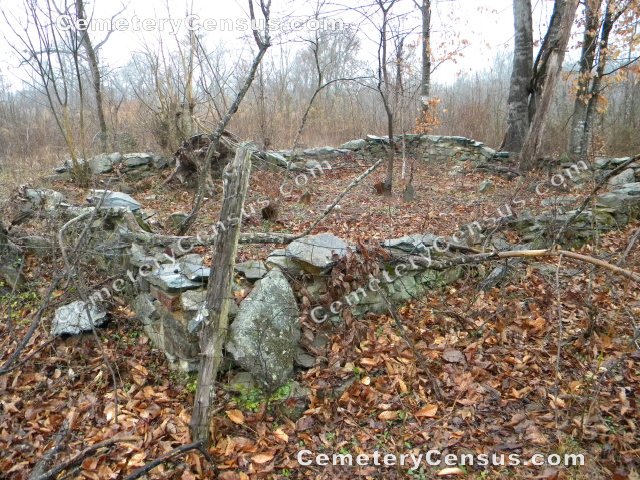 Location - Matthews Township. West of SR 1101, Moons Chapel Road, 0.7 mile south of US 64. Cemetery is in pasture behind house at 706 Moons Chapel Rd.

Coordinates: 35d 44m 00.0s N; 79d 32m 32.0s W Click here for Google maps

In 1989 Arthur Smith reported a cemetery at this location, in a pasture behind a tobacco barn, enclosed by a stone wall - no legible markers. In 1992 Tina Farley reported a cemetery with 8-12 graves, no legible markers, and surrounded by a barbed-wire fence, in her back yard at this address. On 27 February, 2012, the site was visited by Arthur Smith, Tommy Emerson, Jim and Bev Wiggins. No legible markers were found, but approximately twelve graves are marked by shaped local stone. The site is enclosed by a stone wall with some old brick included. Arthur Smith says that the cemetery was once enclosed by a wall made of brick from a nearby clay pit and kiln. Someone removed the bricks to build a chimney on a house (now fallen down) but was required by the Moon and Pounds families (believed to be buried here) to build a rock wall around the graves. Arthur Smith with handmade brick. John Moon deeded other property to what is now Moons Chapel Baptist Church (AK/476).

View #2 of cemetery. View #3 of cemetery. View #4 of cemetery. View #5 of cemetery.

Owner: Alice Smith Davis and Phillip Ray Davis.
Legal Description: Parcel 61105. Alice Smith Davis obtained the property from her father Emmett Smith. Deed 463/435. Deed BP/261 from F.A. Matthews to William J. Smith, 1881 (registered 28 Dec 1885). References Brush Creek and John Moon Tract. AR/75 to Franklin A. Matthews from Mary [Moon] Hutson (sister of John Moon), 6 Oct 1869 (registered 3 Nov 1873). Refers to Brush Creek, Moon Lands, and recently A. Hutson lands. D/90 and D/91 John and James Moon from Roger Griffith, May 1786, land east of Brush Creek. Deeds note that this land was deeded to Griffith by State of NC in 1784.
Topo Quadrant: Coleridge.
Family Owned: Yes.
Abandoned: Yes.
Number of graves: 12.
White: Yes.
Restricted access: Yes. Private Property.
Identifiable: Overgrown, but easily identified.
Enclosed: Yes.
Enclosed explanation: Stacked fieldstone wall about 18 inches high.
Enclosed condition: Wall is fair, but falling in some locations.
Markers: Yes.
Markers with inscriptions: No.

Miscellaneous information: Arthur Smith and Becky Bowman report that Moon and Pounds families are buried here.

Last canvassed by: Reported by Arthur Smith in 1989 and Tina Farley in 1992. Canvassed by Arthur Smith, Tommy Emerson, Jim and Bev Wiggins on 27 Feb 2012. Bev Wiggins photographed the site on 27 Feb 2012.


Unknown, Unknown (b. Unknown - d. Unknown)
Web page updated 21 October 2017
Index of All Cemeteries
Alphabetical Index of All Burials
Previous Page