Index of All Cemeteries
Alphabetical Index of All Burials
Previous Page
Use the following to search across all the cemeteries listed.
Example: "Smith, Roger" (yes, use the quotes)
167 LEWTER, T. C. [F64.1]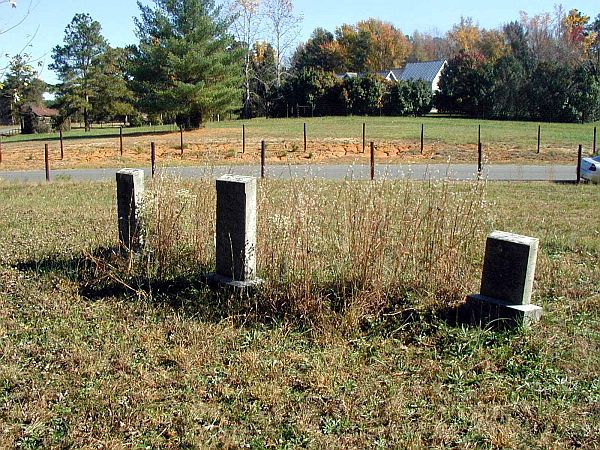 Location - New Hope Township. South side of SR 1740, Lewter Shop Road, 0.5 mile east of SR 1742, Green Level Road

Coordinates: 35d 47m 25.0s N; 78d 56m 58.0s W Click here for Google maps

In 1989, Robert Hughes recorded 3 grave markers and reported other unmarked graves.

Owner: Dr. Kenoy, Durham.
Topo Quadrant: Green Level.
Family owned: Yes.
Maintained and in use: Yes.
Number of graves: 3.
Cemetery size: 15' x 20'.
White: Yes.
Restricted access: Yes. Fenced in yard on private property
Well maintained: Yes.
Enclosed: No.
Markers: Yes.
Markers with inscriptions: Yes.
Number of readable markers: 3.
Last burial: 1937.
First burial: 1900.
Markers damaged: Yes.
Last canvassed by: Robert Hughes. Date: 1989.


Lewter, Amanda E. (b. 20 Nov 1849 - d. 13 Oct 1931)

Lewter, Eva L. (b. 19 Aug 1889 - d. 14 Apr 1900)
Daughter of T. C. and Amanda E. Lewter.

Lewter, T. C. (b. 14 Oct 1857 - d. 24 Feb 1937)
Husband of Amanda E. Lewter.
Web page updated 21 October 2017
Index of All Cemeteries
Alphabetical Index of All Burials
Previous Page