Index of All Cemeteries
Alphabetical Index of All Burials
Previous Page
Use the following to search across all the cemeteries listed.
Example: "Smith, Roger" (yes, use the quotes)
139 UNKNOWN (Hackneys Crossroads) [E82.2]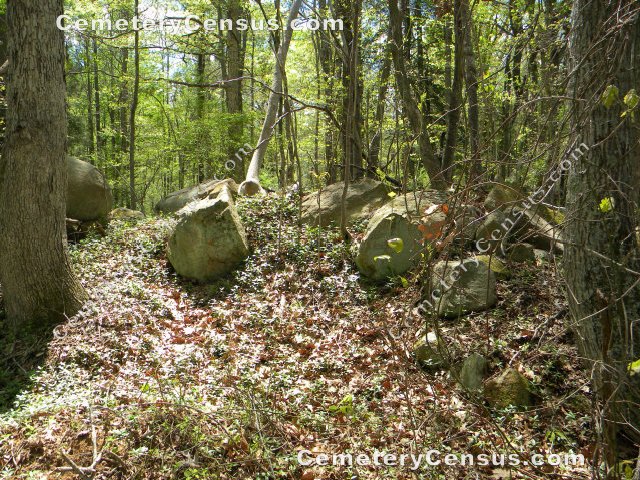 Location - Williams Township. at Hackney's Crossroads, 600' eest of Mt. Gilead Church Rd; 380' north of Hudson Woods Rd.

Coordinates: 35d 46m 16.8s N; 79d 05m 29.0s W Click here for Google maps

Reported in 1992; no other information is recorded.

Photographs by Bev Wiggins in March 2011. Click here to view a slide show of photos.

Topo Quadrant: Farrington.
Owner: Contentnea Creek Development Co.
Legal dcescription: Parcel 19355. Deed book 1143/643; plat 2004-387. JH/456 Roy Tripp form KB and Ivy Cole, 10Apr1945; JA/384 KB & Ivy Cole from Meridith College. WA Foushee to Meridith College by will 15Nov1913; G 508-511. BG/101 JJ Hackney to WA Foushee, 2 May 1883.

Private cemetery: Yes, unclear.
Abandoned: Yes.
Number of graves: 100.
Cemetery size: 90'x280'.
Type: Other, unknown.
Restricted access: Yes. Private property.
Condition: Overgrown.
Not identifed: Yes.
Enclosed: No.
Markers present: Yes.
Inscribed markers: No.
Readable markers: 0.
Markers damaged: Yes. Large stones have been pushed into the cemetery, disturbing some graves.

Historical significance: Hackney's Crossroads an area of early settlement.

Last canvassed by: Will M. Heiser. Date: 1992. Bev Wiggins, Kenneth Crabtree, Keith Claren of Contentnea. Date 13 Apr 2011.


Web page updated 21 October 2017
Index of All Cemeteries
Alphabetical Index of All Burials
Previous Page