Index of All Cemeteries
Alphabetical Index of All Burials
Previous Page
Use the following to search across all the cemeteries listed.
Example: "Smith, Roger" (yes, use the quotes)
132 MORPHIS - DURHAM [E61.2]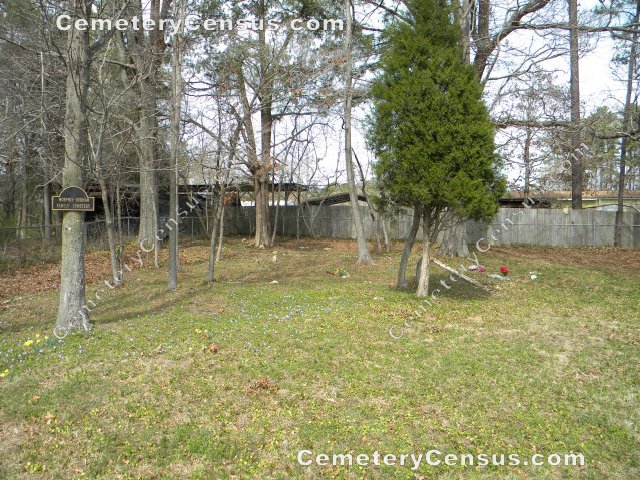 Location - Baldwin Township. West side of US 15-501, 500 feet south of SR 1700, Mt. Gilead Church Road, adjacent to and north of Bynum Methodist Church Cemetery (E61.1)

Coordinates: 35d 47m 34.2s N; 79d 06m 06.6s W Click here for Google maps

On 1 February 1989, February 1998, and 27 March 1997, Will and Audrey Heiser recorded 4 grave markers and several sunken areas. By phone conversations, Ida Ruth (Durham) Lee reported 3 other persons buried here. Beverly Wiggins visited and photographed the site on 8 Mar 2011. The site had recently been cleaned, with leaves blown out of the cemetery and a sign erected. At least ten graves were visible within the concrete block wall around the old cemetery, most marked with fieldstone head and footstones. At least four other graves are visible outside the block wall, but within the chain link fence. Two large oaks and a large cedar tree shelter the site, which is covered with periwinkle. Wiggins found one new grave and a new marker for another. Two markers previously recorded were not found, and one burial was added from death certificate records.

View #2 of the cemetery. View #3 of the cemetery. View of the cemetery sign.

Owner: Unknown.
Legal Description: Parcel 71477. Plats: 4-98, 2 Apr 1954; 94-274, 17 Jan 1994; 96-399, 4 Nov 1996. Deed 677/107, 1998.
Topo Quadrant: Farrington.
Family owned: Yes.
Used: Yes.
Number of graves: 14+.
Cemetery size: Triangle 100' x 100' x 100'.
Black: Yes.
Unrestricted access: Yes.
Overgrown and easy to identify: Yes.
Enclosed: Yes.
Enclosed explanation: Concrete block wall 40' x 50' around old cemetery. Chain link fence 20' x 50' around new cemetery..
Enclosed conditions: Broken in places.
Markers: Yes.
Markers with inscriptions: Yes.
Number of readable markers: 4.
Last burial: 2001.
First burial: 1941.

Miscellaneous information: This land was part of a 100 acre parcel willed to Emma Smith Morphis, a former slave, by Mary Ruffin Smith in 1886. See deed book BP/580, esp. BP/583. The land was part of Jones Grove, the plantation of Mary Ruffin Smith's grandfather. According to her birth certificate, Emma Smith Morphis is buried here. Emma was one of three female former slaves, each willed 100 acres of Jones Grove land by Mary Ruffin Smith. According to family lore and Emma's death certificate, Emma's father was Mary R. Smith's brother, Francis [Frank], and her mother was a Smith slave, Harriet Fasset [or Faucet]. The 1870 census lists Emma (23) with husband Henry Morphis (25), son Samuel (1), and Harriet Smith (53), living in Chapel Hill, just two households away from the Smith plantation where Frank and Mary R. Smith were living at the time. In 1880, Emma's household is next door to the plantation, where Mary R. Smith is head of household. In 1910, her family is in Baldwin township, presumably on the 100 acre parcel she inherited.

Last canvassed by: Will and Audrey Heiser inventoried the site in Feb 1989, Mar 1997, and Feb 1998; Bev Wiggins, checked the markers and photographed the site on 8 Mar 2011.


Durham, Hattie M. (b. 9 Jun 1896 - d. 19 Mar 1976)
Flat. Granite. Outside of concrete block wall-inside fence.

Durham, Mary Francis (Morphis) (b. 7 May 1878 - d. 5 Jun 1944)
Wife of Attlas Durham. Daughter of Henry and Emma Morphis. Info from Ida Ruth (Durham) Lee, 2 Mar 1998 and death certificate. [no marker].

Lee, Ida Ruth Durham (b. 26 Sep 1923 - d. 24 Feb 2001)
Flat granite marker. "Our beloved Mom."

Lee, Kevin Bruce (b. 21 Jun 1958 - d. 2 Sep 1996)
PFC US Army. Military marker. "Beloved Father, Brother and Son". Flat. Marble. Outside of concrete wall-inside fence.

Lee, Roy, Jr. (b. 2 Feb 1924 - d. 11 Feb 1998)
Funeral marker in 1998. Granite military marker in 2011. PFC US Army. "Our beloved Dad."

Lloyd, Chenille P. (b. 30 Jul 1978 - d. 7 Jul 2014)

Lloyd, Katherine Rose Lee (b. 20 Dec 1953 - d. 23 May 2013)
Wife of Tobert Leon Lloyd. Daughter of Roy Lee, Jr. and Ida Ruth Durham. Portrait.

Morphis, Emma Smith (b. abt Jul 1847 - d. 1 Apr 1941)
"Mother". Flat slab. Per Ida Ruth (Durham) Lee, 2 Mar 1998. Wife of Henry Morphis, according to deed BP/580 and her death certificate. Daughter of Frank Smith and Harriet Fasset. Death certificate puts birth date at 1842, but censuses suggest about 1847. Marker not found in 2011.

Morphis, Eunie (b. 1872 - d. 6 Feb 1947)
Son of Henry and Emma Morphis. According to death certificate, buried in Morphis family cemetery. [no marker].

White, Bill (b. Unknown - d. Unknown)
Husband of Hattie White. Per Ida Ruth (Durham) Lee, 2 Mar 1998. [no marker].

White, Lewis (b. Unknown - d. 16 Sep 1943)
Son of Bill and Hattie White. Funeral marker. Inside concrete block wall. Relationship per Ida Ruth (Durham) Lee. [Funeral marker found in 1998, but not in 2011].
Web page updated 28 November 2017
Index of All Cemeteries
Alphabetical Index of All Burials
Previous Page