Index of All Cemeteries
Alphabetical Index of All Burials
Previous Page
Use the following to search across all the cemeteries listed.
Example: "Smith, Roger" (yes, use the quotes)
127 DURHAM - SLAVE [E52.3]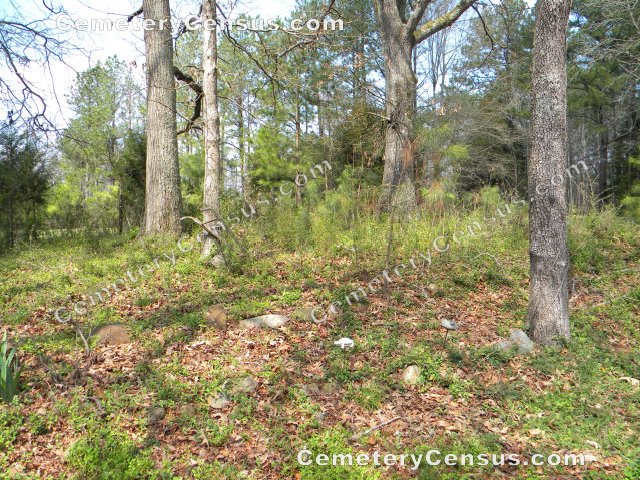 Location - Baldwin Township. On south side of SR 2538, Andrews Store Rd; in back yard of 1st house on right on Forest Creek Drive--18 Forest Creek Drive.

Coordinates: 35d 48m 38.3s N; 79d 05m 57.8s W Click here for Google maps

In 1989 Gerald Oldham reported about ten markers, some inscribed. Cemeteries are shown on lots 3 and 4 of Forest Creek Estates, plat 87-400.

View #2 of the cemetery. View #3 of the cemetery.

Owner: Robert and Jane Emery.
Legal Description: Parcel 65228. Deed 647/377 (2004). Cemetery is parcel 82172. Plat 87-400 shows cemetery.
Topo Quadrant: Farrington.
Family owned: Slave Cemetery.
Abandoned: Yes.
Number of graves: 10.
Slave Cemetery: Yes.
Cemetery size: 40'x40'.
Restricted access: Yes. Private property.
Overgrown and not easy to identify: Yes.
Enclosed: No.
Markers present: Yes.
Inscribed markers: No.
Markers damaged: Yes. In 1989 Clarence Durham said that some stones were disturbed when DOT worked on Andrews Store Rd.
Hazards to cemetery: Yes. Neglect.
Listed: Yes. Gravesites of Chatham County.

Significant events: Gerald Oldham reported the cemetery in 1989. He called this the Durham slave cemetery but did not indicate the source of his information. Nor did he indicate a number of graves.

Miscellaneous information: Glenn Lazarus and Bev Wiggins visited and photographed the site on 19 March 2012, accompanied by property owners Robert and Jane Emery. Several fieldstone markers are evident, along with other depressions. Owner Mr. Emery says that other graves are in the area but are difficult to identify. The cemetery is in an area with trees and the Emery's have planted a flower border around two sides.

Last canvassed by: Gerald Oldham in 1989. Glenn Lazarus and Bev Wiggins on 19 Mar 2012.


Unknown, Unknown (b. Unknown - d. Unknown)
Fieldstone marking grave.
Web page updated 13 May 2017
Index of All Cemeteries
Alphabetical Index of All Burials
Previous Page