Index of All Cemeteries
Alphabetical Index of All Burials
Previous Page
Use the following to search across all the cemeteries listed.
Example: "Smith, Roger" (yes, use the quotes)
122 NORWOOD [E50.1]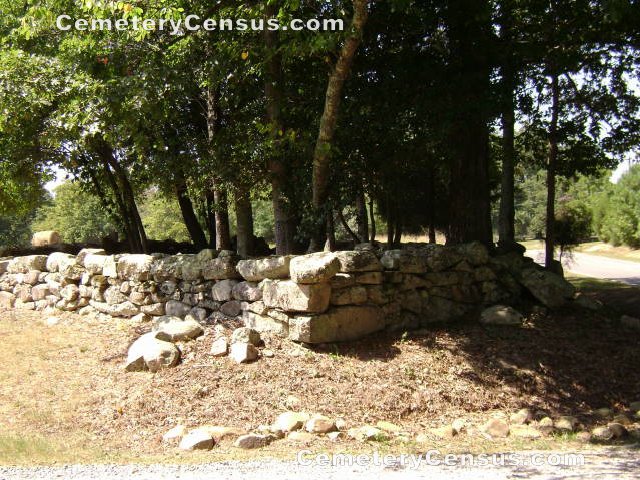 Location - Baldwin Township. On east side of SR 1526, Parker Herndon Road, at Lois Lane, 0.5 mile south of SR 1528, Andrews Store Road

Coordinates: 35d 48m 32.0s N; 79d 06m 59.9s W Click here for Google maps

On 25 March 1996, Will M. and Audrey O. Heiser recorded 10+ field stones. In Sept 2010 Lee and Reba Sullivan cleaned the cemetery and photographed the site.

View #2 of the cemetery. View #3 of the cemetery. View of the Lois Lane sign at the cemetery.

Owner: Reba Parker Sullivan.
Legal Description: Parcel 79947; 0.361 acre, including E50.1 cemetery. Deed 321/300; 990/483; plat 2009-198.
Topo Quadrant: Farrington.
Family owned: Yes.
Abandoned: Yes.
Number of graves: 10+.
Cemetery size: 40' x 25'.
White: Yes.
Unrestricted access: No, Private property.
Well maintained: Yes.
Enclosed: Yes.
Enclosed explanation: Rock wall 2' high.
Enclosed conditions: Fair.
Markers: Yes.
Markers with inscriptions: No.
Number of readable markers: 0.

Miscellaneous information: Britt Norwood was told by his father that his g-g-g-grandfather, William Norwood III was buried in this cemetery. William Norwood III was the son of William Norwood II and Ruth Wyche. William III was born in Northhampton County, NC on 21 Apr 1769 and died in Chatham County in 1825. He was married to Sarah Howard, b. 4 Feb 1779, and d in Chatham Co. in 1852. William III and Sarah had 10 children, all born in Chatham Co. Their son David Norwood was Britt's g-g-grandfather. According to Britt, five of the 10 children of William Norwood III married descendants of William Snipes and Sarah Herndon.

Last canvassed by: Will M. and Audrey O. Heiser, 23 Mar 1996. The cemetery is maintained by Lee and Reba Sullivan. Reba Sullivan photographed the site in Sep 2010.


Norwood, William III (b. 21 Apr 1769 - d. 1825)
No inscribed stone. Information from Britt Norwood. Son of William Norwood II and Ruth Wyche. Husband of Sarah Howard Norwood.
Web page updated 21 October 2017
Index of All Cemeteries
Alphabetical Index of All Burials
Previous Page