Index of All Cemeteries
Alphabetical Index of All Burials
Previous Page
Use the following to search across all the cemeteries listed.
Example: "Smith, Roger" (yes, use the quotes)
118 UNKNOWN [E41.1]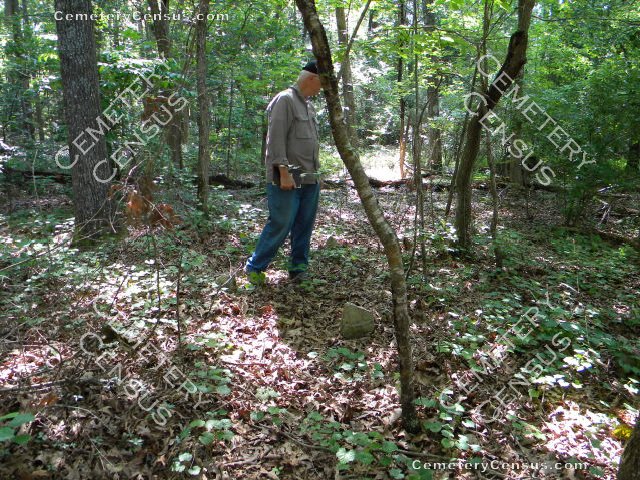 Location - Baldwin Township. 2,000 feet north of junction of SR 1528, Andrews Store Road, and SR 1526, Parker Herndon Road, in Briar Chapel development.

Coordinates: 35d 49m 08.3s N; 79d 06m 36.3s W Click here for Google maps

Cemetery is currently (2014) behind a log tobacco barn. Surrounding acreage cleared in 2013 for development.
View #2 in the cemetery. View #3 in the cemetery.

Cemetery appears on USGS Farrington Quadrangle, and was reported by Jesse Fearrington in 1989. In April 2003 Jesse Fearrington and Jane Pyle visited the site and reported at least 43 identifiable graves with fieldstone head and foot markers. Included in the Aug 2006 report entitled "An Intensive Cultural Resource Investigation: Briar Chapel, Chatham County, NC. ESI Report of Investigations No. 949, ER 06-023" Site number designation 31CH811. That report shows 43 gravesites, almost all marked by fieldstone head and footstones. Site is 40' x 66'.

Fieldstone #1 - Fieldstone #2 - Fieldstone #3 - Fieldstone #4 - Fieldstone #5
Fieldstone #6 - Fieldstone #7 - Fieldstone #8 - Fieldstone #9.

Topo Quadrant: Farrington.
Legal Description: Parcel 2714. Deed book 1198/510, 2008. Formerly owned by Thero Burgess, deed 411/393, 1978; plat 95-177. References HH/594, 1935.
Family owned: Yes.
Restricted access: Yes. Private property.
Enclosed: No.

Miscellaneous information: Jesse Fearrington reported the site to CCHA. He knew of the site as a boy. The former owner, Thero T. Burgess,reported that his mother told him that blacks were buried at one end of the cemetery and whites at the other. A nearby Herndon homeplace was removed in 2012 for development.

Last canvassed by: Jane Pyle visited the site with Jesse Fearrington in Apr 2003. Jane Pyle, Bev Wiggins, Lynn Richardson (Chatham Co. Planning), and Lee Bowman (Briar Chapel) visited the site on 3 Mar 2011. Bev Wiggins photographed some of the gravestones. Updated 15 April 2014.


Web page updated 21 October 2017
Index of All Cemeteries
Alphabetical Index of All Burials
Previous Page