Index of All Cemeteries
Alphabetical Index of All Burials
Previous Page
Use the following to search across all the cemeteries listed.
Example: "Smith, Roger" (yes, use the quotes)
093 RIGGSBEE, JOSEPH JORDAN [E16.1]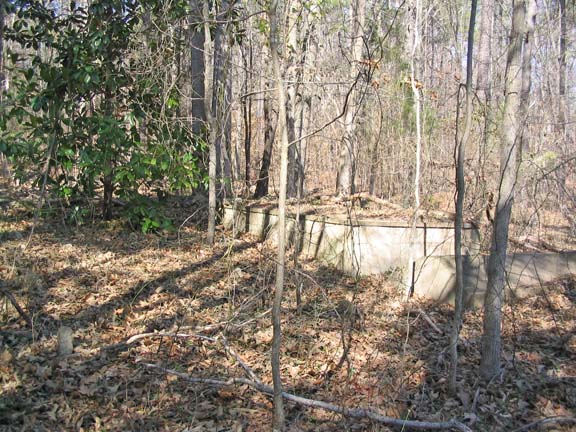 Location - Williams Township. 500 feet east of south end of SR 1780, Clearwater Lake Drive. Between 64 Orchard View and 84 Orchard View. Cemetery is on a separate parcel. Accessible by private 5-foot walkway from private driveway serving Lots 5, 6 & 7 of Orchard Valley Subdivision.

Coordinates: 35d 51m 36.4s N; 79d 02m 45.2s W Click here for Google maps

Plat of the cemetery from the Orange County survey of about 1973.

Owner: Owner of lot 8, Orchard View Subdivision.
Legal Description: Parcel 18611. Deeds: 579/518; 407/644; 409/220, 13 Apr 1955 CH and Nonie Blackwood to George and Gladys Athorne. Plats show cemetery: 92-243, 7 Jul 1992; 91-305. Chatham GIS shows cemetery as 0.06 acre inverted "L", vs rectangle shown on plats. Deed AG/100 describes the division of lands of Joseph J. Riggsbee and wife Martha [Partin], Mann P. Partin, and John A. Partin, and Lucinda J. Partin equally among them. Feb term 1845. Deed A-H/575; 17 Nov 1847 from Patterson Partin to Joseph J. Riggsbee, 128 acres on Cubb Creek. Deed A-K/221, 1855, from P.T. and Julia Cate of TN to J. J. Riggsbee, their interest in the land left to them by their father J. E. Riggsbee, 54 acres. Deed A-K/222. 1855, from Wm. T. and Rebecca Lyons, TN, to J.J. Riggsbee, their interest in land left to them by their father, J. E. Riggsbee, 64 acres. Deed A-M/458, 1859, from Bennett Partin to Joseph J. Riggsbee, 142 acres on Cubb Creek.

Topo Quadrant: Farrington.
Family owned: Yes.
Abandoned: Yes.
Number of graves: 15.
Cemetery size: 45'x50' 0.06 ac.
White: Yes.
Restricted access: Yes. Private property.
Overgrown and easy to identify: Yes.
Enclosed: Yes.
Enclosed explanation: Low stone and mortar wall with opening on west side.
Enclosed conditions: Fair to good.
Markers: Yes.
Markers with inscriptions: No.
Number of readable markers: 0.
Unusual situation: Yes.
Unusual situation: One concrete vault 8' x 16' x 1.5' high. One concrete vault 2' x 8' x 1' high. 1 flat concrete slab 3' x 8' x 3" high..
Markers damaged: No.
Damage from vandalism: Yes.
Other damage explanation: 2" hole in top of largest vault reported by Heiser in 1991.
Cemetery Listed: Yes. See below. Gravesites of Chatham County.

Historical significance: William Edgar Stone, Jr. told Will Heiser in 1991 that the cemetery was on the old Riggsbee homeplace. Mr Stone believed that the homeplace and cemetery were in Orange County, but the cemetery is about 750' south of the county line, in Chatham. According to Mr. Stone, his great-uncle, Joseph Jordan Riggsbee, a batchelor, is buried here. Mr. Stone's grandmother was a Riggsbee, and sister of Joseph Jordan Riggsbee. Joseph Jordan Riggsbee, according to Chatham County censuses was born about 1844, the son of Joseph J. Riggsbee and Martha Partin Riggsbee. A 1973 plat from an Orange County survey of the cemetery is labeled "Riggsbee-Sparrow" or "Sparrow-Riggsbee" cemetery.

Miscellaneous information: Cemetery was inventoried in approx 1973 for Orange County. Plat showing 15 graves and several photographs are available. Will Heiser visited the site on 31 Oct 1991 and recorded three vaults and three fieldstones.

Last canvassed by: Will M. Heiser. Date: 31 Oct 1991.


Unknown, Unknown (b. Unknown - d. Unknown)
concrete vault with flat top

Unknown, Unknown (b. Unknown - d. Unknown)
concrete vault with unusual shape

Unknown, Unknown (b. Unknown - d. Unknown)
concrete vault with unusual shape
Web page updated 21 October 2017
Index of All Cemeteries
Alphabetical Index of All Burials
Previous Page