Index of All Cemeteries
Alphabetical Index of All Burials
Previous Page
Use the following to search across all the cemeteries listed.
Example: "Smith, Roger" (yes, use the quotes)
089 SCHWARZ, LOUIS [D88.2]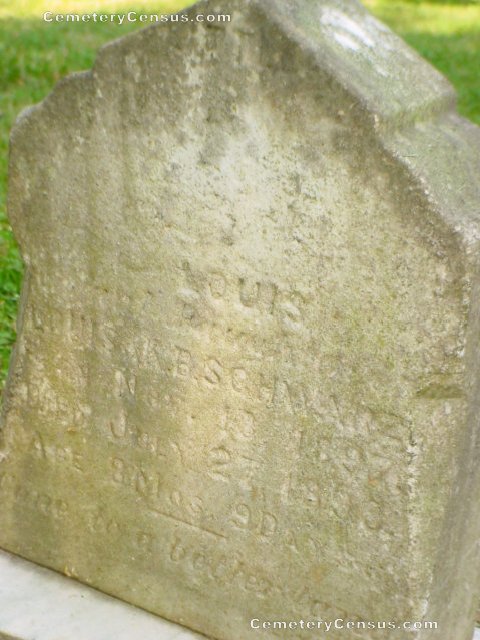 Location - Bynum Township. 371 Bynum Road

Coordinates: 35d 46m 15.0s N; 79d 08m 46.0s W Click here for Google maps

Owner: Rufus and Karen Dalton (in 2007).
Legal Description: Parcel #61580.
Topo Quadrant: Bynum Code D.
Family owned: Yes.
Maintained and in use: Yes.
Number of graves: 1.
Cemetery size: 4' x 4'.
White: Yes.
Restricted access: Yes. Private property
Well maintained: Yes.
Enclosed: No.
Markers: Yes.
Last burial: 1898.
First burial: 1898.
Miscellaneous information: Stone does not mark actual gravesite. Stone said to have been found in 1970s by Frank Wells at dump at 15-501 and Bynum Rd. Wells installed stone, current owners maintain it..
Last canvassed by: J. Pyle and B. Wiggins. Date: 26 May 2007.


Schwarz, Louis (b. 18 Nov 1897 - d. 27 Jul 1898)
Infant daughter of Louis & K.B. Schwarz. Gone to a better land. The property owners, Karen and Rufus Dalton, were told that this stone had been found by the previous property owner, Frank Welles, in a dumpster near Bynum in the 1970s. Welles retrieved the stone and installed it at his residence in Bynum. No information about a Schwarz family in Chatham County in the 1890s to 1900 has been located.
Web page updated 21 October 2017
Index of All Cemeteries
Alphabetical Index of All Burials
Previous Page