Index of All Cemeteries
Alphabetical Index of All Burials
Previous Page
Use the following to search across all the cemeteries listed.
Example: "Smith, Roger" (yes, use the quotes)
088 UNKNOWN [D04.1]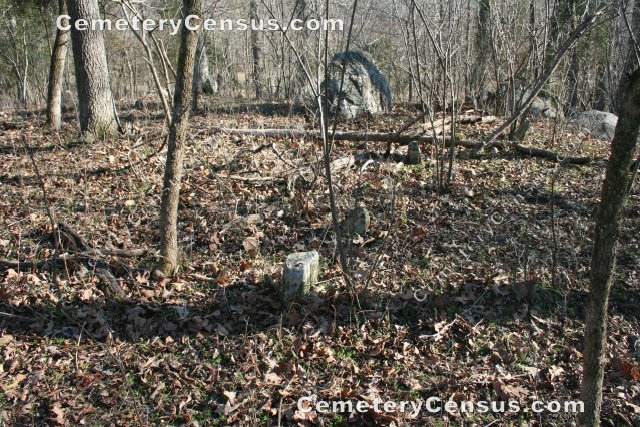 Location - Baldwin Township. Near end of Webster Rd. on rocky bluff overlooking floodplain. Area is slated to become part of Terrell's Ridge development.

Coordinates: 35d 51m 47.0s N; 79d 11m 27.0s W Click here for Google maps

View #2 of the cemetery.

Owner: Gloria Davis Ripperton in 2007 (to be developed by Chatham Landholdings LLC).
Legal Description: Parcel #1375 DB514/732 plat 86/163.
Topo Quadrant: Bynum.
Family owned: Yes.
Abandoned: Yes.
Number of graves: 10-15.
Cemetery size: 25' x 25'.
Other type: Yes. Unknown
Restricted access: Yes. Private property
Overgrown and not easy to identify: Yes.
Enclosed: No.
Markers: Yes.
Markers with inscriptions: Yes.
Number of readable markers: 1.
Last burial: 1827.
First burial: 1827.
Unusual situation: Yes.
Unusual situation: Crudely carved fieldstone.
Markers damaged: Yes.
Other damage explanation: Weather.
Miscellaneous information: Cemetery was reported to developer by Bill Mann, who played there as a child. Land was formerly part of a Snipes land grant. Graves may be those of Snipes or Snipes' slaves..
Last canvassed by: J. Pyle, B. Norwood, B&J Wiggins. Date: 12 Mar 2007.


P+S, Unknown (b. Unknown - d. 3 Ma? 1827)
Single inscribed fieldstone among 10-15 gravesites marked only with fieldstones. With cream.
Web page updated 21 October 2017
Index of All Cemeteries
Alphabetical Index of All Burials
Previous Page