Index of All Cemeteries
Alphabetical Index of All Burials
Previous Page
Use the following to search across all the cemeteries listed.
Example: "Smith, Roger" (yes, use the quotes)
087 THOMPSON, GEORGE W. [D97.1]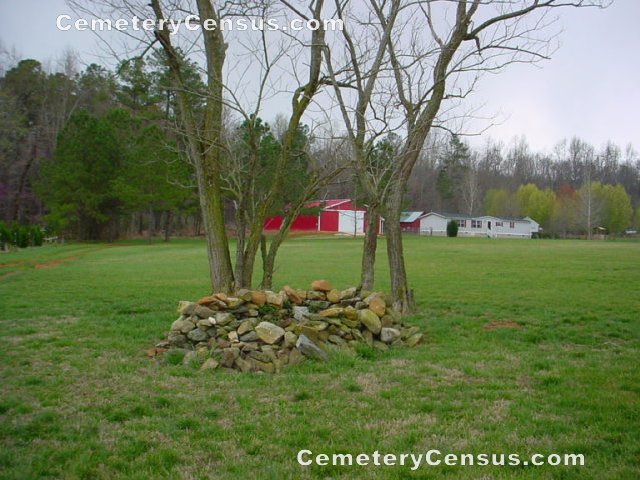 Location - Center Township. In the front yard of 160 Haven Road. From 15-501 northbound, turn right on Russett Run, veer slightly left on Haven Road. 160 is on the right. The gravesite located in an open field and is easily spotted from the road. It is 219 feet from the road along the boundary of the lot. There are two small trees near the grave and it is surrounded by a 2.5 foot high wall of loosely stacked fieldstones.

Coordinates: 35d 45m 14.0s N; 79d 09m 07.5s W Click here for Google maps

Owner: Charles and Lori Simmons.
Legal Description: The deed does not mention the cemetery but does reference plat map 94-145, which gives a very specific location for the cemetery on the lot and describes it as "+/- 0.01 acre within the old George W. Thompson cemetery." Parcel id is 67878, deed bok 936 page 114..
Topo Quadrant: Bynum.
Family owned: Yes.
Maintained and in use: Yes.
Number of graves: 1.
Cemetery size: 6' x 9'.
White: Yes.
Restricted access: Yes. Private Property
Well maintained: Yes.
Enclosed: Yes.
Enclosed explanation: 2.5' high wall of loosely stacked fieldstones.
Enclosed conditions: good.
Markers: Yes.
Markers with inscriptions: Yes.
Number of readable markers: 1.
Last burial: 1852.
First burial: 1852.
Unusual situation: Yes.
Unusual situation: Stone is very large -- 4' x 7'.
Hazards: None obvious.
Miscellaneous information: George W. Thompson, 73 listed in 1850 census. Original owner, Stephen Poe. His grandchildren sold to Thompson as follows: William Poe, 120 ac, Deed T-281; Jacob F. Poe, 118 ac, 8 Jul 1815, Deed U-238; James Cain Poe, 138.5 ac, 26 Apr 1819, Deed W-3.
Last canvassed by: Jim and Bev Wiggins. Date: 25 Mar 2006.


Thompson, George W. (b. 15 Apr 1777 - d. 17 Jun 1852)
Born April 15, 1777; Died June 17, 1852; Blessed are the dead who die in the Lord. Marker material granite. Condition good. slab is at least 4 feet by 7 feet. Slab is surrounded by loosely stacked fieldstones -- about 2.5 feet high. Closeup of inscription.
Web page updated 21 October 2017
Index of All Cemeteries
Alphabetical Index of All Burials
Previous Page