Index of All Cemeteries
Alphabetical Index of All Burials
Previous Page
Use the following to search across all the cemeteries listed.
Example: "Smith, Roger" (yes, use the quotes)
086 MANLY CEMETERY [D95.1]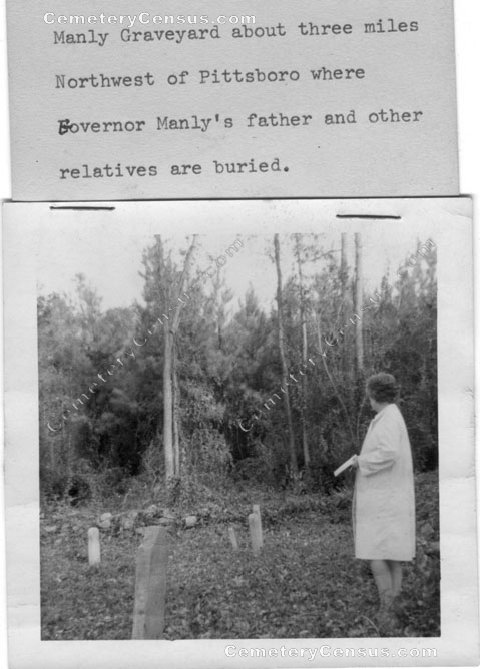 Location - Center Township. 1,500 feet northeast of SR 1516, Old NC 87, 0.7 mile south of SR 1520, Russells Chapel Road (0.32 mile north of 64 by-pass).

Coordinates: 35d 45m 27.9s N; 79d 11m 12.6s W Click here for Google maps

A 1970 photo shows Doris Horton in the graveyard. Three (3) stone markers were recorded by Charles Gibson Manly and Will M. Heiser, 9 July 1992. The site was visited by Richard Manly Adams, Richard Manly Adams, Jr., and Charles Thomson Adams, along with Sonny Crutchfield on 30 Jan 2011. Mr. Adams photographed the site and recorded four legible markers. According to several descriptions of the site, there are additional graves, both inside the rock wall and outside, marked only by fieldstones.

Owner: Martha M. Smith and Marlou S. Bacon.
Legal Description: Parcel 74496 is cemetery, surrounded by 62513. Deed 1432/672, 2008; 919/679, 28 Feb 2002; HG/221, 19 Mar 1934, transfers .25 ac cemetery from Annie Milliken to Julius C. Smith. Plat 29-1, 4 Dec 1978. Deed 495/117, 2 Jan 1986, transfers land to Brooks Creek Assoc. except "3.The Manly Family Cemetery as shown on plat of Survey of the property of Wrenn Bros., Inc, recorded in Plat book 29, at Page 1, Chatham Registry, and the right of ingress and egress to and from public road (SR No. 1516).

Topo Quadrant: Bynum.
Family owned: Yes.
Abandoned: Yes.
Number of graves: 4+.
Cemetery size: 40' x 60'.
White: Yes.
Restricted access: Yes. along logging road on private property
Overgrown and not easy to identify: Yes.
Enclosed: Yes.
Enclosed explanation: Rock wall 2' wide by 2' high.
Enclosed conditions: Wall spreading over time.
Markers: Yes.
Markers with inscriptions: Yes.
Number of readable markers: 4.
Last burial: 1831.
First burial: 1824.
Hazards: Neglect.

Significant events: Captain Basil Manly was hailed at the time of his death as having been "an active and zealous officer in the Revolution." He was the father of three distinguished sons: Charles Manly, Governor of NC; Basil Manly, President, University of Alabama; Matthias Evans Manly, Justice of the Supreme Court of NC. The Manly's Chatham County residence was called "Oak Mount." See The Manly Family by Louise Manly, 1930. Cemetery described on page 18.

Will Heiser produced a sketch of the site when he visited in 1992. Sketch He notes on the sketch that there may have been inscriptions below the names but that "not a single letter is legible." However, Louise Manly quotes from a family letter written in 1886 that says that only the names were inscribed on the stones. See page 18.

Last canvassed by: Will M. Heiser and Charles Gibson Manly. Date: 9 July 1992; Richard Manly Adams and sons, and Sonny Crutchfield, 30 Jan 2011.


Manly, Basil (b. 8 Jun 1742 - d. 15 May 1824)
Husband of Elizabeth (Maultsby) Manly. Captain in American Revolution. Unmarked footstone. Only "B. MANLY" on stone. Row 2. column 1.

Manly, Julia Ann (b. 19 Dec 1810 - d. 27 Aug 1831)
Daughter of Basil and Elizabeth (Maultsby) Manly. Unmarked footstone. Only "J. A. MANLY" on stone. Row 1. column 2.

Manly, Maurice Ford (b. 30 Mar 1804 - d. 5 Aug 1828)
Son of Basil and Elizabeth (Maultsby) Manly. Unmarked footstone. Only "M.F. MANLY" on stone. Row 1. column 1.

Taylor, Ann (b. Unknown - d. Unknown)
Niece of Captain Basil Manly. Ref: Deed Book HG, Page 221. Louise Manly, The Manly Family, p.18 quotes a communication from Rev. Charles Manly, grandson of Captain Basil Manly, after he visited the site in 1916 in which he notes a fourth stone with the name "Ann Taylor." Also on the stone is "Aged 63 years."
Web page updated 21 October 2017
Index of All Cemeteries
Alphabetical Index of All Burials
Previous Page