Index of All Cemeteries
Alphabetical Index of All Burials
Previous Page
Use the following to search across all the cemeteries listed.
Example: "Smith, Roger" (yes, use the quotes)
078 STRAUGHN [D84.2]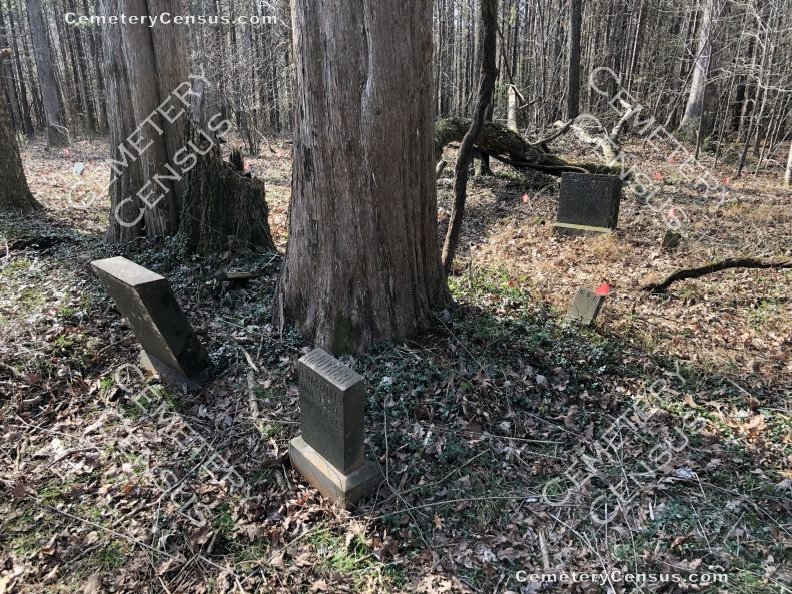 Location - Center Township. By two large cedar trees, 50 feet west of old lane, 850 feet south of old chimney, 2,000 feet east of SR 1520, Old Graham Road, and 1.0 mile north of SR 1520, Russell Chapel Road

Coordinates: 35d 46m 21.3s N; 79d 12m 02.4s W Click here for Google maps

This cemetery was located by Quinn Hawkesworth. On 24 March 1997 Will M. Heiser recorded 4 legible grave markers, and 15+ field stones. The site was visited and photographs taken on 19 Mar 2017 by Linda and Kirk McNaughton and Neil Smith.

Owner: Allen and Teresa Phillips; previously Willamette Industries, Inc.

Legal Description: Parcel 5900. Deed 1121/263; Allen and Teresa Phillips from Junius Earl Maynard, July 2004. Plat 2003-323. References 1058/1029 Allen and Teresa Phillips from Weyerhaeuser Corp. 25 Sept 2003. Deed 566-430, 12 Dec 1990, Boise Cascade Corp., 355.67 acres, per Champion International Fibre Co. Plat 8-91, 20 June 1958.

Topo Quadrant: Bynum.
Family owned: Yes.
Abandoned: Yes.
Number of graves: 19.
Cemetery size: 60' x 70'.
White: Yes.
Restricted access: Yes. Difficult access over private property
Overgrown and easy to identify: Yes.
Enclosed: No.
Markers: Yes.
Markers with inscriptions: Yes.
Number of readable markers: 4.
Last burial: 1913.
First burial: 1878.

Significant events: Elisha H. Straughn served in the State Legislature of 1858-1864 and was Clerk of Sandy Creek Association for 40 years.

Other information: Linda McNaughton noted corner stones in the cemetery-- all oriented with long axis of stone n-s to distinguish them from headstone markers oriented in the opposite alignment (e-w, with broadest side facing east-west). Periwinkle covered the graveyard limits and beyond. Two large cedar trees still stand in the center of the graveyard, between the readable (store-bought) markers. Several grave pits were noted in alignment with the double marker for Elisha and Nancy Straughn. There are three engraved header markers (one is a double) and three footer markers. Eliza Hamlet's did not appear to have a footer marker and her headstone was askew. Poe's marker was also pushed up by the tree roots. The graveyard was overgrown. Three graves were noted by gray-green slate pieces. The remaining stones were all local field stones. The canvassers counted 19 marked graves and one unmarked elongated pit (another burial) for a total of 20 graves.

Last canvassed by: Will M. Heiser. Date: 24 Mar 1997. The site was visited and photographs taken on 19 Mar 2017 by Linda and Kirk McNaughton and Neil Smith.


Hamlet, Eliza Campbell (Poe) (b. 2 Mar 1826 - d. 9 May 1913)
Wife of Sidney S. Hamlet. "Mother".

Poe, William N. (b. 9 Oct 1818 - d. 30 Dec 1905)
Never married. Son of Ransom Cook Poe and Ann Nancy Dismukes Poe. Footstone: W.N.P.

Straughn, Elisha H. (b. 12 Jul 1809 - d. 22 Feb 1878)
Husband of Nancy B. Straughn. "He served in the Legislature of 1858-1864. Was Clerk of Sandy Creek Assn. 40 yrs. They rest from their labors and their works do follow them." "Father". Double headstone. Footstone: EHS. Another view.

Straughn, Nancy B. (b. 5 Jun 1817 - d. 15 Feb 1883)
Wife of Elisha H. Straughn. "Mother". Double headstone. Footstone: NBS. Another view.
Web page updated 21 October 2017
Index of All Cemeteries
Alphabetical Index of All Burials
Previous Page