Index of All Cemeteries
Alphabetical Index of All Burials
Previous Page
Use the following to search across all the cemeteries listed.
Example: "Smith, Roger" (yes, use the quotes)
069 KACHERGIS, GEORGE [D59.1]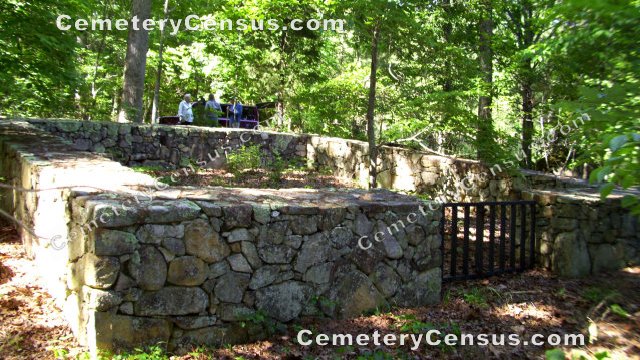 Location - Baldwin Township. 0.5 mile west of SR 1526, Parker--Herndon Road, approaching the residence at 615 Stone Wall Rd., on the left, just beyond the gas line right of way.

Coordinates: 35d 48m 29.1s N; 79d 07m 24.9s W Click here for Google maps

On 26 October 1991, Murray Parker reported this grave to Will M. Heiser. On 11 May 2012, Glenn Lazarus visited and photographed the site.

Owner: Joyce Kachergis.
Legal Description: Parcel 2881. Deed 74E/100. Plat 93-417.
Topo Quadrant: Bynum.
Family owned: Yes.
Currently being used.
Number of graves: 1.
Approx. size: 20x20'
Type: white
Restricted: Private property.
Well maintained and preserved.
Enclosed: Yes. Enclosed by a lovely mortared stone wall built by the deceased's son.
Markers: Yes.
Number of readable markers: 1.
Date of last burial: 1974.
Date of earliest burial: 1974.
Unusual marker: Natural stone with bronze engraved plaque.
Damage: No.
Hazards: An ATV ran through barbed wire fence on one side of cemetery.
Listed: Yes. Gravesites of Chatham County.

Miscellaneous information: Murray Parker reported the site in 1991.
Last canvassed by: Glenn Lazarus, 11 May 2012.


Kachergis, George Joseph (b. 11 Apr 1917 - d. 2 Aug 1974)
"Beloved Husband and Father, Painter-Professor". Natural stone with bronze plaque.
Web page updated 21 October 2017
Index of All Cemeteries
Alphabetical Index of All Burials
Previous Page