Index of All Cemeteries
Alphabetical Index of All Burials
Previous Page
Use the following to search across all the cemeteries listed.
Example: "Smith, Roger" (yes, use the quotes)
056 UNKNOWN (Possibly SMITH) [D38.1]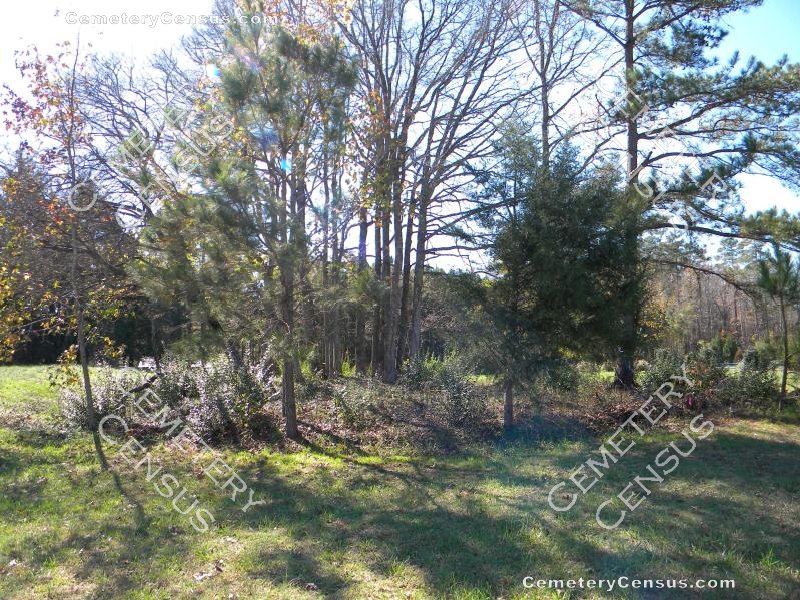 Location - Baldwin Township. West of SR 1532, Manns Chapel Road, at intersection with Manns Crossing Drive. Address is 43 Manns Crossing Drive.

Coordinates: 35d 49m 51.5s N; 79d 08m 32.1s W Click here for Google maps

On 3 February 2001, this location was inspected by Will Heiser, with Lamont Norwood and Leon Mann. In a grove of trees in the middle of the meadow were more than 12 field stones. This is thought to be a Smith family cemetery, but no information on the source of that suspicion has been recorded. Jim and Bev Wiggins visited the site on 11 Nov 2015 and confirmed that the site contains about twelve graves, in two rows of six each. Periwinkle covers the area, which has apparently been avoided while the surrounding area was farmed. The Wiggins were told that a house will be built to the west of the cemetery in the near future. Bev Wiggins photographed the fieldstone markers, none of which contained visible inscriptions.

Owner: Mann's Chapel Properties, LLC.

Legal: Parcel 67266. Deed 1307/908, 2008: Marjorie M. Burke, Sara M. Lindsay and T.C. Lindsay to Manns Chapel Properties, LLC. References estate file 90E255
Topo Quadrant: Bynum.
Family owned: Yes.
Abandoned: Yes.
Number of graves: 12.
Cemetery size: 50' x 30'. 0.10 acre with 10' easement from Manns Crossing Road.
White: Yes, probably.
Restricted access: Yes, private property.
Overgrown and easy to identify: Yes.
Enclosed: No.
Markers: Yes.
Markers with inscriptions: No.
Number of readable markers: 0.
Last canvassed by: Will Heiser, Lamont Norwood, Leon Mann. Date: 3 Feb 2001; Jim and Bev Wiggins, 11 Nov 2015.

View #2 of the cemetery. View #3 of the cemetery. View #4 of the cemetery. View #5 of the cemetery.

Field stones. _ Field stone #1. _ Field stone #3. _ Field stone #4.
Field stone #5. _ Field stone #6. _ Field stone #7. _ Field stone #8.
Field stone #9. _ Field stone #10. _ Field stone #11. _ Field stone #12.


Web page updated 21 October 2017
Index of All Cemeteries
Alphabetical Index of All Burials
Previous Page