Index of All Cemeteries
Alphabetical Index of All Burials
Previous Page
Use the following to search across all the cemeteries listed.
Example: "Smith, Roger" (yes, use the quotes)
050 SNIPES, WILLIAM [D14.1]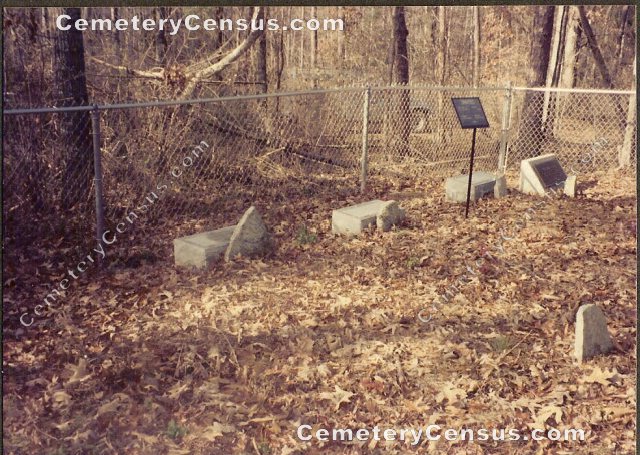 Location - Baldwin. 50 feet north of private access road, 0.15 mile west of SR 1540, Jones Ferry Road, 0.09 mile north of SR 1539, Crawford Dairy Road

Coordinates: 35d 51m 16.0s N; 79d 11m 18.0s W Click here for Google maps

From 1780 to 1784, William Snipes bought 4 tracts of land totalling 1,375 acres on both sides of Terrells Creek. The Snipes family has recently had granite monuments made and placed next to the original field stones, all surrounded with a new chain-link fence.

On 27 February 1994, Richard Ellington recorded 5 grave markers. On 25 May 1994, Will and Audrey Heiser inspected cemetery.

View of the cemetery sign.

Owner: Elton and Jessie S. Edwards.
Legal Description: Deed Book 487, Page 812, 15 Nov 1985. Plat 4-86, 10 Feb 1956; Plat 88-21, 23 Dec 1987.
Topo Quadrant: Bynum.
Family owned: Yes.
Maintained and in use: Yes.
Number of graves: 5.
Cemetery size: 20' x 40'.
White: Yes.
Unrestricted access: Yes.
Well maintained: Yes.
Enclosed: Yes.
Enclosed explanation: Chain link fence.
Enclosed conditions: New.
Markers: Yes.
Markers with inscriptions: Yes.
Number of readable markers: 5.
Last burial: 1854.
First burial: 1787.
Unusual situation: Yes.
Unusual situation: Existing unmarked stones have been supplemented with new granite markers.
Markers damaged: Yes.
Other damage explanation: Original markers are broken, apparently by weather.

Significant events: Snipes family was one of the first families in this part of NC. William Snipes was a Private in NC Line in Revolutionary War.

Last canvassed by: Richard Ellington. Date: 27 Feb 1994.


Snipes, Annie (b. Unknown - d. Unknown)
Wife of Thomas Snipes. Ref: Lamont Norwood. Row 1. column 2.
Husband of Martha (Williams) Snipes. Ref: Lamont Norwood. Row 1. column 3.
Husband of Sarah Snipes. Pvt. NC Line, Revolutionary War. Row 1. column 5.
Web page updated 21 October 2017
Index of All Cemeteries
Alphabetical Index of All Burials
Previous Page