Index of All Cemeteries
Alphabetical Index of All Burials
Previous Page
Use the following to search across all the cemeteries listed.
Example: "Smith, Roger" (yes, use the quotes)
039 JOHNSON - PERRY [C74.2]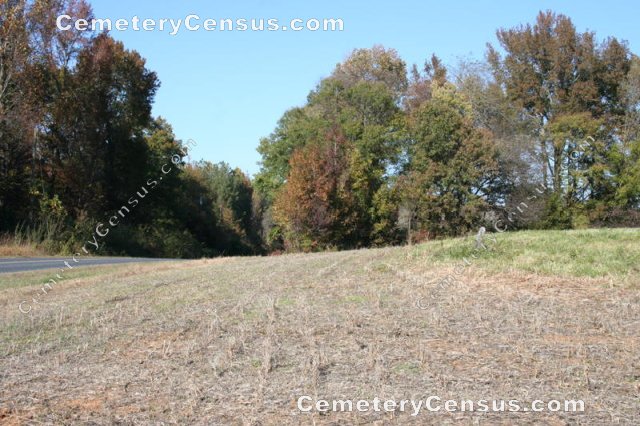 Location - Hadley Township. 1800 feet north of Silk Hope--Gum Springs Road on the east side of White Smith Road

Coordinates: 35d 46m 46.1s N; 79d 19m 07.8s W Click here for Google maps

In 2004, landowner reported two gravestones that he would like to have relocated to Sapling Ridge Cemetery, which is adjacent to the field in which these graves are located. Other locals have indicated that there were additional graves in this field, some marked with fieldstones.

View #2 of the cemetery.

Owner: R. Wayne White, 5014 Silk Hope--Gum Springs Road, Siler City, 742-7491.
Legal Description: Parcel 10534. Deed book 608/964 (2004). Cemetery not mentioned in deed.
Topo Quadrant: Silk Hope.
Family owned: Yes.
Abandoned: Yes.
Number of graves: 3+.
White: Yes.
Enclosed: No.
Markers: Yes.
Markers with inscriptions: Yes.
Number of readable markers: 2.
Last burial: 1892.
First burial: 1876.
Markers damaged: Yes.
Hazards: Owner would like graves relocated to Sapling Ridge cemetery. According to neighbors' reports, there were many other graves in this cemetery. It is not clear whether these have been preserved.
Listed: Yes.

Miscellaneous information: James Edwin Perry & Fannie Clark Johnson Perry, parents of the two children buried here are buried at Brown's Chapel. According to Fannie's death certificate her parents were Emily Clark Johnson and Joshua Johnson. Joshua Johnson deeded the land to the Trustees of Sapling Ridge Church in deed DP/64 in 1889. Joshua Johnson (22 Jan 1820 - d. 10 Oct 1906) is buried in the Sapling Ridge Church cemetery.

Last canvassed by: Barbara Pugh. Date: 11 May 2004; photographed by Bev Wiggins, 2008; photographed by Julie King-McDaniel in Nov 2010.


Johnson, Emily Clark (b. 6 Nov 1822 - d. 18 Dec 1876)
Wife of Joshua Johnson. Mother of Frances (Fannie) Johnson Perry. Original stone.

Perry, Birdie May (b. 4 Sep 1876 - d. 6 Nov 1878)
Daughter of J. E. and Fannie Perry. "Children of J. E. and Fannie Perry".

Perry, Infant Daughter (b. 15 Sep 1892 - d. 15 Sep 1892)
Infant daughter of J. E. and Fannie Perry. "Infant Dau Born and Died Sept 15 1892". Shares headstone with Birdie May Perry.
Web page updated 13 May 2017
Index of All Cemeteries
Alphabetical Index of All Burials
Previous Page