Index of All Cemeteries
Alphabetical Index of All Burials
Previous Page
Use the following to search across all the cemeteries listed.
Example: "Smith, Roger" (yes, use the quotes)
033 CLARK, GATTEN [C55.1]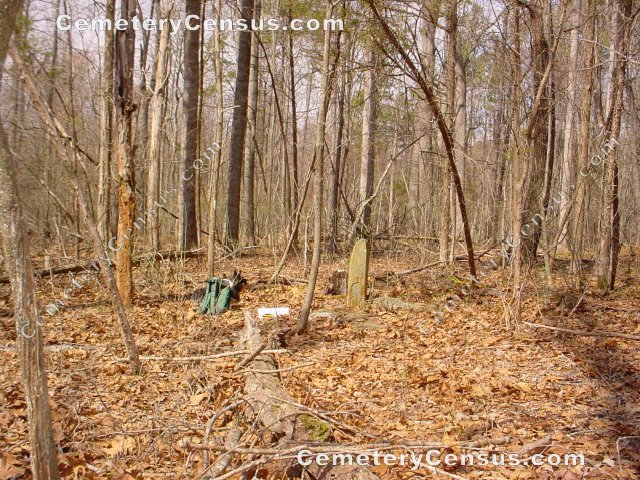 Location - Hadley Township. 2300 feet east of SR 1506, White - Smith Road, 0.5 mile north of SR 1558, Henderson - Tanyard Road

Coordinates: 35d 47m 59.9s N; 79d 18m 21.8s W Click here for Google maps

In 1995 Cliff Beasley and Barbara Pugh reported an abandoned cemetery with one hand-inscribed stone and upwards of twenty sunken sites.

View #2 of the cemetery.

Owner: Campbell.
Topo Quadrant: Silk Hope.
Legal Description: Parcel 79485.
Family owned: Yes.
Abandoned: Yes.
Number of graves: 1.
White: Yes.
Restricted access: Yes. Private property
Overgrown and not easy to identify: Yes.
Enclosed: No.
Markers: Yes.
Markers with inscriptions: Yes.
Number of readable markers: 1.
Last burial: 1811.
First burial: 1811.
Unusual situation: Fieldstone.
Markers damaged: Yes.
Listed: Yes.
Last canvassed by: Cliff Beasley, Barbara Pugh. Date: Spring 1995.


Clark, Gaiten (b. Oct 1803 - d. 26 Jun 1811)
Web page updated 13 May 2017
Index of All Cemeteries
Alphabetical Index of All Burials
Previous Page