Index of All Cemeteries
Alphabetical Index of All Burials
Previous Page
Use the following to search across all the cemeteries listed.
Example: "Smith, Roger" (yes, use the quotes)
023 CRUTCHFIELD [B79.1]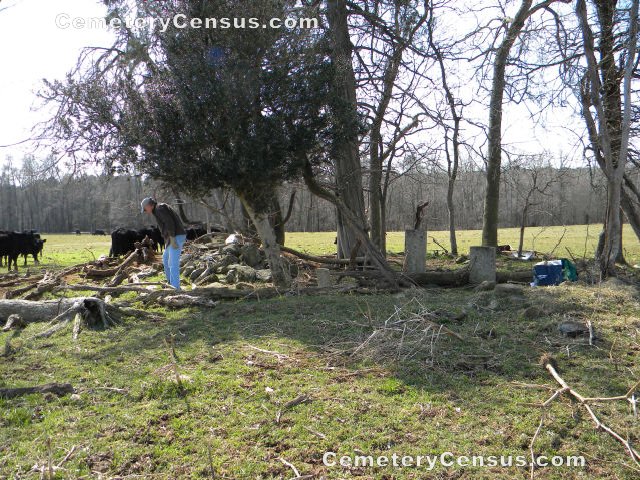 Location - Albright. Near Silk Hope Crossroads, 700 feet south of SR 1346, Silk Hope -- Liberty Road, 1.0 mile west of SR 1003, Silk Hope Road. In pasture behind 951 Silk Hope Liberty Rd.

Coordinates: 35d 47m 02.7s N; 79d 23m 09.6s W Click here for Google maps

Cemetery with 3 grave markers. Photographs provided by Bev & Jim Wiggins in March 2010. Photographs from 1980s provided by Janel Crutchfield Howell.

Cemetery in 1980s.
Grave markers in 1980s.

Owner: Danny Pike.
Topo Quadrant: Crutchfield Crossroads.
Elevation: 637 feet above sea level.
Family owned: Yes.
Abandoned: Yes.
Number of graves: 3
Cemetery size: 15'x20'.
White: Yes.
Restricted access: Yes. Private property.
Condition: Overgrown, easily identifiable.
Enclosed: No.
Enclosed condition: Barbed wire fence shown in 1980s photos; in 2010 only traces remain.
Markers: Yes.
Markers with inscriptions: Yes.
Number of readable markers: 3.
Last burial: 1859.
First burial: 1818.
Markers damaged: Yes. By farm animals.
Other damage explanation: Livestock, neglect.
Listed: Yes, Gravesites of Chatham County.

Historical significance: Three marble stones, one signed Lauder, erected by Samuel H. Crutchfield, son of Anderson and Ruthie Baldwin Crutchfield.

Other information: Cemetery was erroneously reported to have been plowed over in late 1990s. Photographs from the 1980s and from 2010 show graves in the same location. Jim Cooper and Janel Crutchfield Howell visited the site in the 1980s. The site was inventoried by Jim and Bev Wiggins in March 2010. It is not known whether Henry Crutchfield is buried here.

Last canvassed by: Will M. Heiser. Date: 29 Jan 1997. and Jim and Bev Wiggins on 1 Mar 2010.


Crutchfield, Anderson (b. 23 Jan 1784 - d. 30 Jun 1859)
Husband of Ruthie Baldwin Crutchfield. Son of Henry and Milley Crutchfield. "In memory of". born in Chatham Co. Aged 75 yrs 5mos 7 days. Made of marble; stone in good condition. Another view of marker.

Crutchfield, Henry (b. 1743 - d. 1786)
Husband of Milly Crutchfield. Ref: letter from Jim Cooper, Kannapolis, NC 29 Apr 1996. No marker found in 2010, but believed to be buried here.

Crutchfield, Milly (b. 1748 - d. 15 Oct 1828)
Wife of Henry Crutchfield. Aged 80 years. "In memory of". "She was born and married in Virginia, then removed to Chatham Co. NC, where she raised a family of nine sons and one daughter. She was a fathful member of the M.E. Church, a dutiful wife, a tender mother beloved by all who knew her. This tribute of affection is erected by her grandson Sam'l H. Crutchfield". Made of marble; stone is broken off at ground level but otherwise intact; fair condition. Closeup of inscription.

Crutchfield, Ruthie (Baldwin) (b. 24 Apr 1792 - d. 7 Jul 1818)
Wife of Anderson Crutchfield. Daughter of Samuel and Sarah Baldwin. "In memory of" "Born in Chatham Co. NC, Aged 26 yrs 2 mo 13 dys, She was an affectionate wife, a kind mother and a devout member of the M.E. Church and was beloved by all who knew her. Made of marble; stone in good condition. Footstone: RC; Stone signed: Lauder (George Lauder, Fayetteville).
Web page updated 13 May 2017
Index of All Cemeteries
Alphabetical Index of All Burials
Previous Page