Index of All Cemeteries
Alphabetical Index of All Burials
Previous Page
Use the following to search across all the cemeteries listed.
Example: "Smith, Roger" (yes, use the quotes)
118 TRINITY BAPTIST CHURCH CEMETERY (Old)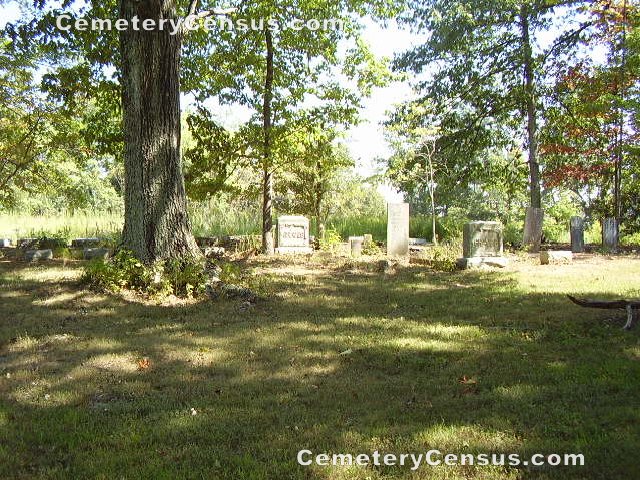 Location - in the woods near the edge of a field, approximately 600 feet south of 10551 NC Hwy 150.

Coordinates: 36d 20m 31.4s N; 79d 29m 43.9s W Click here for Google maps

Survey and photographs by Carolina Caswell in October 2010.

View #2 of the cemetery. View #3 of the cemetery. View #4 of the cemetery. View #5 of the cemetery. View #6 of the cemetery.

Trinity Baptist Church historical sketch from Caswell County Historical Association (CCHA):

In 1840, some residents of southwestern Caswell County left the Yanceyville Baptist Church (Yanceyville, North Carolina) to from the Trinity Baptist Church, which was nearer their homes. Members also came from Wolf Island, Lick Fork, Dan River, Pleasant Grove, and other churches. William Pleasants was the first pastor; Calvin Graves, the first clerk; and Alexis Howard, the first treasurer. Alexis Howard, William Dupree, and John Stamps were elected deacons. Azariah Graves, Alexis Howard, and William Slade were trustees of the church property. Calvin Graves, William Dupree, and Alexis Howard were delegates to the Association held 1840 in Yanceyville. R. W. Lawson offered a site for church and school. In 1842, Zachariah Neal from Bethesda Presbyterian Church joined Trinity Baptist Church and applied for a license to preach, which he received in the fall of 1842.

Also in the fall of 1842, Trinity, in association with the Yanceyville Baptist Church, called John Joshua James as pastor. The Association was held at Trinity in 1843, and a revival was held in connection with the Association that lasted twenty days. At this time, Judge Thomas Settle made a profession and joined the church on August 13, 1843. About this time, Hosea McNeil made a motion to organize a church at Sycamore Grove near Major Kerr's home. The name of this church eventually was changed to Kerr's Chapel Baptist Church. In 1844, the Milton Baptist Church was organized as an arm of the Yanceyville Baptist Church, and Reverend John Joshua James served three churches. At this time, Thomas Settle was Reverend John Joshua James's assistant and held services at Trinity Baptist Church each month.

The first Sunday School organized in this section of the state was at Trinity 10 April 1844, with twelve officers and teachers and forty pupils. Many slaves were members of Trinity Baptist Church.

Cemetery is on Private Property.


Bushnell, Henry (b. 21 Aug 1783 - d. 4 Apr 1861)
Husband of Martha Montgomery Bushnell. Born in Conn.
Son of Henry and Martha Bushnell. Born in Nelson Co. VA.
Son of Henry and Martha Bushnell. Born in Nelson Co. VA.
Wife of Henry Bushnell. Daughter of James and Rachel Montgomery. Born in Nelson Co. VA.
Daughter of Henry and Martha M. Bushnell.
Husband of (1) Meekey Harden Slade Graves, (2) Elizabeth Jane Neal Graves, (3) Isabella Howard Graves. Graves Family marker.
Husband of Elizabeth L. Graves. A devout christian and eminent statesman. His life evidencing integrity and gentle breeding. His character was also adorned with great ability, outstanding courage, exemplary selflessness and genuine humilty.
Daughter of A and L.N. Graves
Lizzie N. with backward Zs. Wife of Azariah Graves. Aged 30 yrs 4 mos 29 days.
Daughter of Azariah and Elizabeth Graves
Son of Calvin and Elizabeth L. Graves
Son of Azariah and Meekey H. Graves
Wife of Azariah and Lizzie N. Graves. Aged 3 mos 29 days.
Wife of Azariah Graves, Jr.
Wife of Azariah Graves. Aged 23 yrs 3 mos 6 days.
Daughter of J.W. and M.H. Graves. Aged 5 mos.
Wife of Kenneth Leon Johnson
Husband of Elizabeth Neal Johnson
Aged 29 yrs 6 mos 4 days.
Daughter of P.H. and Z.G. Neal.
Daughter of P.H. and Z.G. Neal
Husband of Zipporah J. Gwynn Neal
Aged 72 yrs 10 mos 16 days
Wife of Philemon Hawkins Neal
Daughter of William and Cynthia Ann Russell
Wife of Thomas Slade. Daughter of Alexis Howard and Mary Kerr Graves. Slade Family plot.
Husband of Susan Alexis Howard Slade. Son of William and Anne Franklin Slade. Slade Family plot. Graduated at Wake Forest in 1853. Taught in Howard College, Marion Ala. Served the Confederacy, notably on the construction of Fort Fisher. Leader for the good in Trinity Church and community. Counselor for youth. Helper for the helpless wearling the white flower of a stainless life. His life was a light to guide others ....
Husband of Anne Franklin Slade
Wife of Colonel John Williams.
Husband of Elizabeth Williamson Williams. Colonel, 9th NC Regiment, Revolutionary War.
Wife of Robert Williams, Esq. of Pittsylvania County Va. Burial plot. In 1774, she married Robert Williams (1744-1790). She was born in Lunenburg County, Virginia. He was born in Hanover County, Virginia. Robert's parents were Nathaniel Williams and Elizabeth Washington. Robert's brother was Joseph Williams (1748-1827), who married Rebecca Lanier (1757-1823), sister of Sarah Lanier. View of the old gravesite. View of top of old stones. View of most of old stones.
Web page updated 29 June 2017
Index of All Cemeteries
Alphabetical Index of All Burials
Previous Page