Index of All Cemeteries
Alphabetical Index of All Burials
Previous Page
Use the following to search across all the cemeteries listed.
Example: "Smith, Roger" (yes, use the quotes)
084 LEATH CEMETERY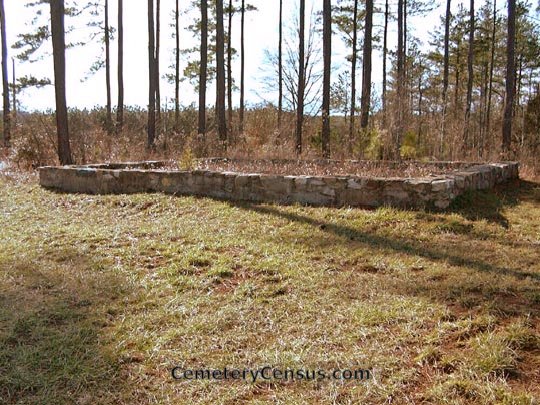 Location - on Kerr Chapel Road across from the old Somers-Scott House.


Cemetery pictures provided by Grant Pinnix in April 2007. Grant also provided additional information about dates of birth and death.

View #2 of the cemetery. View #3 of the cemetery. View #4 of the cemetery. View #5 of the cemetery.

There is a marble marker, with the names of four burials, which is attached to the rock wall around the cemetery. There could be others buried inside the wall, but there's no way to be sure.


Kernodle, A. Richard (b. 1804 - d. 1 Dec 1854)
husband of Mary Elizabeth Leath Kernodle

Kernodle, Mary Elizabeth Leath (b. 1816 - d. 28 Oct 1854)

Leath, Freeman (b. 22 Feb 1792 - d. 24 Dec 1854)
husband of Susan Hornbuckle Leath

Leath, Susan Hornbuckle (b. 16 Aug 1798 - d. 7 Oct 1854)
Web page updated 15 November 2017
Index of All Cemeteries
Alphabetical Index of All Burials
Previous Page