Index of All Cemeteries
Alphabetical Index of All Burials
Previous Page
Use the following to search across all the cemeteries listed.
Example: "Smith, Roger" (yes, use the quotes)
071 JONES - MIMS FAMILY (Locust Hill)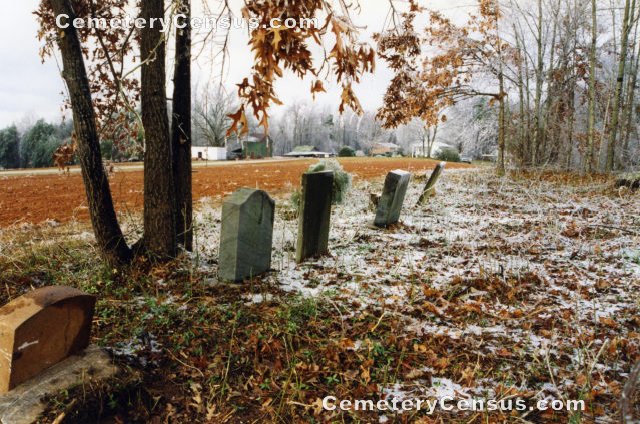 Location - in Locust Hill Township on east side of Pallie Watlington Rd (SR-1312) about a 200 yards northeast of house owned (in 1998) by Mrs. Pansy Foster.

Coordinates: 36d 25m 25.2s N; 79d 24m 06.2s W Click here for Google maps

Directions: From Hodges Dairy Rd (SR-1311), turn north on Pallie Watlington Road (SR-1312). Go about one mile to Pansy Foster home (original Mims home) on east side of road; cemetery is under trees about 200 yards beyond on same side.

In early nineteenth century, the farm was known a the "John Mims Place." Mims' original house, in which Mrs. Foster lives, has been modernized.

Another view of the cemetery.

Cemetery surveyed and photographed by Dr. H. G. Jones on 25 December 1998.

Many other graves marked by uninscribed stones, including, it is assumed, the graves of John Mims his wife Willmoth (Willworth) Mims, and other members of the family. Matilda Jones, Nancy Jones and Jane McAlpin listed here were daughters of Edward Mumford Jones, the brother of Willmoth (Willworth) Jones Mims.


Hooper, Eleanor W. (b. 14 Jan 1804 - d. 26 Feb 1853)
Wife of Capt. Joseph Hooper. Age 49 yrs 1 mo 12 days.
Husband of Eleanor W. Hooper
Daughter of Edward Mumford and Matilda Jones. Loving hearts remember you.
Daughter of E. M. and Matilda Jones. Asleep in Jesus.
Daughter of E. M. and Matilda Jones. At Rest.
Web page updated 29 June 2017
Index of All Cemeteries
Alphabetical Index of All Burials
Previous Page