Index of All Cemeteries
Alphabetical Index of All Burials
Previous Page
Use the following to search across all the cemeteries listed.
Example: "Smith, Roger" (yes, use the quotes)
062 RUSSELL - SLADE FAMILY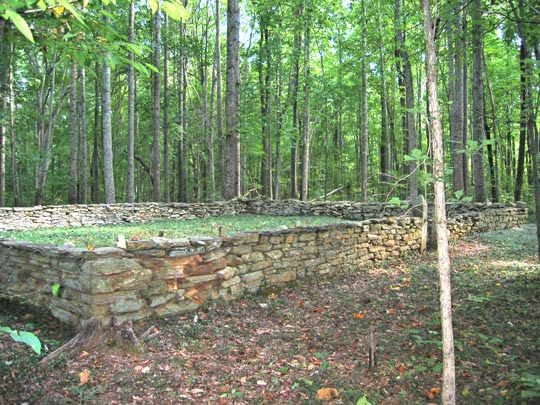 Location - in the woods off Boy Scout Camp Rd. which is off highway 158 in Caswell County, NC

Coordinates: 36d 21m 27.2s N; 79d 22m 29.0s W Click here for Google maps

Pictures provided by Richmond Frederick and CCHA in October 2006.

Cemetery listing created by Allen Dew from the pictures.

View of opening to cemetery. View from back left corner to front of cemetery. View from back right corner to front of cemetery.


Cardwell, Nannie Cary (b. 4 Jun 1870 - d. 8 Oct 1875)
daughter of M.J. and William W. Cardwell. "In memory of"
wife of Alexis Howard. Age 36 yrs 7 mos 19 days. And "Infant son William, buried in the same grave"
Infant son buried in same grave with his mother, Susan.
son of William and Isabella Russell. "Sacred to the memory of"
husband of Isabella Slade Russell. "In memory of". "He was an exemplary member of the Baptist Church, a punctial attendant in all its meetings, great firmness and decision of character, a devoted husband, kind father, highly respected by all who knew him."
(death date difficult to read)
Web page updated 15 November 2017
Index of All Cemeteries
Alphabetical Index of All Burials
Previous Page