Index of All Cemeteries
Alphabetical Index of All Burials
Previous Page
Use the following to search across all the cemeteries listed.
Example: "Smith, Roger" (yes, use the quotes)
152 MOUNT HARMONY UNITED METHODIST CHURCH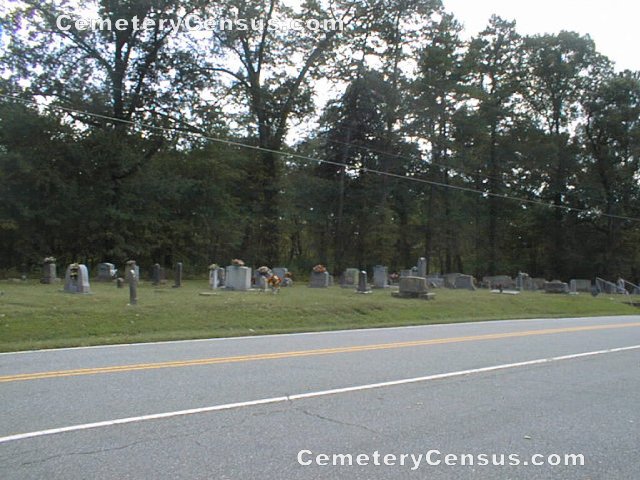 Location - on Mount Harmony Rd near Icard Rhodhiss Rd outside Icard.

Coordinates: 35d 43m 35.9s N; 81d 27m 37.5s W Click here for Google maps

Directions: At the Icard stop light, take the road crossing the railroad tracks, Then turn right on Icard Rhodhiss Rd and travel to Mt. Harmony Rd. Travel about 0.1 mile on Mt. Harmony Rd and the church is on the left with the cemetery on the right.

Survey provided by Jack Hall in July 2010. Updates by Bob Schuerer in September 2011.


Abernethy, Edgar S. (b. 5 Sep 1874 - d. 19 Oct 1932)
Abernethy, Lula Mae (b. 16 Aug 1874 - d. 18 Jan 1934)
Bailey, Elizabeth P. (b. 11 Jul 1894 - d. 15 Mar 1980)
Bailey, George E. (b. 1854 - d. 1917)
Bailey, Gladys (b. 10 Feb 1919 - d. 13 Apr 1977)
Bailey, Hilda (b. 3 Mar 1930 - d. 10 Jun 1930)
Bailey, Infant Son (b. 18 Jun 1949 - d. )
Bailey, Laurah Williams (b. 4 Nov 1884 - d. 25 Jul 1962)
Bailey, Martha (b. 1862 - d. 1929)
Bailey, Plez J. (b. 11 Jul 1891 - d. 20 Dec 1914)
Bailey, Robert F. (b. 11 Feb 1889 - d. 28 Jan 1962)
Bailey, Stanley Gregory (b. 12 Mar 1887 - d. 4 Jul 1965)
Bates, Eva B. (b. 1907 - d. 1975)
Bates, Miles C. (b. 1900 - d. 1935)
Berry, Ada Aikens (b. 31 Jul 1875 - d. 11 Aug 1945)
Berry, Alfred Joseph (b. 7 Jun 1886 - d. 22 Sep 1963)
Berry, Bertha W. (b. 17 Oct 1894 - d. 30 Mar 1910)

Berry, Calep Lawerence (b. 21 Jan 1870 - d. 27 Oct 1959)

Berry, Claude A. (b. 7 Feb 1884 - d. 5 May 1965)

Berry, Cleo Patra (b. 1 Apr 1905 - d. 22 Feb 1906)
Daughter of H. C. and C. N. Berry

Berry, Clyde J. (b. 26 Nov 1906 - d. 1 Jun 1907)

Berry, Della Mae (b. 24 Sep 1894 - d. 5 Jan 1982)

Berry, E. Lucille (b. 1 Aug 1899 - d. 18 Sep 1957)

Berry, E. Theodore (b. 1871 - d. 1950)

Berry, Ella (b. 23 Jan 1872 - d. 8 Sep 1937)

Berry, Etta V. (b. 26 Aug 1867 - d. 13 Dec 1934)

Berry, Forrest H. (b. 19 Nov 1905 - d. 11 Jun 1986)
Married 07/28/1928 to Julia

Berry, Gertude P. (b. 1880 - d. 1961)

Berry, Henderson (b. 11 Feb 1866 - d. 3 Feb 1935)

Berry, Horace C. (b. 1878 - d. 1970)

Berry, I. M. (b. 30 May 1936 - d. 14 Jan 1937)

Berry, Infant (b. 28 Mar 1911 - d. 6 Jun 1911)
Son of R. F. and M. A. Berry

Berry, Infant Daughter (b. 19 Feb 1908 - d. 8 Jun 1908)

Berry, Infants (b. - d. )
Children of W. L. and E. V. Berry

Berry, Ivey Jones (b. 10 May 1901 - d. 18 Mar 1961)

Berry, J. Calvin (b. 1 Aug 1852 - d. 30 Dec 1924)

Berry, John (b. 23 Jul 1841 - d. 23 Nov 1919)

Berry, Julia Y. (b. 26 Jun 1908 - d. )

Berry, Lester L. (b. 15 Feb 1902 - d. 25 Sep 1905)
Son of E. T. and W.A. Berry

Berry, Lois R. (b. 31 Mar 1921 - d. 30 May 1928)

Berry, Lorene (b. 1908 - d. 1908)

Berry, M. Alice (b. 5 Feb 1885 - d. 14 Jun 1968)

Berry, Mary A. (b. 21 Aug 1842 - d. 31 Aug 1916)

Berry, Mary D. (b. 27 May 1914 - d. 1 Jul 1916)

Berry, Naoma (b. 24 Apr 1915 - d. 26 Apr 1915)

Berry, Nellie Aiken (b. 2 Apr 1901 - d. 23 Dec 1973)

Berry, Nina Mae (b. 9 Apr 1930 - d. 7 Jul 1930)

Berry, Owren E. (b. 25 May 1902 - d. 15 Feb 1924)

Berry, R. Finley (b. 11 Dec 1880 - d. 31 Jul 1972)

Berry, W. Berta (b. 1875 - d. 1953)

Berry, Walter J. (b. 3 Aug 1868 - d. 10 Dec 1950)

Berry, Wilma Marcell (b. 8 Jan 1932 - d. 23 Jul 1933)

Bolick, J. B. (b. 14 Dec 1883 - d. 10 Jun 1968)

Bolick, Minnie Mae (b. 9 Feb 1881 - d. 7 Jan 1963)

Bollinger, Cordie H. (b. 30 Nov 1881 - d. 27 Apr 1961)

Bollinger, Winfred B. (b. 19 Mar 1882 - d. 24 Mar 1959)

Brindle, B. E. (b. 1 Dec 1901 - d. 21 Aug 1904)

Brindle, Bessie L. Berry (b. 5 Jul 1881 - d. 12 Jun 1964)

Brindle, Erma Lee (b. 9 Oct 1909 - d. 7 May 1976)

Brindle, Infant Daughter (b. 22 Aug 1904 - d. 22 Aug 1904)

Brindle, John L. (b. 13 May 1876 - d. 9 Jun 1947)

Brindle, Louise L. (b. 8 Apr 1887 - d. 25 Oct 1898)

Brindle, Osco T. (b. 8 Jul 1899 - d. 25 Oct 1908)

Brindle, Sallie E. (b. 15 Apr 1875 - d. 2 Nov 1946)

Brindle, Sarah C. (b. 22 Sep 1849 - d. 6 May 1932)

Brindle, Tilden P. (b. 11 Jan 1880 - d. 13 Dec 1953)

Brindle, Violet Louise (b. 31 Mar 1920 - d. 19 May 1975)

Causby, Geneva Bailey (b. 17 Mar 1922 - d. 22 Nov 1993)

Causby, Walker Lyerly (b. 5 May 1919 - d. )

Chapman, Ada Marie May (b. 4 Nov 1904 - d. 5 Feb 1960)
Wife of Fred Cicero Chapman

Chapman, David William (b. 4 Dec 1902 - d. 19 Sep 1962)

Chapman, Fred Cicero (b. 30 Mar 1905 - d. 29 Apr 1948)
Husband of Ada Marie May Chapman

Chapman, Harold Davis (b. 23 Sep 1929 - d. 6 Jul 1946)

Chapman, James Luther (b. 24 Nov 1892 - d. 20 Oct 1918)

Chapman, John P. (b. 23 Jul 1868 - d. 7 Feb 1937)
Husband of Mary Denton Chapman

Chapman, Lois Viola Townsend (b. 11 Apr 1908 - d. 30 Apr 1995)

Chapman, Mary Denton (b. 29 Jul 1866 - d. 18 May 1916)

Chapman, Melvin W. (b. 1 Jul 1915 - d. 5 Aug 1916)

Childers, Dola A. Auston (b. 11 Nov 1888 - d. 23 Jun 1938)

Childers, James C. (b. 7 Aug 1891 - d. 25 May 1953)

Clontz, Lois Evelyn (b. 1927 - d. 20 Sep 2011)
Daughter of Eugene and Elsie Hollifield Riddle. Wife of Henry Clontz. Bass-Smith Funeral Home

Cook, Linda Kay (b. 1943 - d. 1947)

Cook, Lula Mae (b. 4 Sep 1923 - d. 14 Sep 1962)

Cook, Ray Allen (b. 5 Jun 1917 - d. 12 Dec 1980)

Correll, J. A. (b. 7 Jun 1829 - d. 8 Nov 1918)

Deal, Mary Eckard (b. 19 Nov 1862 - d. 2 Mar 1945)

Denny, Luvenia (b. 1869 - d. 1935)

Eckard, Alvin (b. 16 Jun 1913 - d. 25 Sep 1956)

Eckard, Archie Carroll (b. 26 Jan 1913 - d. 11 Sep 1917)

Eckard, Dora A. (b. 29 Jan 1867 - d. 10 Feb 1948)

Eckard, Era (b. 24 Oct 1906 - d. 25 Jun 1953)

Eckard, Ernest S. (b. 18 Jul 1914 - d. 2 Jul 1974)

Eckard, Everette T. (b. 22 Aug 1907 - d. 25 Oct 1953)

Eckard, Franklin G. (b. 30 Jun 1910 - d. 28 Nov 1944)
PFC 317 Inf. 80 Div WW-II

Eckard, Infant Son (b. 2 May 1930 - d. 6 May 1930)

Eckard, J. W. (b. 13 Nov 1858 - d. 9 Aug 1924)

Eckard, Lila O. (b. 29 Mar 1900 - d. 9 Dec 1941)

Eckard, Lorin A. (b. 21 Oct 1903 - d. 10 Sep 1949)

Eckard, Marie Tomlinson (b. 14 May 1916 - d. 8 Feb 1936)

Eckard, Mary Barbary (b. 30 Jul 1834 - d. 5 Nov 1922)

Eckard, Mary H. (b. 18 Jul 1873 - d. 10 Oct 1953)

Eckard, Norris (b. - d. 4 Feb 1934)

Eckard, Oliver C. (b. 2 Oct 1893 - d. 25 Jun 1961)
Co C 56 Pioneers Inf WW-I

Eckard, Reginald D. (b. 23 Oct 1949 - d. 8 Nov 1949)

Eckard, W. David (b. 26 May 1884 - d. 15 Jan 1952)

Eckard, William David (b. 26 Apr 1940 - d. 17 Nov 1948)

Eckard, William L. (b. 5 Jul 1871 - d. 19 Feb 1941)

Edwards, Faye (b. 20 Mar 1939 - d. 31 Mar 1939)

Evans, Mary Etta (b. 3 Jul 1871 - d. 20 Mar 1965)

Fulbright, Ethel Brindle (b. 28 Oct 1902 - d. 8 Sep 1982)
Wife of McKinley Fulbright

Fulbright, McKinley (b. 19 Apr 1897 - d. 17 Aug 1931)
Husband of Ethel Brindle Fulbright

Fynn, Ralph L. (b. 1914 - d. 1936)

Gassoway, James W. (b. 7 Dec 1941 - d. 3 May 1942)

Hefner, Candis Minervia (b. 12 Sep 1865 - d. 6 May 1940)

Hefner, Carolina M. (b. 27 May 1846 - d. 17 Apr 1902)

Honaton, E. A. (b. - d. 14 Sep 1943)

Isenhour, Alva W. (b. 7 Jun 1919 - d. 28 May 1958)
PFC US Marine Corp Res WW-II

Lail, Mary (b. 31 May 1846 - d. 15 Jul 1912)

Lail, Sidney (b. 25 Sep 1842 - d. 22 Nov 1912)

Little, Louise L. (b. 16 Mar 1914 - d. )

Little, Zeb Henry (b. 30 Sep 1906 - d. 29 Nov 1993)

Lowman, Addie Brite (b. 29 Jun 1917 - d. 12 Sep 1986)

Lowman, Annie M. (b. 13 Sep 1923 - d. 9 Jun 1933)

Lowman, Arcus D. (b. 12 Jun 1878 - d. 13 Aug 1945)

Lowman, Glenn M. (b. 26 Sep 1914 - d. 22 Mar 1985)

Lowman, Junie E. (b. 20 Apr 1890 - d. 1 Jun 1980)

Lowman, Odell Harvey (b. 24 Jul 1916 - d. 22 Mar 1980)

Lowrance, Candace C. (b. 6 Feb 1842 - d. 19 Feb 1921)

Mask, Betty Jean Berry (b. 26 Jun 1929 - d. 17 Sep 1990)

Mask, Henry Clarence (b. 21 Oct 1930 - d. 8 Jul 1990)

Mays, Annie Laxton (b. 27 Apr 1900 - d. 18 Apr 1977)

McGalliard, Ernest E. Jr. (b. 25 Jan 1942 - d. 14 May 1977)

McGalliard, Ernest Sr. (b. 29 Nov 1919 - d. 29 May 1992)

Miller, Dennis Elmore (b. 18 Jul 1948 - d. 19 Aug 2005)
Son of Gladys E. Miller and Toye Sullivan Miller US Navy. Heritage Funeral Service

Miller, Gladys Elmore (b. 7 Apr 1915 - d. 19 Feb 2010)
Daughter of Hillery Elmore and Lethia Starnes Miller

Miller, Julius (b. 4 Aug 1866 - d. 5 Jan 1952)

Miller, Lillie J. Williams (b. 31 Mar 1870 - d. 19 Dec 1994)

Miller, Toye Sullivan (b. 6 Dec 1914 - d. 25 Aug 1993)

Moore, Henry Clay Dean (b. 3 Mar 1912 - d. 6 Apr 1989)

Moore, Mary Abernethy (b. 10 Aug 1901 - d. 1995)
Wife of Rev. George Earl Abernethy

Moore, Naomi Ruth (b. 7 May 1930 - d. 15 Apr 1934)

Moore, Rev. Charles E. (b. 21 Sep 1899 - d. 27 Sep 1983)
Husband Of Mary Abernethy Moore, Married , 09/11/1918

Moore, Rev. George Earl (b. 21 Sep 1899 - d. 27 Sep 1983)

Morris, Josephine Abernethy (b. 28 Jan 1912 - d. )

Ogle, Barbara Berry (b. 3 Oct 1890 - d. 10 Oct 1971)

Ogle, Henry F. (b. 6 Mar 1888 - d. 11 Oct 1954)

Ogle, Infant (b. 27 Nov 1911 - d. )
Child of H. F. and B. E. Ogle

Ogle, Infant (b. 22 Mar 1918 - d. )

Ogle, Infant (b. 1810 - d. 1910)
Daughter of H. F. and B. E. Ogle

Ogle, Sarah A. (b. 12 Jul 1834 - d. 23 Jul 1893)

Ogle, William B. (b. Abt 1835 - d. 8 Feb 1910)

Parrish, Elizabeth (b. 23 Mar 1892 - d. 3 Jun 1927)

Parrish, J. W. (b. 4 Mar 1841 - d. 2 Nov 1923)

Parrish, Nannie G. (b. 5 Oct 1862 - d. 3 Jun 1955)

Penland, Phoebe (b. - d. )

Penland, William T. (b. 29 Jul 1909 - d. 28 Nov 1984)

Perkins, Douglas L. (b. 13 Apr 1906 - d. 28 Jun 1963)
Tech 5 2013 Ord Maint WW-II

Perkins, Maggie (b. 1 Aug 1882 - d. 1 Jun 1925)

Perkins, William H. (b. 15 Aug 1872 - d. 4 Sep 1947)

Perry, C. Natalie (b. 1913 - d. 1927)

Perry, M. Clegg (b. 13 Dec 1880 - d. 30 Jan 1920)

Perry-Cook, Lonie (b. 25 Nov 1885 - d. 3 Sep 1956)

Pons, Henry J. (b. 26 Aug 1915 - d. 12 Sep 1962)
S/Sgt 412 Fighter GP AAF WW-II

Stilwell, Andrea J. (b. 29 Nov 1948 - d. 12 Apr 1949)

Stilwell, Charity M. Wilson (b. 27 Jan 1863 - d. 6 Sep 1941)

Stilwell, Denise L. (b. 1 Mar 1954 - d. 22 Jan 1961)

Stilwell, John P. (b. 6 Aug 1859 - d. 8 Oct 1938)

Stilwell, Marvin W. (b. 28 Jul 1900 - d. 17 Nov 1942)

Stilwell, Minnie M. (b. 3 Mar 1903 - d. 10 Jan 1980)

Stine, Ethel Berry (b. 5 Apr 1906 - d. 16 Dec 1988)

Stroud, Jessie Mae (b. 24 Mar 1917 - d. 26 Feb 1957)

Taylor, Belle (b. 27 Jun 1873 - d. 7 Aug 1952)

Taylor, Eli (b. 3 Mar 1848 - d. 1 May 1924)

Taylor, Sarah (b. 22 Nov 1842 - d. 7 Aug 1920)

Taylor, W. J. (b. 9 Sep 1875 - d. 7 Oct 1951)

Townsend, Carrie L. Crockett (b. 20 Oct 1907 - d. 21 May 1989)

Townsend, Floyd A. (b. 22 Nov 1909 - d. 1 Apr 1949)

Townsend, Ida Mary (b. 15 Apr 1890 - d. 8 Jan 1934)

Townsend, J. Calvin (b. 2 Oct 1881 - d. 12 Oct 1918)

Wade, Getter Frank (b. 27 Aug 1895 - d. 17 Apr 1959)
Son of Cornelius Wade and Katherine Richmond

Wade, Lillian Ballew (b. 16 Nov 1897 - d. 16 Sep 1968)

Wagner, Kay Frances Penland (b. 1 Apr 1943 - d. 21 Nov 2010)
Daughter of Hampton Penland and Francis E. Penland. Wife of Carl L. Wagner, Jr. Heritage Funeral Service and Crematory is serving the Wagner family

Warlick, Lettie Smith (b. 8 Dec 1889 - d. 15 Nov 1964)

Warlick, Paul Avery (b. 25 Jan 1888 - d. 31 Jul 1933)

Whalen, John L. (b. 8 Sep 1912 - d. 15 Jan 1966)

Whalen, Michael C. (b. 15 Dec 1943 - d. 26 Oct 1971)

Whalen, Rita J. (b. 27 Jan 1913 - d. 10 Jun 1988)

Wheeler, Albert C. (b. 16 Jul 1895 - d. 22 Jun 1959)

Wheeler, Virginia F. (b. 29 Jan 1894 - d. 7 May 1981)

Williams, C. C. (b. 1 Oct 1850 - d. 20 Feb 1916)

Williams, Sarah E. (b. 1 Jun 1846 - d. 11 May 1923)

Wilson, Azalee (b. 18 Jul 1913 - d. 23 Oct 1946)

Wilson, Ellie J. (b. 9 Mar 1920 - d. 20 Jul 1920)

Wilson, Elmore (b. 12 Jul 1881 - d. 16 Feb 1931)

Wilson, Grace (b. 30 Apr 1904 - d. 14 Oct 1926)

Wilson, Hugh Franklin (b. 23 Apr 1918 - d. 18 May 1986)

Wilson, Infant son (b. 20 Jan 1920 - d. )

Wilson, Irene A. (b. 9 Jun 1910 - d. 24 Feb 1991)
GrandDaughter of Henderson Berry

Wilson, Lula Jane (b. 12 Apr 1883 - d. 1 Oct 1937)

Wilson, Novella D. (b. 26 Oct 1911 - d. )

Wilson, Wilburn (b. 29 Apr 1908 - d. 5 Aug 1966)

Wortman, Mae Bailey (b. 1917 - d. )

Wortman, William C. (b. 30 Oct 1913 - d. 4 Nov 1944)
Pvt. 330 Inf 83 Inf Div WW-II
Web page created 5 March 2014
Index of All Cemeteries
Alphabetical Index of All Burials
Previous Page