Index of All Cemeteries
Alphabetical Index of All Burials
Previous Page
Use the following to search across all the cemeteries listed.
Example: "Smith, Roger" (yes, use the quotes)
135 LINVILLE METHODIST CHURCH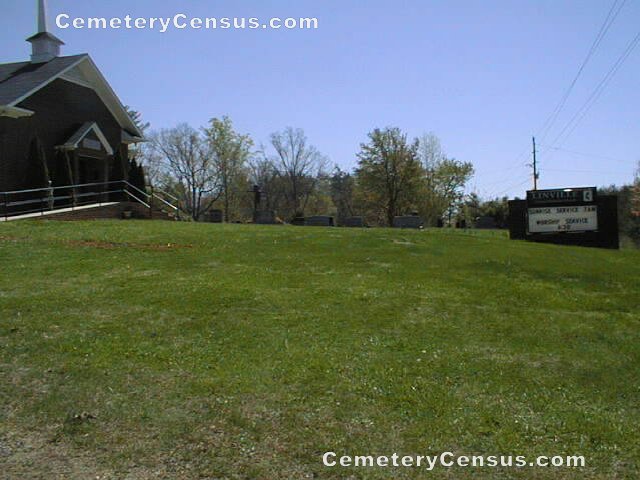 Location - on Hwy 126 about 8.6 miles from Independence Blvd..

Coordinates: 35d 46m 56.4s N; 81d 50m 32.3s W Click here for Google maps

From the old courthouse in Morganton, take Hwy 181 N. for 1.6 miles to Independence Blvd. Turn L., go 0.6 mile to Hwy 126. Turn R, go 8.6 miles to the church and cemetery on the R.

Survey provided by Jack Hall in July 2010.


Alexander, Anna England Giles (b. 25 May 1867 - d. 22 Sep 1930)
Wife of Thomas William Alexander

Alexander, Harriet (b. Abt 1824 - d. 12 Jul 1881)

Alexander, Lura B. (b. 3 Aug 1905 - d. 16 Nov 1961)
NC Major Army Nurse Corp WW-II

Alexander, N. Elizabeth (b. 4 Mar 1848 - d. 9 Dec 1912)

Alexander, Samuel H. (b. 1 Jun 1812 - d. 25 Jan 1882)

Alexander, Samuel S. (b. Abt 1860 - d. 8 May 1884)

Alexander, Thomas S. (b. 19 Aug 1807 - d. 28 Jul 1890)

Alexander, Thomas William (b. 30 Jul 1856 - d. 3 Nov 1916)

Alexander, Walter Pharr (b. 31 Jan 1870 - d. 8 Sep 1892)

Anderson, Tommy "T.A." (b. 15 Sep 1931 - d. 4 Jan 2011)
Son of Henry McLean Anderson and Sudie Alexander Anderson Garrison. Husband of Glenda Louise Carlton Anderson. Sossoman Funeral Home

Beck, A. M. (b. 13 Mar 1849 - d. 18 Mar 1933)

Beck, David C. (b. 3 Aug 1857 - d. 15 Apr 1934)

Beck, Dwight C. (b. 30 Apr 1900 - d. 6 Jun 1948)
NC Cpl Coast Arty Corps WW-I and WW-II

Beck, Elizabeth Giles (b. 8 Mar 1855 - d. 24 Jul 1939)

Beck, Maudie Ethel (b. 21 Sep 1886 - d. 8 Mar 1901)
Daughter of A. M. and E. A. Beck

Beck, Nancy (b. 18 Jun 1822 - d. 28 Nov 1895)

Beck, Sophia Giles (b. 2 Oct 1860 - d. 14 May 1928)

Benfield, Destia B. (b. 2 Nov 1888 - d. 19 Jun 1965)

Benfield, Margaret E. (b. Abt 1883 - d. 14 Dec 1884)

Buff, Lure Ann (b. Abt Aug 1884 - d. 26 Dec 1884)

Bumgarner, Alma Ray (b. 12 Jul 1915 - d. 7 Jun 1916)

Bumgarner, Lela Belle (b. 14 Jan 1901 - d. 25 Jan 1901)
Daughter of J. T. and M. L. Bumgarner

Bumgarner, Mildred Louise (b. 19 Jul 1881 - d. 6 May 1955)

Bumgarner, Paul Truman (b. 14 Jan 1901 - d. 25 Jan 1901)
Son of J. T. and M. L. Bumgarner

Burgess, Susan Jane (b. 12 Nov 1849 - d. 14 Jun 1898)

Calaway, Virgil C. (b. 12 Jun 1908 - d. 16 Dec 1970)

Carswell, Billy V. (b. 27 Mar 1931 - d. 11 Aug 1955)

Conley, Albert S. (b. 5 Mar 1912 - d. 23 Mar 1917)

Conley, Alfred L. (b. 24 Feb 1934 - d. 19 Sep 1962)

Conley, Allen (b. 28 Mar 1831 - d. 11 Jul 1913)

Conley, Amos Hugh (b. 10 Sep 1870 - d. 27 Sep 1960)

Conley, Annie J. (b. 28 Nov 1860 - d. 4 Dec 1931)

Conley, Charles A. (b. 30 Sep 1892 - d. 26 Apr 1946)

Conley, Edgar Payton (b. 30 Jul 1869 - d. 7 Dec 1936)

Conley, Ellen J. (b. 18 May 1862 - d. 12 Jul 1929)

Conley, Emma M. (b. 3 Apr 1905 - d. )

Conley, Hottie H. (b. 1869 - d. 1897)

Conley, Infant (b. 4 Apr 1923 - d. )
Son of Thurman and Ophelia Conley

Conley, J. A. (b. 19 Nov 1854 - d. 9 Jul 1908)

Conley, James W. (b. 13 Feb 1828 - d. 14 Jun 1892)

Conley, Jesse L. J. (b. 26 Sep 1824 - d. 27 Sep 1901)

Conley, Jessie (b. 20 Apr 1887 - d. 1 May 1937)

Conley, John J. (b. 26 Jun 1887 - d. 16 Aug 1954)
NC Ofc Base Hosp. 98 WW-I

Conley, Julia E. (b. 30 Nov 1867 - d. 20 Jan 1959)

Conley, Laura C. (b. 23 Mar 1867 - d. 21 Feb 1887)

Conley, Louisa C. (b. 14 Feb 1850 - d. 19 Mar 1887)

Conley, Louisa Matilda (b. 10 Jul 1828 - d. 15 Nov 1912)

Conley, Lydia Ann (b. 21 Jun 1871 - d. 1 Jun 1935)

Conley, Mary Ann (b. 19 Apr 1833 - d. 24 Feb 1907)

Conley, Mattie Geneva (b. 22 Jun 1875 - d. 17 Feb 1957)

Conley, Paul (b. 13 Sep 1907 - d. 2 Oct 1907)

Conley, Simon B. (b. 14 Dec 1895 - d. 28 Dec 1977)

Cook, John Nelson (b. 29 Oct 1892 - d. 17 Jan 1972)

Cook, Lee S. (b. 21 May 1872 - d. 15 Sep 1946)

Cooper, Albert J. (b. 28 Apr 1847 - d. 25 Dec 1900)

Cooper, Infant (b. 2 Feb 1892 - d. 18 Feb 1892)

Cooper, Thomas G. (b. 28 Dec 1897 - d. 10 May 1899)
Son of J. A. and J. M. Cooper

Curtis, Edward C. (b. 6 Jul 1895 - d. 28 Mar 1915)

Davis, Betty Saulman (b. 13 Oct 1935 - d. 25 Jun 1994)

Davis, Junius Theodore (b. 17 Sep 1877 - d. 14 Dec 1940)

Dockery, Infant (b. 1 Aug 1910 - d. 1 Aug 1910)

Faulkner, Clarence E. (b. 14 Dec 1917 - d. 13 Nov 1952)
NC PFC 1034 Sig. Co. SVC GP WW-II

Faulkner, Daisy Ann Wilson Miller (b. 5 Jul 1884 - d. 9 Oct 1938)

Faulkner, Dixie (b. 1893 - d. 1972)

Faulkner, Ellis Anderson (b. 6 Sep 1869 - d. 23 Sep 1939)

Faulkner, Franklin (b. 29 Aug 1836 - d. 11 Apr 1907)

Faulkner, Hattie Ola (b. 24 Jul 1879 - d. 2 May 1932)

Faulkner, Infant (b. 23 Aug 1912 - d. 23 Aug 1912)
Son of W. E. and M. L. Faulkner

Faulkner, Malton Bonas (b. 20 Oct 1900 - d. 9 Oct 1950)

Faulkner, Mary J. (b. 16 Jun 1848 - d. 25 Jul 1907)

Faulkner, Robert H. (b. 18 May 1875 - d. 6 Feb 1939)

Faulkner, W. Harold (b. 12 Feb 1907 - d. 6 Jan 1976)

Fox, C. M. (b. 19 Oct 1877 - d. )

Fox, Infant (b. 23 Mar 1896 - d. 23 Mar 1896)
Son of J. W. and K. E. Fox

Fox, James T. (b. 12 Feb 1819 - d. 3 Jun 1892)

Fox, Japheth J. (b. 1 Nov 1863 - d. 25 Jun 1885)

Fox, Minerva S. (b. 7 Jul 1859 - d. 16 Mar 1918)

Fox, Thomas A. (b. 1 Apr 1971 - d. 13 Apr 1971)

Giles, Chrispen D. (b. 25 Dec 1826 - d. 29 Dec 1911)

Giles, Delphia J. (b. 10 Apr 1830 - d. 15 Feb 1899)

Giles, Hattie F. (b. 16 Apr 1865 - d. 1 Oct 1914)

Giles, Isaac A. (b. 17 Sep 1862 - d. 23 Sep 1887)

Giles, W. N. (b. 6 Aug 1866 - d. 16 Jan 1953)

Giles, Wallace G. (b. 22 Aug 1897 - d. 24 Oct 1898)
Son of A. H. and G. L. Giles

Haney, Horace G. (b. 8 Aug 1859 - d. 13 Nov 1905)

Haney, Maggie Conley Frizard Sergeson (b. 18 Feb 1873 - d. 18 Feb 1953)

Haney, Samuel Ralph (b. 20 May 1894 - d. 16 Jul 1914)

Hunter, Louisa A. (b. 28 Jan 1849 - d. 23 Nov 1913)

Hurt, John (b. 5 Mar 1861 - d. 16 Jul 1937)

Hurt, Laura M. (b. 29 Sep 1869 - d. 23 Dec 1945)

Hurt, Lewis S. (b. 17 Dec 1925 - d. 12 Jun 2005)
Son of Johnnie A. Hurt and Edna Allen Hurt

Jaynes, Ida Mae Conley (b. 19 Jul 1896 - d. 18 Apr 1992)

Jaynes, Lee Andy (b. 25 Dec 1876 - d. 17 Jul 1962)

Jaynes, Lenoir W. (b. 11 Feb 1880 - d. 15 Jan 1962)

Jaynes, Molly (b. 15 Nov 1882 - d. 4 Jan 1966)

Keller, Clarence A. (b. 7 Apr 1937 - d. 4 May 2002)
Son of Clarence W. and Bertha Rich Keller

LeFevers, Nancy B. (b. 30 Sep 1900 - d. 10 Oct 1982)

McGimsey, A. J. (b. - d. 14 Jun 1869)

McGimsey, Alley (b. - d. 3 Aug 1831)

McGimsey, Alpheus (b. - d. 24 May 1881)

McGimsey, Annie F. (b. 9 Aug 1894 - d. 10 Apr 1982)
Married Guy McGimsey 04/04/1915

McGimsey, Charles A. (b. 9 Mar 1836 - d. 22 Jul 1921)

McGimsey, Charles Neal (b. 4 Jun 1925 - d. 22 Jan 1994)

McGimsey, Cynthia C. (b. 23 Jan 1846 - d. 23 Aug 1932)

McGimsey, Elizabeth (b. 10 Aug 1800 - d. 8 Jan 1859)
Wife of Joseph L. McGimsey

McGimsey, Frances E. (b. 11 Aug 1812 - d. 5 Jun 1902)

McGimsey, Gault (b. 3 Jun 1886 - d. 7 Mar 1919)

McGimsey, Infant (b. 6 Jul 1877 - d. 6 Jul 1877)
Infant of J. l. and C. A. McGimsey

McGimsey, J. Guy (b. 14 Sep 1887 - d. 12 Aug 1894)

McGimsey, James G. (b. - d. 16 Jul 1881)
Age 18 mo9s Son of J. L. and C. A. McGimsey

McGimsey, Joe Tate (b. 24 Jun 1856 - d. 24 Aug 1921)

McGimsey, Julia A. (b. 17 Jul 1889 - d. 13 Jan 1891)
Daughter of KJt. and J. A McGimsey

McGimsey, Julia A. (b. 22 Nov 1858 - d. 1 Nov 1905)

McGimsey, Lilian Eleanor (b. 23 May 1914 - d. 28 Jul 1919)

McGimsey, Lillie Heele (b. 11 Dec 1887 - d. 7 Mar 1919)

McGimsey, Mancy E. (b. 10 May 1852 - d. 28 Sep 1899)

McGimsey, Margaret Rusmisell (b. 22 Aug 1926 - d. 2 Jan 1993)

McGimsey, Martha C. (b. 2 Feb 1905 - d. 27 Apr 1905)

McGimsey, Mary Ann (b. - d. 5 Jun 1863)

McGimsey, Mrs. J. L.(C. A.) (b. 21 May 1840 - d. 24 May 1884)

McGimsey, Nina Swingle (b. 12 Mar 1883 - d. 16 Mar 1974)

McGimsey, Pinkney C. (b. 9 Dec 1846 - d. 7 May 1922)

McGimsey, Robert Boger (b. 23 Apr 1883 - d. 19 Apr 1959)

McGimsey, Robert Vance (b. 14 Jun 1918 - d. 27 Jun 1986)

McGimsey, Thelma Louise (b. 12 Aug 1916 - d. )

McGimsey, William M. (b. 22 Jun 1870 - d. 13 Jul 1933)

McGimsey, Woodrow Ervin (b. 5 May 1912 - d. 31 Mar 1985)

Ollis, Harmon Claude (b. 1 July 1919 - d. 15 Apr 2012)
Born in Avery County, NC. Son of Council Vernon Ollis and Dixie Florence Wise Ollis. Husband of Lillie Ann Ollis. USA WW-II. Sossoman Funeral Home

Ollis, Lillie Ann (b. 5 Feb 1918 - d. 22 Aug 2013)
Died in Burke County NC. Born in Mecklenburg County Va. Daughter of John Roy Vanier and Daisy Thompson Vanier. Wife of Harmon C. Ollis. Sossoman Funeral Service Morganton

Parks, Ferry Rhyne (b. 17 Dec 1876 - d. 3 Jun 1973)

Parks, J. Harrison (b. 9 Oct 1873 - d. 24 Jan 1942)

Parks, James P. (b. 15 Sep 1844 - d. 2 Jun 1934)

Parks, James Polk (b. 5 Apr 1909 - d. 3 May 1929)

Parks, Louisa S. Hunter (b. 28 Jan 1849 - d. 23 Nov 1913)

Parks, Mort H. (b. 20 Nov 1906 - d. 10 Oct 1984)

Parks, Pauline A. (b. 1 Feb 1911 - d. )

Parks, Thomas Edgar (b. 18 Nov 1911 - d. 6 Mar 1962)
NC Tech 5 Btry C 465 FA BN WW-II

Penley, Marcus P. (b. 2 Mar 1891 - d. 24 May 1892)
Son of Thomas W. and N. E. Penley

Penley, Mary M. (b. 13 Jun 1872 - d. 8 Aug 1962)

Penley, Thomas W. (b. 30 Jan 1863 - d. 12 Jun 1891)

Pool, A. Rosamond (b. 30 Jan 1899 - d. 27 Jun 1901)
Daughter of W. H. and S. E. Pool

Pool, Marvin E. (b. 3 Feb 1898 - d. 24 Jul 1900)
Son of W. H. and S. E. Pool

Poole, Gracie M. (b. 15 Mar 1902 - d. 10 Feb 1906)
Daughter of W. H. and S. E. Pool

Poole, Susan Elizabeth (b. 29 Jun 1863 - d. 16 Jul 1934)
Wife of William Hugh Poole

Poole, William Hugh (b. 17 Apr 1860 - d. 31 Oct 1844)

Powell, Bennett (b. 19 Feb 1938 - d. 27 Jan 1974)

Powell, Carmen Luther (b. 18 Jun 1923 - d. 16 Aug 1964)
NC PFC HQ Btry 161 FA BN WW-II BSM

Powell, Ethel C. (b. 19 Feb 1924 - d. 16 May 1993)

Powell, Jesse E. (b. 1898 - d. 1956)

Powell, Jessie Ray (b. 1935 - d. 1974)

Powell, Perry G. (b. 2 Sep 1907 - d. 15 Mar 1956)

Powell, Sarah P. (b. 30 Jul 1866 - d. 3 Aug 1942)

Powell, Shirley Ann Fox (b. 1935 - d. 1994)

Powell, Thomas B. (b. 2 Feb 1862 - d. 30 Jan 1941)

Powell, Thomas M. (b. 29 Mar 1909 - d. 14 Jan 1976)

Powell, Vernon J. (b. 24 Sep 1927 - d. 22 Nov 1973)

Rhyne, Infant (b. - d. 23 Sep 1895)
Daughter of L. W. and S. E. Rhyne

Rhyne, Pearl L. (b. 12 Feb 1901 - d. 23 Jul 1901)
Daughter of L. W. and S. E. Rhyne

Saulman, Robert A. (b. 17 Jul 1915 - d. 30 Sep 1964)
NC Tech 5 Co C 84 Eng. BN WW-II

Scott, Mary F. (b. 26 May 1854 - d. 6 Jan 1895)

Scott, Thomas A. (b. 9 Mar 1882 - d. 27 Oct 1893)
Son of T. P. and M. F. Scott

Somers, Annie Beulah Beck (b. 2 Jun 1878 - d. 3 Sep 1966)

Somers, William Lewis (b. 17 May 1884 - d. 5 Oct 1905)

Talley, James Robert (b. 8 Aug 1927 - d. 19 Jun 1987)

Wakefield, John (b. 23 Aug 1974 - d. 7 Sep 1985)

Winters, E. M. (b. 9 Mar 1958 - d. 15 Nov 1890)
Web page created 30 May 2014
Index of All Cemeteries
Alphabetical Index of All Burials
Previous Page