Index of All Cemeteries
Alphabetical Index of All Burials
Previous Page
Use the following to search across all the cemeteries listed.
Example: "Smith, Roger" (yes, use the quotes)
131 LAKE JAMES FAMILY CHRISTIAN CHURCH (Closed)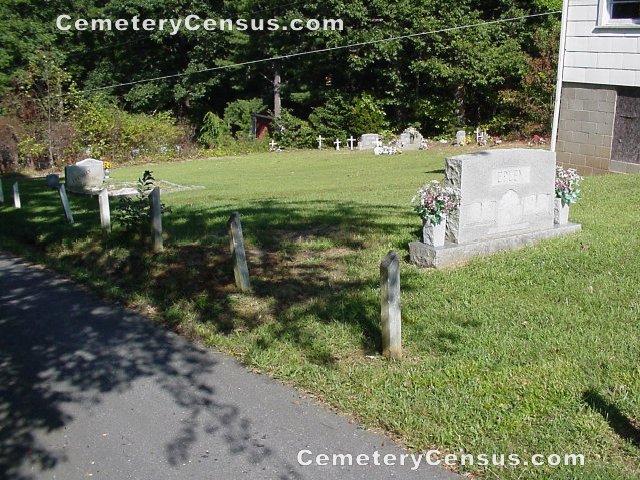 Location - on Powerhouse Rd about 0.8 mile from Hwy 126 west of Morganton.

Coordinates: 35d 45m 43.6s N; 81d 49m 05.1s W Click here for Google maps

Exit I-40 west of Morganton at Jamestown Rd. (exit 100), travel north to Hwy 126, turn left, go 6.5 miles, turn left of No. Powerhouse Rd., Church is on right about 0.8 miles.

This site was formerly known as Lake James Baptist Church; name changed in 2010.
In May 3013, the sign has been taken down and the building is abandoned.

Survey provided by Jack Hall in July 2010. Photographs by Jack Hall in February 2011.


Aldridge, Sandra Dawn Benfield (b. 12 Apr 1947 - d. 14 Jan 2000)
Wife of Ted C. Aldridge. Daughter of Charlie and Leola Benfield

Aldridge, Ted C. (b. 5 Nov 1933 - d. Reserved)
Husband of Sandra B. Aldridge

Aldridge, Ted Connie (b. 5 Nov 1933 - d. 29 Jul 2011)
Born in Avery County, NC. Son of Earl and Hazel Vance Aldridge. Husband of Sandy Benfield Aldridge. Heritage Funeral Service

Benfield, Charlie E. (b. 17 Aug 1911 - d. 23 Dec 1950)
Husband of Leola Benfield. In Loving Memory, His Children.

Bradshaw, Kama Mechelle (b. 9 Nov 1974 - d. 10 Nov 1974)
Daughter of Vivkie Bradshaw

Branch, Dennis Wayne (b. 28 Apr 1934 - d. 28 Apr 1954)

Brittain, Betty C. Epley (b. 20 Sep 1938 - d. 19 Feb 2010)
Daughter of Rosie Ollis Epley and Fred Rollins Epley

Duckworth, Ina E. (b. 10 Oct 1922 - d. Reserved)
Wife of James R. Duchworth

Duckworth, James R. (b. 14 Feb 1918 - d. 27 Aug 1983)
Husband of Ina E. Duckworth

Epley, Catherine (b. 14 Apr 1939 - d. Reserved)

Epley, David Allen (b. 1958 - d. 1958)

Epley, Fred Rollins (b. 18 Oct 1899 - d. 1 Oct 1989)
Husband of Rosie Ollis Epley

Epley, J. Allen (b. 29 Jun 1935 - d. 3 Feb 1998)

Epley, Rosie Beatrice Ollis (b. 10 Oct 1912 - d. 10 Jun 2011)
Born in Avery County, NC. Daughter of Dan and Jenny Ollis. Wife of Fred R. Epley. Heritage Funeral Service

Epley, Rosie Ollis (b. 10 Oct 1912 - d. )
Wife of Fred Rollins Epley

Jordan, Mary Martha (b. 20 Oct 1913 - d. 31 May 1975)
Wife of Robert Monroe Jordan

Jordan, Robert Monroe (b. 18 Apr 1910 - d. 19 May 1955)
Husband of Mary Martha Jordan

Mayfield, Della Lou Benfield (b. 31 Aug 1882 - d. 28 Jun 1958)
Wife of J.J. Mayfield. Daughter of Thomas Cleveland Benfield and Elizabeth Banner Benfield.
From Rita Mullins in January 2017:
My grandmother, Della Lou Benfield Mayfield, is buried in that cemetery near the back right-hand corner of the church building. Her grave was originally marked by a concrete cross constructed by my uncle, Bill Mayfield. The structure crumbled over the years, and the last time I visited the cemetery, about 2009, the debris was gone, and grass had been planted over the grave.
My sister and I intended to place a marker, but she died in 2010, and I did not follow through with our plan.
Della Mayfield lived just off Highway 126 near Noblett's Store. Her house was attached to that of Joseph Manley "Boss" Benfield who owned the property.

Meddlin, James Harvey (b. 6 Aug 1936 - d. 21 Jan 2001)

Ollis, Earl D. (b. 1925 - d. 1970)

Ollis, Obert (b. 1930 - d. 1962)

Potter, Brenda K. (b. 29 Jan 1958 - d. 11 Jun 1986)

Pressley, Delano W. (b. 14 Aug 1925 - d. 22 Mar 1966)

Pressley, Mildred J. (b. 7 Jan 1930 - d. 21 May 1963)

Propst, Lisa S. (b. 16 Sep 1965 - d. 23 Oct 1992)

Propst, Peggy J. (b. 7 Aug 1939 - d. 14 Jun 1985)

Smith, Lorie Ann Fay (b. 1962 - d. 1965)

Smith, Rebecca Lynn (b. 2 Jan 1962 - d. 11 Feb 1962)

Whisenant, Louie A. (b. 1911 - d. 1982)
Web page updated 29 January 2017
Index of All Cemeteries
Alphabetical Index of All Burials
Previous Page