Index of All Cemeteries
Alphabetical Index of All Burials
Previous Page
Use the following to search across all the cemeteries listed.
Example: "Smith, Roger" (yes, use the quotes)
078 FRANKIE SILVER TOMBSTONE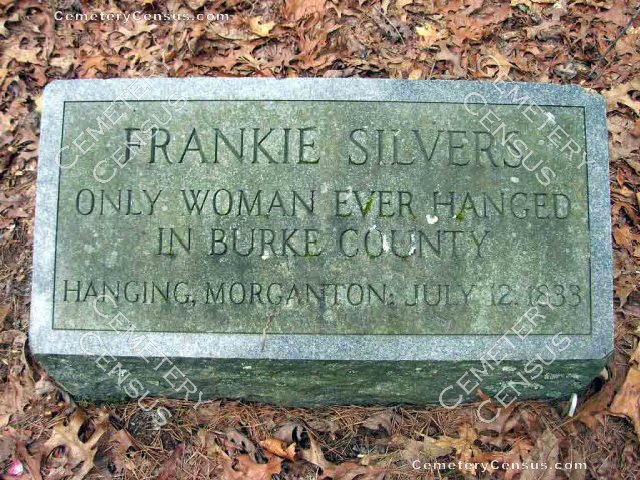 Location - off Buckhorn Tavern Rd about 1.2 miles from Hwy 126.


Travel Hwy 126 west to Buckhorn Tavern Rd., turn left about 1.2 miles to a hilltop where a one story cedar home stands on the right. A gravel drive leads to the home and to the right the trail leads to the rutted red clay trail to the grave site.

In 1999 there were glow ribbons tied to mark the way, when several ribbons are around one tree, turn left and go about 30 feet to the grave site in a clearing surrounded by trees and bounded by mountain laurel. It is about a five minute walk to the grave site.

Survey provided by Jack Hall in July 2010.


Silver, Frankie (b. - d. 12 Jul 1833)
Only woman hanged in Burke County, NC.
Web page updated 7 August 2016
Index of All Cemeteries
Alphabetical Index of All Burials
Previous Page