Index of All Cemeteries
Alphabetical Index of All Burials
Previous Page
Use the following to search across all the cemeteries listed.
Example: "Smith, Roger" (yes, use the quotes)
040 CALVARY ASSEMBLY OF GOD CHURCH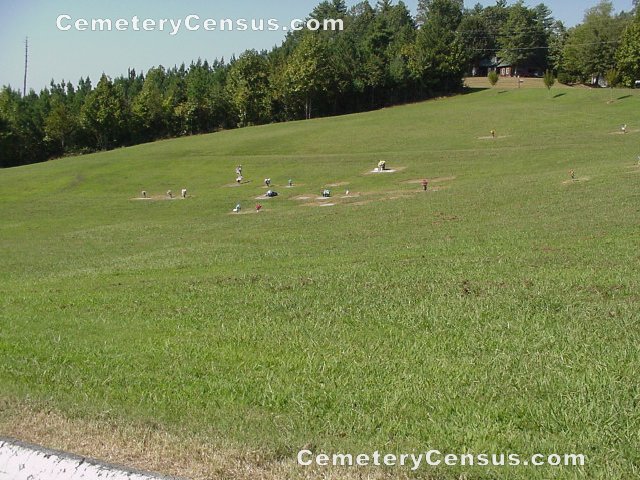 Location - on Pea Ridge Rd about 0.8 mile from Hwy 181.


From the old courthouse in Morganton, take Hwy. 181 N. for 7.9 miles. Turn L. on Pea Ridge Rd. Go about 0.8 mile. The cemetery and church are on the L.

Survey provided by Jack Hall in July 2010.


Adams, Rhonda LaKey "Soupy" (b. 2 Mar 1962 - d. 2 Feb 2012)
Daughter of Luther Mailon LaKey and Ruth Littrell Stevenson. Sossoman Funeral Home

Ball, Geraldine Wheeler (b. 13 Nov 1939 - d. 4 May 2011)
Born in Washington, N.J. Daughter of Charles Wheeler and Anna Johne Pintavalle. Wife of James Garvin Ball. Heritage Funeral Service

Burkleo, Gladys Mildred "Mimi" (b. 23 May 1915 - d. 22 Jan 2012)
Born in Dennison, Texas. Daughter of N.W. and Mary Basden Seabolt. Wife of 1st. Lloyd Knight. Sossoman Funeral Home

Fox, Shannon Andrew (b. 8 Jul 1979 - d. 23 Feb 2013)
Born in Burke Co., NC. Son of Derryl George Fox and Geraldine Whisnant Fox. Husband of Jessica Graves Fox. Sossoman Funeral Home

Hamer, Mark Wayne (b. 9 Aug 1955 - d. 2 Dec 2011)
Born in Douglas County, Ore. Son of William Reeves Hamer and Earline Aldridge Hamer. Heritage Funeral Service

McCoy, H. Ray (b. 22 May 1936 - d. 15 Jul 2012)
Born in Dixon County, Va. Son of James Harrison McCoy and Grace Holdbrook McCoy. Husband of Doris Jean Jones McCoy. U S Vet. Sossoman Funeral Home

McDaniel, Garnie Mae Brown (b. 7 Jan 1931 - d. 5 Mar 2006)
Born in Catawba County, NC. Daughter of John and Ella Harriett Hollar Brown. Wife of Ray C. McDaniel. Heritage Funeral Service

Powell, Carl (b. 20 Aug 1966 - d. 30 Oct 2012)
Died in Burke County, NC. Born in Avery County, NC,. Son of Homer Lee Powell and Mildred Stella Aldridge Powell. Sossoman Funeral Home

Powell, Conley Washington (b. 1914 - d. 1987)

Powell, Frances Louise (b. 28 Nov 1948 - d. 10 Mar 2012)
Daughter of Corlie C. Powell and Almer Mae Webb Powell. Sossoman Funeral Home

Powell, Ivey Andrew (b. 3 Sep 1925 - d. 11 Nov 1988)

Powell, Larry Wayne Jr. (b. 14 Jun 1987 - d. 23 Jan 2013)
Born in Burke Co., NC. Son of Larry Wayne Powell and Tammy Lane Powell. Husband of Heather Marie Powell Sossoman Funeral Home

Whisenant, Levi (b. 8 Nov 1931 - d. 18 Oct 2005)
Son of George T. Whisenant and Reldy Mull Whisenant

Whisnant, Arnold Leon (b. 4 Dec 1964 - d. 8 Jun 2011)
Son of Martha Powell Whisnant and Levi Whisnant. Husband of Marsha Sprinkle Whisnant. Heritage Funeral Service

Whisnant, Garry Hamilton (b. 25 Oct 1955 - d. 5 Dec 2005)
Son of Manly Hamilton Whisnant and Hazel Aedenia Powell Whisnant

Whisnant, Manly Hamilton "Hamp" (b. 12 Jan 1925 - d. 21 Mar 2010)
Son of William James Whisnant and Bertha Mae Harris Whisnant

Winegardner, Michael "Mikie" Dallas (b. 29 Nov 1990 - d. 6 Feb 2011)
Son of of Debbie Lynn Pierce and Michael Scott Winegardner. Husband of Holly Winegardner
Web page created 1 March 2013
Index of All Cemeteries
Alphabetical Index of All Burials
Previous Page