Index of All Cemeteries
Alphabetical Index of All Burials
Previous Page
Use the following to search across all the cemeteries listed.
Example: "Smith, Roger" (yes, use the quotes)
031 BRADSHAW'S ANCESTORS CEMETERY (1698-1896)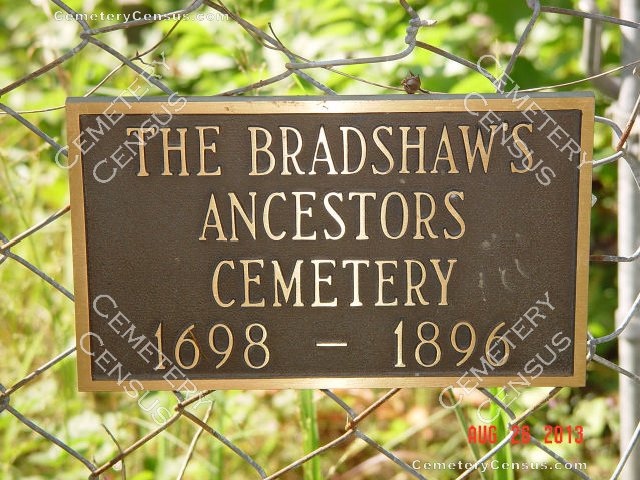 Location - on a logging road about 0.7 mile south west of North Catawba Baptist Church and off Hwy 18, Baton School Rd.

Coordinates: 35d 47m 08.4s N; 81d 34m 48.5s W Click here for Google maps

This cemetery is on Duke Power Co. land and is not easily accessible. It is about 0.7 miles south west of the North Catawba Baptist Church on a logging road. North Catawba Baptist Church is on Hwy 18, Baton School Rd. north of Morganton.

Survey provided by Jack Hall in July 2010. Updated by Wanda Drum in September 2013 with photographs.


Bradshaw, Anna (b. 27 Oct 1786 - d. 13 May 1875)
In Memory of. Aged 89 yrs 6 mo & 20 days
In memory of. Aged 45 yrs 3 mo 2 days.
Aged 55 y 10 d. Husband of Sarah A. Bradshaw.
Daughter of E.E. and S.A. Bradshaw. Still Born.
Aged 72 yrs 8 mos 20 days. Wife of E. Bradshaw.
Aged 54 y 8 m 9 d. Wife of E.E. Bradshaw.
Son of E.E. and S.A. Bradshaw. Gods finger touched him and he slept. Inscription.
In Memory of. Aged 72 yrs & 2 mos
Sacred To the memory of. Aged 44 years 4 months and 16 days. He volunteered in the service of his Cuntry in Co. H 58th Reg't NC troups, while nobly Defending the rights of his Cuntry at the memorable Battle of Chickamanga he Received a wound of which he Died. He died as he lived a Devoted and exemplary Christian loved and respected By all who knew him. "My Heart is Fixed". Inscription. - Closeup.
pointed fieldstone marker
Web page updated 7 August 2016
Index of All Cemeteries
Alphabetical Index of All Burials
Previous Page