Index of All Cemeteries
Alphabetical Index of All Burials
Previous Page
Use the following to search across all the cemeteries listed.
Example: "Smith, Roger" (yes, use the quotes)
001 BURKE MEMORIAL PARK &nbsp- &nbsp J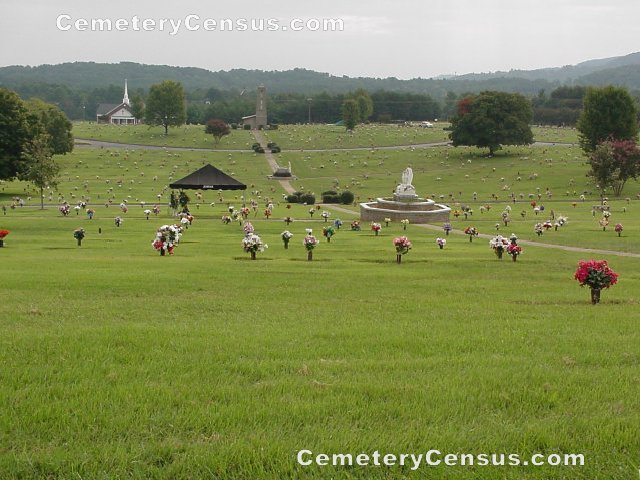 Location - 2506 Burke Memorial Park Rd, Morganton.

Coordinates: 35d 44m 19.6s N; 81d 37m 59.9s W Click here for Google maps

Directions: At the Burke Co. courthouse, take the street beside it (Meeting St.) which is Hwy. 70A east for about 3.5 miles, turn right onto Burke Memorial Park Rd. the cemetery is about a half mile on the right.

Survey provided by Jack Hall in June 2010.
Updates by Wayne and Laurell Ham in June 2010.

NOTE: where there is no Birth Date, the Death Date is usually the Date of Burial.


Jackson, Charles E. (b. - d. 24 Jan 1994)
Jackson, Dr. Francis Miller (b. 3 Feb 1925 - d. 24 Mar 2011)
Born in West Point, GA. Son of Brooks Rolin Jackson and Frances Freeman Jackson. Husband of Patricia Walburn Jackson. U S Army WW-II. Sossoman Funeral Home

Jackson, Kelsey (b. - d. 20 Mar 1996)

Jacumin, Kimberly Anne "Kim" (b. 2 Oct 1960 - d. 11 Nov 2010)
Daughter of Ralph William Jacumin and Dorothy "Dot" Burke Jacumin. Heritage Funeral Service and Crematory is serving the family

Jacumin, William Ralph (b. 9 Apr 1933 - d. 9 Mar 2000)
Son of William Emile and Mamie Mull Jacumin

James, Bertha B. (b. - d. 14 Aug 1988)

James, Dewey (b. - d. 3 Feb 1959)

Jaquins, Flora K. (b. - d. 18 Mar 1982)

Jarrett, Geneva B. (b. - d. 1 May 1991)

Jarrett, George R. (b. - d. 12 Apr 1969)

Jarrett, Harry "Pete" (b. 14 Mar 1934 - d. 24 Nov 2012)
Born in Burke County, NC. Son of Samuel David Jarrett and Flossie Marie Brittain Jarrett. Husband of Jeanette Propst Jarrett. Sossoman Funeral Home.

Jaynes, Bennett (b. - d. 27 Aug 1975)

Jaynes, Hobson H. (b. - d. 24 Feb 1989)

Jenkins, Hubert R. (b. - d. 30 Oct 1985)

Jenkins, Rebecca A. (b. - d. 4 Jun 1974)

Jenkins, Shirley "Mimmie" Pendergrass (b. 12 Feb 1938 - d. 4 May 2012)
Born in Swain County, NC. Died in Aheville, NC. Daughter of Helen Loftis Jones. Wife of Daniel Pendergrass and Richard Jenkins. Valdese Family Funeral Care

Jensen, Andrew (b. - d. 20 Dec 1996)

Jensen, Harry M. (b. - d. 5 May 1979)

Jernigan, James David, Jr. (b. 20 Oct 1939 - d. 3 Jan 2010)
Son of James David Jernigan Sr. and Vera Abernathy Jernigan

Jervis, Lynn L. (b. - d. 29 Sep 1988)

Jervis, Mary L. (b. - d. 6 May 1981)

Johnson, Annoise Fann (b. 13 Aug 1923 - d. 25 May 2005)
Daughter of Ashford and Arsenia Parker Fann

Johnson, Artia (b. - d. 29 Aug 1993)

Johnson, Barbara "Pete" Jean Bettis (b. 28 Nov 1947 - d. 13 Jan 2000)
Daughter of Hugh Ray Bettis and Essie Caldwell Bettis

Johnson, Billy L. (b. - d. 31 Jul 1992)

Johnson, Charlie M. (b. - d. 1 Aug 1991)

Johnson, Clara Rector (b. 17 Jan 1937 - d. 7 Mar 2012)
Daughter of Roy William Rector and Nellie Flo Rhoney Rector. Wife of Garland Manuel Johnson. Sossoman Funeral Home

Johnson, Clarence M. (b. - d. 30 Apr 1970)

Johnson, Claude A. (b. - d. 22 Aug 1982)

Johnson, Eddie (b. - d. 29 Sep 1986)

Johnson, Garland J. (b. - d. 25 May 1981)

Johnson, Harold E. (b. - d. 24 Jun 1976)

Johnson, Inez D. (b. - d. 15 Feb 1986)

Johnson, James (b. - d. 29 Dec 1996)

Johnson, James A. (b. - d. 5 May 1973)

Johnson, James A. (b. - d. 19 Apr 1994)

Johnson, James E. (b. - d. 22 May 1961)

Johnson, James H. (b. - d. 5 Mar 1983)

Johnson, James R. (b. - d. 11 Sep 1969)

Johnson, Janice (b. - d. 24 Jul 1997)

Johnson, Joe C. (b. - d. 23 Sep 1975)

Johnson, Joy M. (b. - d. 5 Dec 1988)

Johnson, Julia (b. - d. 26 Dec 1996)

Johnson, Junior C. (b. - d. 20 May 1985)

Johnson, Lettie M. (b. - d. 14 Mar 1975)

Johnson, Lonnie Linburgh (b. 8 Feb 1929 - d. 26 Nov 2010)
Son of Ottis and Zora Issacs Johnson. Husband of Dorothy Simmons Johnson. Heritage Funeral Service is assisting the Family

Johnson, Lucy M. (b. - d. 2 Aug 1984)

Johnson, Maggie C. (b. - d. 10 Mar 1973)

Johnson, Mark W. (b. - d. 23 Oct 1984)

Johnson, Maxine C. (b. - d. 3 Jun 1992)

Johnson, Paul (b. - d. 20 Aug 1997)

Johnson, Paul E. (b. - d. 14 Jan 1993)

Johnson, Thelma G. (b. - d. 15 Oct 1988)

Johnson, Verla Smith (b. 17 Mar 1914 - d. 9 Nov 2005)
Daughter of Thomas Redrick Smith and Tina Butler Smith

Johnson, Zena Y. (b. - d. 27 Mar 1992)

Johnston, Harry (b. - d. 15 May 1995)

Johnston, Jay R. (b. - d. 10 Jun 1975)

Johnston, Sanford C. (b. - d. 24 Nov 1977)

Johnston, Zella (b. - d. 18 Jun 1995)

Jones, Annie K. (b. - d. 6 Sep 1977)

Jones, Arthur H. (b. - d. 10 May 1983)

Jones, Billie J. (b. - d. 27 Jul 1991)

Jones, Edwin R. (b. - d. 3 Mar 1983)

Jones, Elida G. (b. - d. 5 Dec 1976)

Jones, Joe (b. - d. 2 Dec 1997)

Jones, Lula Franklin (b. 30 Mar 1919 - d. 23 Jan 2013)
Born in Caldwell Co., NC. Daughter of Floyd Baxter and Sarah Alice Branch Franklin. Wife of Edwin Roe Jones. Heritage Funeral Service

Jones, Mitsue Kudo (b. 3 Jul 1928 - d. 24 Oct 2012)
Died in Burke County, NC. Born inJapan. Wife of William Jennings Jones. Kirksey Funeral Home

Jones, Randy D. (b. - d. 21 Jan 1977)

Jones, Thomas G. (b. - d. 4 Sep 1982)

Jones, William J. (b. - d. 17 Nov 1979)

Jordan, Bradford (b. - d. 10 Sep 1986)

Jordan, John M. (b. - d. 24 Jan 1990)

Jordan, Millard E. (b. - d. 11 Dec 1968)

Jordan,Harold E. (b. 22 Mar 1935 - d. 1 Jul 2005)
Son of Joseph and Etta Mae Lane Jordan

Joyce, Earl W. (b. - d. 4 Dec 1994)

Joyce, Mary F. (b. - d. 29 Jan 1971)

Justice, Bonnie M. (b. - d. 5 Oct 1960)

Justice, Edward F. (b. - d. 24 Aug 1990)

Justice, Emulious A. (b. - d. 19 May 1982)

Justice, Nellie Bolick (b. 3 Jul 1917 - d. 28 Dec 2005)
Daughter of John B. and Minnie Brindle Bolick

Justice, William A. (b. - d. 13 Feb 1988)

Justice, Zane M. (b. - d. 11 Dec 1978)
Web page created 3 May 2013
Index of All Cemeteries
Alphabetical Index of All Burials
Previous Page