Index of All Cemeteries
Alphabetical Index of All Burials
Previous Page
Use the following to search across all the cemeteries listed.
Example: "Smith, Roger" (yes, use the quotes)
007 PRICE FAMILY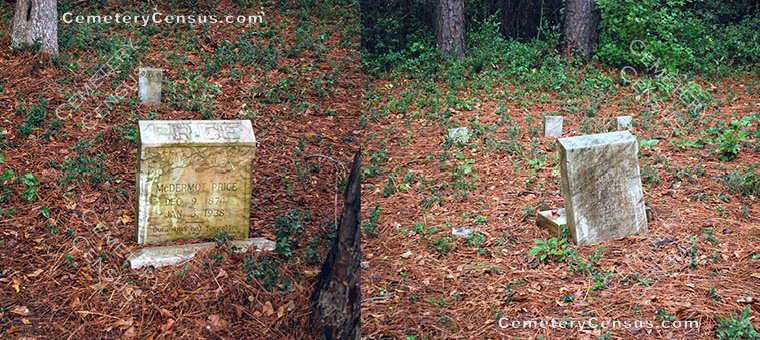 Location - off Hwy 133 (River Rd SE) in Smithville Township just east of the Board of Education property.

Coordinates: 33d 57m 15.4s N; 78d 01m 28.4s W Click here for Google maps

Directions: from Wilmington, follow Hwy 133 (River Rd SE) towards Southport. Turn Left at Board of Education Building (Smithville Township District Park). The cemetery lies east of the property, in the southeast corner.

Cemetery is in the woods on private property. Francis D. Price, Julia A. Swain and Lillian Price Swain are all on the same marker.

Survey and photographs by William Price in September 2013.


Price, Francis Dawson, III (b. 7 Mar 1845 - d. 13 Oct 1915)
Husband of Julia A Swain Price. Francis enlisted in the Confederate Navy on April 15, 1864, shortly after he turned 19. Served on the CSS North Carolina which was stationed on the Cape Fear River. Wounded during the war.

Price, Julia A Swain (b. 13 Jan 1843 - d. 16 Jan 1915)

Price, McDermot (b. 9 Dec 1874 - d. 3 Jan 1938)
Son of Francis D. Price and Julia A. Swain Price

Swain, Lillian Price (b. 12 Aug 1879 - d. 8 Mar 1922)
Daughter of Francis D. Price and Julia A. Swain Price
Web page updated 20 August 2016
Index of All Cemeteries
Alphabetical Index of All Burials
Previous Page