Index of All Cemeteries
Alphabetical Index of All Burials
Previous Page
Use the following to search across all the cemeteries listed.
Example: "Smith, Roger" (yes, use the quotes)
002 FOREST LAWN CEMETERY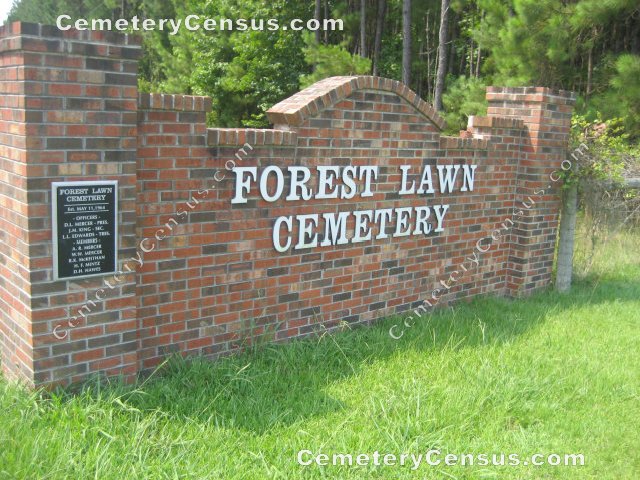 Location - on Hwy 17-South, north of Bolivia.

Coordinates: 34d 05m 48.3s N; 78d 07m 54.1s W Click here for Google maps

Directions: take Hwy 17 to Forest Lawn Dr. Cemetery is at the end of Forest Lawn Dr.

This is a partial survey.

Survey and photographs by Jim Gill in July 2011.


Carter, Gladys Mercer D. (b. 26 Jun 1923 - d. 26 Dec 1987)
Howard, George W. (b. 1841 - d. 1898)
Sgt. Co C 30th Regt. NC Troops CSA
Pvt. Co C 30th Regt. NC Troops CSA
Daughter of Miles and Margaret Fletcher
Husband of Daisy Leonard Mercer
Husband of Olivia Jane Mercer
Wife of Dorman Lowell Mercer
Wife of Franklin R. Mercer
Husband of Laura P. Mercer
Wife of Alex Robinson Mercer
Husband of Annie Mae McKeithan Mercer
Husband of Susan Sellers Mercer
Husband of Audrey Sauls Mercer
Wife of Thomas Jefferson Mercer "Asleep in Jesus"
Husband of Mamie A. Robinson Mercer
Wife of Berkley B. Mercer
Daughter of Edward and Susan Mercer
Wife of J. Fletcher Mercer
Wife of Miles Fletcher Mercer
Husband of Margaret E. Edwards Mercer
Husband of Pauline E. Mercer
Wife of Edward Mercer "On or About"
Husband of Henrietta "Asleep in Jesus"
Web page updated 20 August 2016
Index of All Cemeteries
Alphabetical Index of All Burials
Previous Page