Index of All Cemeteries
Alphabetical Index of All Burials
Previous Page
Use the following to search across all the cemeteries listed.
Example: "Smith, Roger" (yes, use the quotes)
054 BEREA CHRISTIAN CHURCH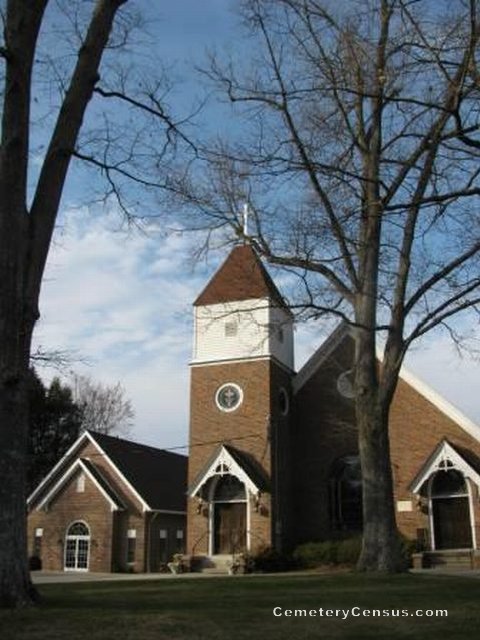 Location - 2828 Old NC Highway 87, just north of Elon NC.

Coordinates: 36d 10m 50.4s N; 79d 30m 43.1s W Click here for Google maps

Surveyed in 1981 by Todd Richard McIntyre. Surveyed and updated by Jason Munroe in March 2009.

The church was founded and chartered in 1902. The church construction was started in September 1902 and the first meeting was held in the new church building on July 4, 1903.

In January, 1906, Mr. John T. Kernodle presented to the Church a plot of land for a cemetery.


Baldwin, Alex William (b. 1 Oct 1900 - d. 9 May 1962)
Plot: Row 1. son of John and Mary Jane Huffines Baldwin

Baldwin, Harvey W (b. 25 Jun 1928 - d. 1 Jul 1979)

Baldwin, Mary Alice Gerringer (b. 14 Mar 1908 - d. 30 Jul 1995)
Plot: Row 1. wife of Alex W Baldwin

Barker, Robert Earnest (b. 4 Jun 1891 - d. 8 Feb 1958)
Plot: Row 5. son of Floyd and Cindy Stewart Barker; husband of Mary Lee Crowder

Barnette, Daisy H (b. 2 Jul 1905 - d. 6 Dec 1992)
Plot: Row 9. wife of J George Barnette

Barnette, Harold E (b. 9 May 1936 - d. 1 Dec 1979)

Barnette, J George (b. 28 Jul 1901 - d. 11 May 1939)
Plot: Row 9. husband of Daisy Barnette

Barret, Sarah C (b. 2 Nov 1876 - d. 15 Nov 1927)

Bell, Abe Allen (b. 13 Aug 1905 - d. 22 Apr 1982)

Bell, Hermie S (b. 10 Feb 1909 - d. 6 Nov 1998)

Bell, May (b. 28 Nov 1909 - d. 22 Mar 1915)
Plot: Row 5. daughter of Joanna Love Bell

Bell, Philip (b. 26 Dec 1903 - d. 13 Sep 1923)

Bennett, Sarah E (b. 11 Mar 1847 - d. 23 Jul 1926)

Bennett, W S (b. 5 Dec 1850 - d. 11 Sep 1925)

Boone, Sion Lawrence (b. 26 Apr 1912 - d. 6 Dec 2002)
husband of Vernie McIntyre Boone; married Jan. 4, 1931

Boone, Vernie McIntyre (b. 22 Aug 1912 - d. 20 Feb 1998)

Brady, Annie (b. 1877 - d. 1944)

Clark, Andrew J (b. 21 Jun 1860 - d. 6 May 1936)

Coffin, Elias C (b. 6 Sep 1869 - d. 11 Aug 1935)

Coleman, Eddie (b. 7 Sep 1893 - d. 5 Mar 1983)
PFC US Army World War I; husband of Flossie P Coleman

Coleman, Flossie P (b. 1905 - d. 2001)

Coleman, George C (b. 1863 - d. 7 Dec 1950)
Plot: Row 11. husband of Matilda "Catherine" Coleman

Coleman, Matilda "Catherine" Troxler (b. 1 Sep 1866 - d. 30 Nov 1963)
Plot: Row 11. wife of George Coleman; daughter of George and Betty Huffman Troxler

Coleman, Ruby (b. 8 Aug 1928 - d. 19 Jul 1929)

Coleman, Verly Massey (b. 15 Dec 1932 - d. 19 Jul 2008)
wife of Hayward F Coleman

Combs, T P (b. 1844 - d. 1914)

Conner, Flossie Marie (b. 1908 - d. 1935)

Cox, Cordie A Morene (b. 30 Dec 1887 - d. 7 Sep 1964)
Plot: Row 7. wife of Jessie Cox; daughter of William and Mary Gerringer Morene

Cox, Eliza B (b. 3 Apr 1866 - d. 11 Nov 1979)

Cox, Jessie P (b. 1878 - d. 10 Jan 1923)
Plot: Row 7. husband of Cordie Cox; son of Joseph Cox

Crumpton, Aretta Shatterly (b. 14 Jul 1912 - d. 29 Jun 2001)
Plot: Row 4. wife of James Sidney Crumpton

Crumpton, James Gary (b. 24 Nov 1940 - d. 24 Jan 1998)
husband of Priscilla B Crumpton

Crumpton, James Gregory (b. 19 Oct 1962 - d. 24 Jul 1973)

Crumpton, James Sidney (b. 31 Oct 1901 - d. 5 Oct 1961)
Plot: Row 4. husband of Aretta S Crumpton

Crumpton, Priscilla B (b. 17 May 1942 - d. )
wife of James Gary Crumpton

Dempsey, Brownie Winn (b. 21 Jul 1913 - d. 22 Jul 2001)

Edmonds, Elsie Stewart (b. 17 Apr 1905 - d. 7 Mar 1977)
Plot: Row 7. wife of Jacob Lee Edmonds

Edmonds, Jacob Lee (b. 25 Mar 1895 - d. 13 Sep 1961)
Plot: Row 7. husband of Elsie Edmonds; son of Joe and Minnie Edmonds

Edmonds, Jacob Lee Jr (b. 9 Dec 1928 - d. 8 Dec 1974)

Edmonds, Sara Stallings (b. 29 Jun 1903 - d. 8 Jan 1980)

Fargis, Ivey W (b. 20 Jul 1860 - d. 6 Jun 1966)

Fargis, Lottie (b. 5 May 1897 - d. 17 May 1947)

Franks, Anna Jones (b. 24 Jun 1896 - d. Jan /1982)
Plot: Row 10. wife of William S Franks

Franks, Doris Rickard (b. 2 Mar 1930 - d. 28 Sep 2006)
wife of Jack William Franks Sr

Franks, Jack William Sr (b. 9 Jan 1922 - d. 18 Oct 1985)

Franks, Sarah Ireland (b. 3 May 1860 - d. 1 Jun 1932)
Plot: Row 10. wife of Joseph Franks; daughter of Samuel and Mary P Gerringer Ireland

Franks, William S (b. 26 Jan 1895 - d. 5 Feb 1975)
Plot: Row 10. husband of Anna J Franks

Garner, Hubert O (b. 1913 - d. 2 May 1917)

Gerringer, Howard Wayne Sr (b. 13 Sep 1916 - d. 30 Jul 1963)

Hall, Cora L Sutton (b. 7 Jun 1895 - d. 14 Jul 1939)
Plot: Row 8. wife of George M Hall; daughter of J. and Mary Quakenbush Sutton

Hall, George M (b. 1897 - d. 21 Jul 1956)
Plot: Row 8. husband of 1st Cora S ; 2nd Pearl Scott ; son of Herbin and Mary Sutton Hall

Hall, Margaret A (b. 19 Jul 1905 - d. 22 Aug 1986)
Plot: Row 12. wife of Michael O Hall

Hall, Michael Oliver (b. 25 Jun 1908 - d. 14 Jun 1981)
Plot: Row 12. husband of Margaret A Hall

Hall, Robert Michael (b. 12 Sep 1931 - d. 19 Nov 1995)

Hayden, William Taylor Sr (b. 5 Oct 1912 - d. 7 Sep 1995)

Hayes, D Fay (b. 23 May 1915 - d. 31 Mar 1990)

Hayes, Walter H (b. 29 Feb 1908 - d. 24 Jul 1992)

Hensley, Dorothy Mae (b. 10 Dec 1920 - d. 24 Dec 1920)

Hensley, Fisher C (b. 16 Nov 1902 - d. 22 Dec 1983)
husband of Lillian W Hensley

Hensley, George (b. 3 Mar 1893 - d. 7 Jul 1948)

Hensley, John Franklin (b. 28 Sep 1868 - d. 21 Aug 1921)

Hensley, John T (b. Sep 1888 - d. Jun /1907)

Hensley, Joseph Phillip (b. 13 Feb 1943 - d. 26 Dec 2006)
PVT US Marine Corps Vietnam

Hensley, Lillian W (b. 20 Mar 1919 - d. 23 Nov 1993)

Hensley, Sallie B (b. 2 Feb 1902 - d. 16 Feb 1935)

Hill, Alexander (b. 25 Jul 1915 - d. 1917)

Hill, E H (b. 1848 - d. 1940)

Hill, Henry Jackson (b. 1885 - d. 1938)

Hill, Lucinda (b. 29 Oct 1854 - d. 10 Mar 1922)

Hill, Paul (b. 6 Jun 1928 - d. 3 Sep 1928)

Hobbs, Beular E (b. 10 Dec 1906 - d. 8 Jan 1907)

Hobbs, Fannie Ann Wyrick (b. 24 Aug 1883 - d. 7 Apr 1956)

Hobbs, James H (b. 13 Aug 1876 - d. 14 Oct 1936)

Hobbs, John James (b. 27 Apr 1851 - d. 20 Jul 1931)
Plot: Row 9. husband of Rachel M Hobbs; son of Stevens Hobbs

Hobbs, Rachel M (b. 23 Apr 1855 - d. 3 Apr 1902)
Plot: Row 9. wife of John James Hobbs

Ireland, Daniel M (b. Aug /1870 - d. 11 Nov 1920)
Plot: Row 10. son of Samuel and Mary Polly Gerringer Ireland

Ireland, Lydia M (b. 26 May 1867 - d. 4 Dec 1950)
Plot: Row 10. daughter of Samuel and Mary Polly Gerringer Ireland

Ireland, Octavia J (b. 1856 - d. 2 Apr 1926)
Plot: Row 10. daughter of Samuel and Mary Polly Gerringer Ireland

Iseley, Clenca Jones (b. 13 Nov 1891 - d. 11 Aug 1983)
Plot: Row 2. wife of William Luther Iseley

Iseley, William Luther (b. 20 Mar 1891 - d. 26 Mar 1967)
Plot: Row 2. son of Carl and Sara Lucindy Garrison Iseley

Johnson, Harold Lee (b. 15 May 1939 - d. 21 Dec 2005)
LT Col US Air Force; husband of Naomi Johnson

Johnson, Naomi Bays (b. 28 Mar 1941 - d. )
wife of Harold Lee Johnson

Jones, Amos L (b. 16 Nov 1862 - d. 15 Jul 1947)

Jones, Barney N (b. 1895 - d. 1968)
husband of Nettie A Jones

Jones, Edna Earl (b. 7 Apr 1917 - d. 21 Apr 1917)

Jones, J Richard (b. 6 Oct 1893 - d. 27 Jun 1957)

Jones, Lela Oakes (b. 16 Jun 1892 - d. 2 Jul 1976)

Jones, Lollie Pritchett (b. 1896 - d. 1988)

Jones, Martha Burch (b. 29 Sep 1929 - d. 3 Apr 1981)

Jones, Martin (b. 1898 - d. 1978)

Jones, Matelda Ellen (b. 15 Dec 1869 - d. 25 Apr 1957)

Jones, Nettie A (b. 1898 - d. 1984)

King, David (b. 26 Dec 1935 - d. )

King, Nellie (b. 13 Aug 1911 - d. 22 Feb 2006)
Plot: Row 7. Not sure of death date

King, Ray E (b. 10 Sep 1938 - d. )

Kirby, Richard Keith (b. 26 Jun 1964 - d. 21 Apr 2008)
husband of Thresea Kirby; m. Apr. 30, 1985

Kirby, Thresea Murphy (b. 16 Mar 1966 - d. )
wife of Richard Keith Kirby

Ledbetter, Lernard Martin (b. 5 Sep 1953 - d. 29 Nov 1979)

Lowe, Annie Somers (b. 25 Mar 1890 - d. 4 Feb 1950)

Lowe, Early Fred (b. 18 Jan 1887 - d. 22 Aug 1955)

Lowe, Lue Ellen (b. 29 Nov 1930 - d. 4 Jun 1934)

Maines, Ellis James (b. 27 Dec 1925 - d. 26 Dec 1994)

McFatter, Betty Lou (b. 18 Nov 1926 - d. 21 Oct 1958)

McFatter, James L (b. 12 Jan 1902 - d. 30 Jan 1972)

McIntyre, A W (b. 1 Jan 1853 - d. 23 Jan 1920)

McIntyre, Berta (b. 5 Sep 1890 - d. 22 Feb 1941)

McIntyre, Fannie Wrenn (b. 30 Jan 1887 - d. 29 Sep 1976)

McIntyre, George Butler (b. 19 Feb 1883 - d. 22 Mar 1936)

McIntyre, Henrietta Tickle (b. 24 May 1890 - d. 19 Aug 1981)

McIntyre, J Monroe (b. 21 Apr 1884 - d. 24 Jun 1945)
Plot: Row 5. son of Robert and Cornelia Baldwin McIntyre

McIntyre, James Woodrow (b. 1920 - d. 1945)

McIntyre, Laura B (b. 18 Sep 1928 - d. 21 Feb 1929)

McLean, Annie L (b. 1 Jun 1866 - d. 29 Jan 1955)

Merritt, Carie Brown (b. 26 Apr 1890 - d. 11 Oct 1918)

Merritt, Ira James (b. 18 Sep 1908 - d. 29 Dec 1917)

Merritt, Sarah M (b. 8 Mar 1885 - d. 15 Feb 1962)

Merritt, William T (b. 8 Aug 1882 - d. 22 Mar 1961)

Merritte, Lucy Bonita (b. 10 Oct 1918 - d. 11 Jun 1920)

Merritte, Major M (b. 10 Jun 1851 - d. 5 Jul 1920)

Merritte, Rebecca (b. 8 Apr 1857 - d. 10 Feb 1926)

Mills, Margie E (b. 1924 - d. 1974)

Mitchell, Edwin L (b. 31 Dec 1887 - d. 27 Oct 1955)

Mitchell, Wallace W (b. 19 Mar 1924 - d. 4 Dec 1955)

Murphy, Lucy Virginia (b. 1 Jun 1929 - d. )

Murphy, William Franklin (b. 25 Dec 1927 - d. 18 Feb 1994)
husband of Lucy V. Murphy

Penlin, Mattie (b. 5 Feb 1891 - d. )

Penlin, Pink (b. 16 Mar 1884 - d. 9 Mar 1941)

Phillips, Charles W (b. 16 May 1914 - d. 12 Aug 1985)
husband of Inez W Phillips

Phillips, Inez W (b. 2 May 1913 - d. 5 Oct 2004)
wife of Charles W Phillips

Powers, Sarah (b. 28 Apr 1870 - d. 9 Mar 1933)

Pritchett, Coleman Madison (b. 23 Mar 1846 - d. 22 Nov 1917)
Plot: Row 10. husband of Keren Pritchett; son of Thomas and Permelia Jane Brann Pritchett

Pritchett, Keren Ann Garrison (b. 1851 - d. 1912)
Plot: Row 10. wife of Coleman Pritchett; daughter of George G and Martha A Hughes Garrison

Pritchett, Mary Elizabeth (b. 21 Aug 1918 - d. 12 Jul 2007)

Pritchett, Sallie "Kate" Moore Gerringer (b. 11 Sep 1916 - d. 15 Jul 2002)

Pritchett, Sallie Roberta Wakefield (b. 17 Jul 1914 - d. 15 Jul 2007)
wife of George Hughey Pritchett

Rippy, Johnny "Uncle" (b. 1860 - d. 14 Jul 1947)
Plot: Row 6. Sexton of the Church for 35 years

Ross, Luther D (b. 10 Aug 1884 - d. 14 Jan 1935)

Ruff, Lonny W (b. 7 Oct 1939 - d. )

Ruff, Phyllis P (b. 6 Oct 1936 - d. 25 Jan 1991)

Simpson, Christine Joyce (b. 9 Jun 1955 - d. 29 Jun 1955)

Simpson, Edith R (b. 15 Jun 1901 - d. 28 Sep 1986)

Simpson, Joshua Wellons (b. 24 Jun 1875 - d. 20 Feb 1957)
Plot: Row 14. husband of Minnie P Simpson; son of Lemuel and Necie Morton Simpson

Simpson, Minnie Patterson (b. 3 May 1880 - d. 14 Nov 1963)
Plot: Row 14. wife of Joshua Simpson; daughter of Winship and Charlottie Reeves Patterson

Simpson, Vernon L (b. 18 Mar 1920 - d. 10 Jun 1930)

Smith, Gaynelle J (b. 15 Oct 1920 - d. 9 Sep 2006)

Somers, Clem Numa (b. 20 Jan 1886 - d. 18 Dec 1962)

Somers, Clem Numa Jr (b. 24 Mar 1918 - d. 27 Mar 1918)

Somers, Lenora Franks (b. 20 Jan 1885 - d. 11 Dec 1953)

Stallings, James Abraham (b. 14 Mar 1896 - d. 20 Jan 1962)

Stewart, Charlie Othor (b. 10 Feb 1882 - d. 8 Mar 1969)
Plot: Row 5. son of Mattie Wrenn Stewart Hicks

Stewart, Joanna Love (b. 15 Oct 1877 - d. 10 Feb 1966)
Plot: Row 5. daughter of Matilda Love

Sutton, Euel Clayton (b. 30 Sep 1905 - d. 8 Jun 1977)
Plot: Row 8. husband of Dora Catherine Ashwell Sutton

Sutton, Flora "Blanche" Boggs (b. 25 Dec 1891 - d. 29 Dec 1949)
Plot: Row 8. wife of James R Sutton; daughter of David and Colene Ferrell Boggs

Sutton, James R (b. 1876 - d. )
Plot: Row 8. husband of Flora B Sutton

Sutton, John M (b. 2 Aug 1859 - d. 8 Feb 1932)
Plot: Row 9. husband of Mary Ann Q Suttonson of William and Beckey S Sutton

Sutton, John U (b. 1872 - d. 1937)

Sutton, Mary Ann Quakenbush (b. 1 Oct 1854 - d. 23 Jul 1929)
Plot: Row 9. wife of John M Sutton; daughter of John and Martha A Cheek Quakenbush

Sutton, Mattie S (b. 1876 - d. 12 Mar 1921)

Sutton, Octavia Elizabeth (b. 12 Nov 1871 - d. 28 Jul 1916)

Sutton, Olamay (b. 10 Sep 1910 - d. 3 Jul 1911)

Sutton, W S (b. 28 Jan 1869 - d. 19 Jul 1922)

Taylor, Martha Jane (b. 11 May 1872 - d. 25 Apr 1947)

Tickle, Jean Burke (b. 22 Nov 1936 - d. )

Tickle, William Grady Sr (b. 4 Mar 1942 - d. 7 Mar 2002)
US Navy; husband of Jean Tickle

VanGorden, Kay L Henderson (b. 7 May 1964 - d. 10 Sep 1992)

VanGorden, Robert Duane II (b. 18 Feb 1964 - d. )

Wagoner, Caren Lynette (b. 12 Jun 1971 - d. 28 Feb 1982)

Wagoner, John Edward (b. 21 Oct 1940 - d. 28 Feb 1982)

Wagoner, Lee Hodge (b. 6 Dec 1901 - d. 15 Mar 1992)
husband of Maude S Wagoner

Wagoner, Mark Edward (b. 21 Aug 1969 - d. 28 Feb 1982)

Wagoner, Maude Shaw (b. 7 Jul 1903 - d. 26 Aug 1984)
wife of Lee Hodge Wagoner

Wagoner, Sheila Waller (b. 2 Jun 1945 - d. 28 Feb 1982)

Wall, Ava Shoe (b. 3 Dec 1900 - d. 18 Mar 1979)

Wall, Jack L (b. 17 Sep 1933 - d. 2 Nov 1933)

Wall, John W Sr (b. 27 Jun 1896 - d. 7 Sep 1966)

Webster, John Harson (b. 12 Jul 1920 - d. 23 Aug 1988)

Webster, Willie (b. 1924 - d. 1988)

Welch, Lucille M (b. 1918 - d. 1986)

Welch, Mack V (b. 1916 - d. 2005)

Whitworth, Billie L (b. 31 Jan 1933 - d. 10 Dec 1935)

Whitworth, Jeanie Nash (b. 4 Jan 1914 - d. 23 Nov 1994)

Whitworth, Thomas B (b. 30 May 1931 - d. 14 Feb 1992)

Williams, Charles Bernard (b. 8 Jun 1929 - d. 1 Sep 1993)

Winn, Elzora Barber (b. 11 Jan 1911 - d. 1 Oct 2002)

Winn, Frances Joan (b. 13 Feb 1932 - d. 1 Sep 1963)
Plot: Row 14. wife of Acie Reynolds Vincent; daughter of Jennings B and Brownie B Winn

Winn, James Harvard (b. 6 Oct 1920 - d. )
husband of Maydell Winn; m. Feb. 19, 1944

Winn, Jennings Bryan (b. 23 Apr 1899 - d. 11 Mar 1956)
Plot: Row 14. husband of Brownie D Blaylock; son of William H and Ellen Gravely Winn

Winn, Jennings Bryan Jr (b. 1 Jan 1934 - d. )
husband of Joann Allred Winn

Winn, Joann Allred (b. 3 Jan 1942 - d. 26 Jul 1995)
wife of Jennings B Winn Jr

Winn, Jonathan Blaine (b. 31 Mar 1983 - d. 15 Jun 1983)

Winn, Margaret Elain (b. 19 Apr 1962 - d. 15 Mar 1997)

Winn, Maydell Bayliff (b. 30 May 1915 - d. 17 Dec 2001)

Winn, Willard Hugh (b. 6 Jan 1907 - d. 9 Oct 1997)

Wyrick, Elizabeth Jeanette (b. 28 Jan 1927 - d. 18 Mar 1933)

Wyrick, Ronald Lee (b. 18 Aug 1934 - d. 18 Aug 1934)
Web page updated 22 October 2017
Index of All Cemeteries
Alphabetical Index of All Burials
Previous Page