Index of All Cemeteries
Alphabetical Index of All Burials
Previous Page
Use the following to search across all the cemeteries listed.
Example: "Smith, Roger" (yes, use the quotes)
047 SHILOH UNITED METHODIST CHURCH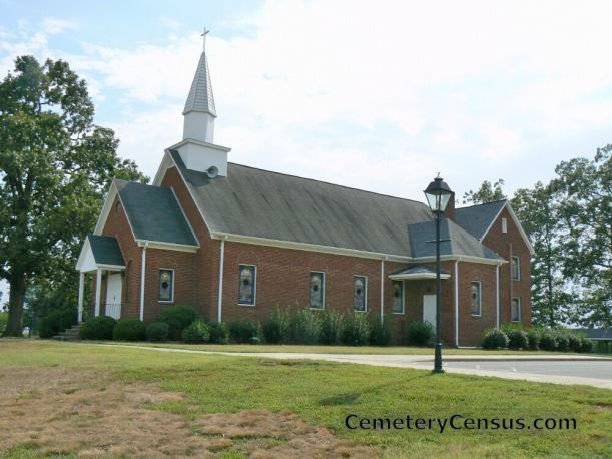 Location - on the west side of Hwy 87 at 4718 North NC 87, between Jug House Rd. and Troxler Mill Rd.

Coordinates: 36d 13m 52.0s N; 79d 31m 08.0s W Click here for Google maps

Partial listing from photographs provided by Grant Pinnix in February 2008 and March 2008.

View of the church sign.


Bird, Empson (b. 6 Nov 1849 - d. 20 Nov 1851)
Boone, Mary (b. Feb 1819 - d. 1909)
husband of Mary Boone. Masonic emblem. "A good man and good mason"
wife of Joe Henry Bouldin
husband of Addie Oakley Bouldin
daughter of Joe Henry and Addie Oakley Bouldin
wife of George G. Foster. "Erected by descendants 1967"
Age 77 yrs 2 mos 20 days (dates from Grant Pinnix) Closeup of inscription.
husband of Mary Elizabeth Somers Jordan
wife of James Monroe Jordan
child of ?? and ?? Matkins
J.C., Jr, George, Joe, Mildred
husband of Louise King Matkins. S-Sgt US Army, WW-II, Co.A, 2nd BN 162 Regiment, 41st Infantry Div. Military marker.
husband of Lemma Cook Matkins
1st wife of Rev. William Matkins. married abt 27 Feb 1797.
3rd wife of Rev. William Matkins
Aged 36 years. 2nd wife of Rev. William Matkins. daughter of Caleb Busick and Sarah.
"May he rest in peace". Closeup of inscription.
wife of Thomas L. Matkins
husband of Sarah Matkins.
MSgt US Air Force, WW-II. "Lost in the Caribbean Sea". Matkins Family marker.
Co. K, 47th NC Infantry, C.S.A.
husband of Louisa Simpson Matkins
wife of Edward Alexander Matkins
husband of Thelma Franklin Matkins
wife of Joseph L. Matkins
wife of Clarence C. Matkins
wife of J.B. Matkins. Age 58 yrs 10 mos 8 days.
Age 86 years. wife of John Matkins
Age 86 yrs. wife of John Matkins. (stone on right)
husband of Susan Bouldin Matkins
daughter of William and S. B. Matkins
wife of Leonard Fitch Matkins
husband of Jennie E. Gilliam Matkins
"Resting in hope of a glorious resurrection."
Aged 69 yrs. "Beloved Father. Gone but not forgotten"
husband of Elizabeth Busick, Isabel Busick and Elizabeth Moore. Newer stone Born in Dorchester Co. MD 1777. Co-founder of Camp Springs - organized 1809, and Shiloh - organized 1814, where he served until his death in 1859. Original older stone Age 71 yrs 6 mos 18 days.
wife of Dr. Joseph Hawkins Sinpson
Web page updated 22 October 2017
Index of All Cemeteries
Alphabetical Index of All Burials
Previous Page